Marketing careers are popular nowadays and for a good reason. If you've been eyeing your dream career in marketing, there's more to the job than what the title entails. The all-encapsulating term refers to a variety of activities of which the driving force is to generate interest in products or services. 
Marketing is an incredibly dynamic, diverse field that offers positions for people of all strengths. Whether you're left or right-brained (i.e., you're creative or analytical), marketing's got a spot for you.
Jobs within Marketing
A core part of marketing is to understand the demands, preferences, and limitations that categorize your brand's target audience. As the field is relatively broad, for this section, we'll be narrowing down on digital marketing, which refers to marketing through digital channels like search engines, email, and social media platforms.
Below, we've highlighted some of the most common digital marketing jobs. Still, the job's tasks will wholly depend on the size of the company as well as your skillset. Especially in smaller companies and startups, it's common for these positions to be pulled together into a (digital) marketing manager position.
1. Performance Marketing Manager
Performance marketing is all about optimizing a company's advertising across digital channels. Performance marketers are also in charge of tracking ad performances and always look for more efficient means to run advertising campaigns. Therefore, this role is particularly interesting for people who think analytically and profit-oriented. Performance Marketing Managers are well-aware of their target audience and create ads across different online channels that cater to their audience's needs. They are well-organized and always look for ways to generate more sales or leads at lower costs, discovering new audiences, creatives, and copies.
2. Search Engine Optimization (SEO) Manager
Search Engine Optimization refers to optimizing your website and its content so that it can be found by potential customers when they search for it on search engines like Google. Compared to Performance Marketing, where the money is spent to generate sales, SEO is purely organic, meaning that no money is spent to acquire a customer. The responsibilities of an SEO manager include improving the ranking of a website on a search engine results page by conducting keyword research, designing the page's structure, as well as analyzing the page and keyword performance. 
3. Social Media/Content Manager
Managing a company's social media accounts is a crucial aspect of digital marketing. More and more brands are using social media to create brand awareness and grow their business. To activate social media followers, posting regular and relevant content is all in a day's work to develop brand awareness that generates sales leads. This is accomplished by engaging influencers, using the right hashtags, and creating beautiful visuals to excite consumers about the brand. Tracking and reporting trends and the engagements on the company's social media platforms are vital; this will help the marketing team to adjust their strategy if necessary.
4. Communications Manager
Responsible for advancing and preserving the reputation and standing of the company's brand, the marketing communications team has the best understanding of their company's status amongst competitor brands and within their target audience. Managing all internal and external communications, they are the company's spokesperson, be it with media outlets, or consumers. Guided by the principle to paint the company or brand it in a positive light, they also draft press releases and pitch stories to media channels to generate buzz around their product.
How to get into Marketing
Education
Marketing is an ever-changing industry, thanks to new social media platforms, changing algorithms, and new software. Truthfully, most universities have a hard time keeping up with modern marketing. That being said, a marketing degree is not a waste. Universities give you an incredible education for marketing basics. If you don't have a marketing degree, consider taking an online course (like at Udemy) to learn these basics.
Work Experience in a Related Occupation
Internships are an excellent opportunity to dabble in various aspects of marketing to figure out where your specialty and interests lie while establishing essential connections. If you're looking to up your game, data analysis courses are a significant investment that will help you work with data.
Important Qualities
The best marketers are both left-brained and right-brained individuals; the job requires creativity and also an ability to comprehend and work with data. With consumer preferences continually shifting, the strategies that work today may be ineffective tomorrow. Hence marketers need to be curious to keep discovering and learning, as well as adaptable to reconfigure their tactics to remain relevant. Finally, a strong intuition to predict and cater to the demands of their audience encapsulates the definition of an ideal marketer.
Top Skills for Marketers
Marketing sounds great, but it's not a career for everyone. There are essential skills that you need to have to excel in this industry. 
1. Creative curiosity 
Staying in the box is not an option for marketers; they are constantly inventing and retelling compelling stories that catch the ever-wandering eye of their consumers. Marketing can feel like a grey area at times as strategies and tactics need to be tried and tested before knowing what works. But a winning brand narrative that connects to the desires of your target audience will get them hooked every single time. 
2. Problem-Solver
A large part of marketing is about understanding why and how something works or doesn't work. Maybe you've launched a fantastic marketing campaign, but the numbers don't seem to add up. You need to pick apart what elements of this campaign aren't producing the researched and desired outcomes.
3. Clear communication skills
Many people make the mistake of defining communication as getting the most words in. But a genuinely skillful communicator is someone who does a better job of listening and observing to deliver the most relevant response. Knowing how to interpret consumer habits through observation and posing the right questions will aid them in communicating how their product meets the needs of their target audience.
4. Passion for numbers
At the end of the day, it's a numbers game. Through a combination of surveys, focus groups, and reviewing website data, marketers research their products and consumers. This forms your understanding of the market you're trying to enter and serve.
Salary
Salaries for marketers depend primarily on the role, responsibilities, company size, and location. In Germany, the starting salary for fresh graduates is around 35.000€. With two or more years of work experience under your belt, you can expect around 45.000€. Team-leads can expect to make anywhere above 60.000€, while a Head of Marketing can bring in anything north of 80.000€. Generally speaking, salaries are higher in larger companies. 
Tips & Tricks
As the field of digital marketing is expanding with new platforms and new advertising methods that are being launched daily, one of the biggest questions for an aspiring marketer is, "what do I focus on?. Brian Balfour, who was the VP of Growth at Hubspot, recommends setting you up as a T-Shaped Marketer. He suggests that you go broad by knowing the basics of most channels. Then choose to go deep on a couple of channels, depending on your skillset and interest. As an expert in certain areas, you will be able to build a brand around yourself and stand out from the crowd.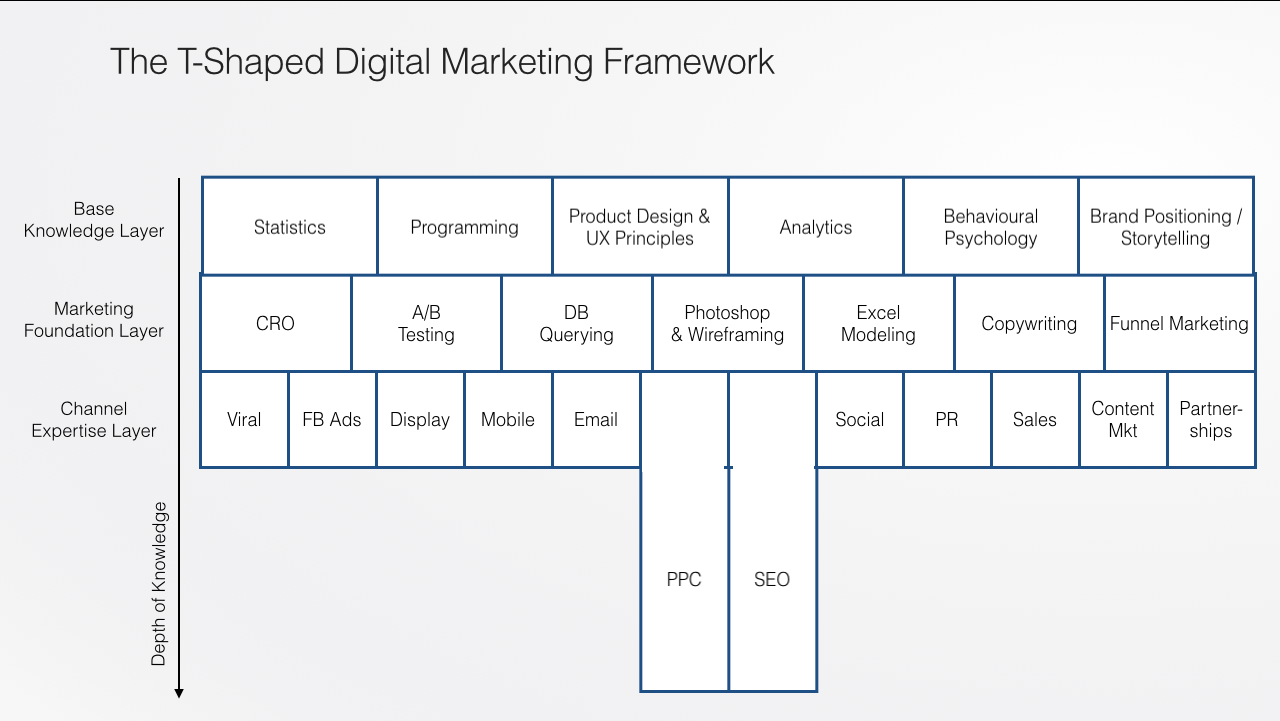 (Source: Matty Ford)
As a general rule, it helps to take the time to sharpen your marketing skills and keep up with the latest industry news. Media outlets such as AdWeek, AdAge, and CMO are great resources, and there are tonnes of books out there for you to read up on. Remember, marketing is always evolving. You can't take one course and expect it to be the end of your education. 
This multifaceted industry and its roles may sound overwhelming, but in reality, you only need to master one or two of these areas. The beauty of marketing is the diverse variety available. Be it in analytics, data, conversion rate optimization (CRO), search engine marketing (SEM), advertising, copywriting, search engine optimization (SEO), or communications, the choice is yours. 
Once you've sharpened those skills, create a portfolio. Whether you have real brand experience or you've been putting in the work on the side, a portfolio will help your application shine.
Check out other Career Paths