Could you tell me a bit about your background and how you ended up in your current job? 
My career actually started at the Berlin Talent Summit in 2015. I was intrigued to know more about one of the presenting companies, GoButler. I managed to get a business card of one of the founders and I called him right away to say I was at the same event. He was busy at the time, but we arranged to meet the next day. 
That was how I met Jens Urbaniak, founder of GoButler. A few months later I finished my studies and accepted an offer to join them. I learned a lot in a short space of time, and saw how a company can rise and how it can fall. 
When GoButler ended, Jens went on to found DrSmile. He reached out to me to ask if I would join him in his new venture. We still had a good friendship in place and I was happy to get on board at the beginning of 2019.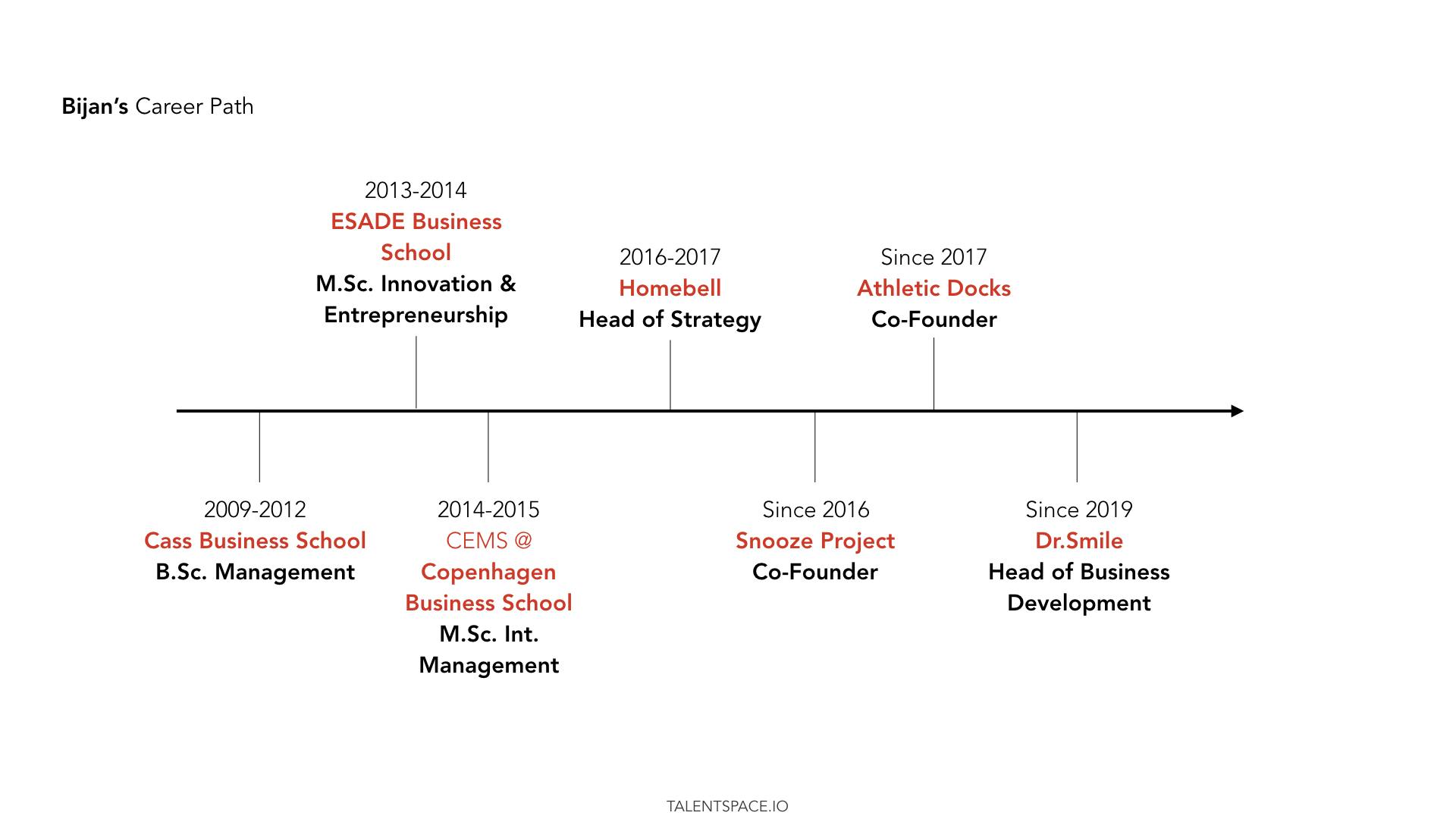 Could you walk me through your role and how your typical day looks like and what projects you work on? 
As the Vice President of Business Development, I work on everything related to growth. For example, one topic was building up an influencer marketing team. Rather than building this up inside the marketing department, I put the team together, set up initial processes and made sure it's running smoothly before handing it over to the marketing department. For a period of three months, I spent around 80% of my time working on this topic and the remaining 20% on a variety of projects. At other times, I might be dividing my time between five different projects and devote 20% of my time to each, which is the case right now. One of my current projects is to extend the product portfolio, including the launch of a new toothbrush and professional bleaching.
What qualities does someone need to succeed at DrSmile?
One of the most important traits is a positive mindset and openness for taking on responsibilities and tasks. I really enjoy the fact that in this company no one thinks in an isolated way. No one thinks that they are supposed to just stick rigidly to their department. Whenever someone from a different department has a request, everybody will come to help. This openness to helping others and not just working for yourself is very important.
How do you build your team? What do you look for in people when you build your team? 
The number one thing I look at when I'm hiring people is motivation. Your CV is a door opener and we normally need to check a few things before someone comes in for an interview. If during an interview the person doesn't really seem motivated then it will not work out, but if they seem really eager to take on a role at DrSmile then we'll most likely find a way.
What kind of challenges do you face in your position? 
The healthcare sector is a highly regulated market and there are a lot of things that you need to take into consideration if you want to build anything, so that's the first challenge. The second challenge comes from being a growing company. We have just exceeded 100 employees and this is a different challenge to just building a startup from scratch. In an early-stage startup with 10 or 20 people, everyone knows everything, but once you reach more than 100 people then communication becomes really important. You need to communicate with all of the stakeholders about almost all changes, and the big challenge at the moment is how to get this communication to flow through the whole organization at a constant level.
What's a misconception people have about DrSmile? 
I sometimes have the feeling that there is an 80/20 split between positive and negative press about DrSmile. 
We slashed the price of invisible aligners to between €2,000 and €3,000, whereas before people had to pay between €6,000 and €8,000. Customers are now getting a better experience for a third or even a quarter of what they paid before.
As a result, there is a lot of positive media about how DrSmile is fundamentally shaping an industry, while there will also be claims that DrSmile isn't working to the same level as traditional dentists or orthodontists. On the one hand, there are many even inside the dental industry who are applauding changes and want to take part, on the other hand, there are always those who are anxious about losing market share and are therefore trying to work against you. 
But in the end, what is most important to us are happy customers. To date, we've aligned more than 100,000 teeth and customers are overwhelmingly happy about their results, so we just need to keep going. 
What advice would you give someone who's trying to get a job at DrSmile? 
If you want to land a position in a high growth early stage company, most of the time it's sufficient just to be sharp. When the company starts to grow then startups start looking for people for very specific roles. That's the shift that is happening at DrSmile at the moment, so that we're currently only hiring for specific roles. If you think that you fit into one of these roles, just try to make us understand why you are so passionate about it and also passionate about our mission and what we're doing.
What's a good way to do that? 
Just be honest. In a job interview it's tough to fake motivation. Working in the dentistry market as a business development manager or in tech, there's no standard advice that I could give you other than making up your mind if the role is the right fit for you and if so to show it. It all comes down to transmitting your passion to the interviewer.