Could you tell us a bit about your background and how you ended up in your current job?
I have a background in business and law, but I was always interested in technology. In 2008, that interest brought me to a competence center called InfoCom at Roland Berger. This competence center was right at the intersection of business and IT. I've now been doing digital projects for more than 12 years, and this is what I do in my current role.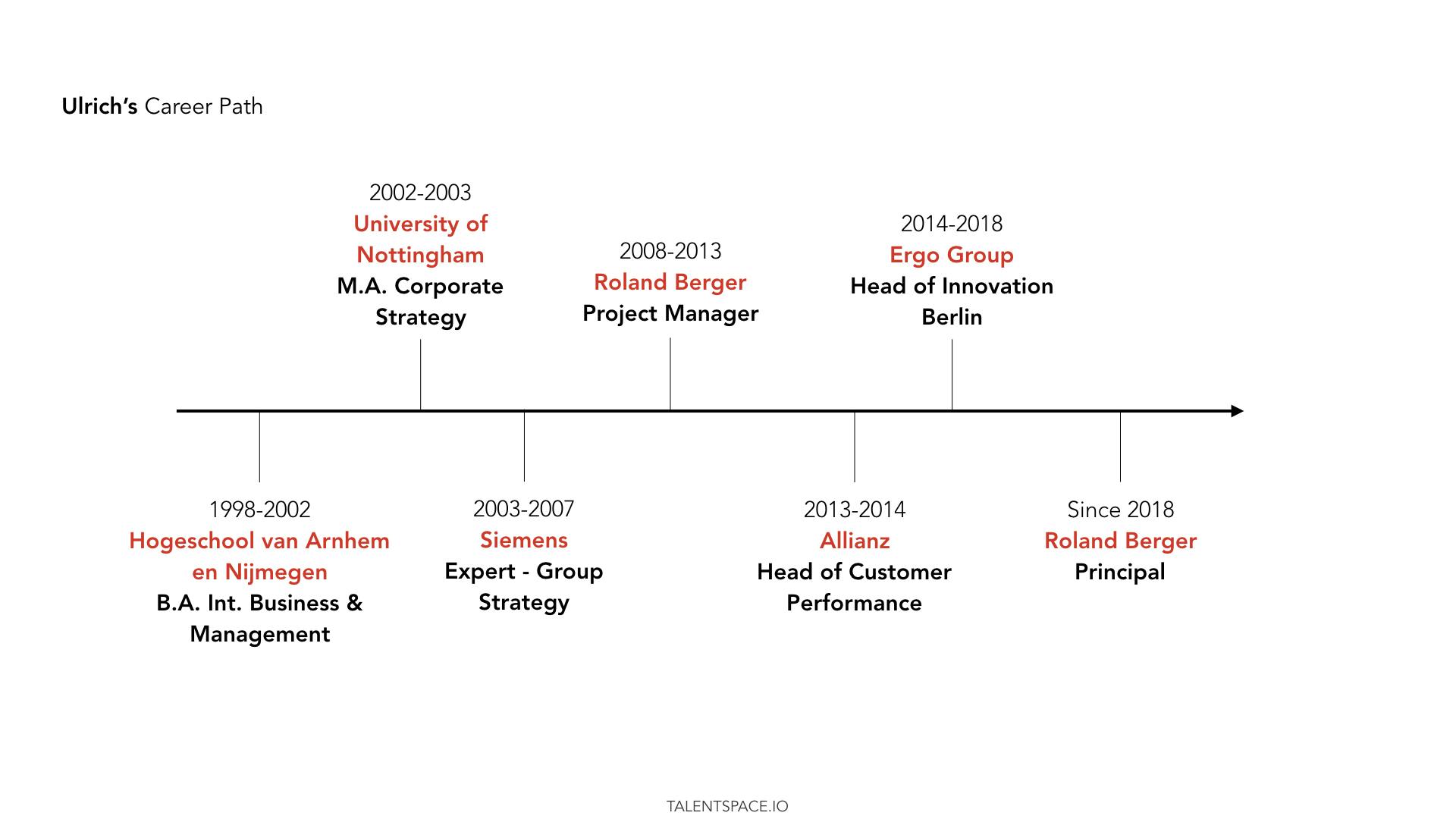 Could you walk us through your role and how you spend your time?
My role is mainly split between business development and supervising several projects. Business development can mean anything from developing new consulting projects, publishing studies to acquisition work, meeting new and prospective clients and discussing digitalization with them.
How do you split these activities? What's your main focus?
I would say probably 65% is business development and 35% is project work.
What qualities does someone need to succeed in your role? 
For this particular role, you need to be a good networker, both internally and externally. Internally, it's a lot about extending your internal network of principals and partners and working together with them, because from acquiring a project to delivering a project, it's all about teamwork. It's not a job that you can do all by yourself, and you don't have to do it by yourself! Extending your network and offering your skills to your colleagues and helping them will create an internal demand for your qualities. 
At the same time, networking externally is equally important. Not only in terms of clients and potential customers, but also with industry partners. In digital, we often deliver projects together with implementation partners. Having a relevant set of network partners that you know, or a network of start-ups or entrepreneurs, really helps as well. 
What for you the most fascinating thing about your role?
For me, it's that you get to work on really cutting edge projects and topics of different industries. In consulting, we often have topics that are new to our clients and where they don't have a clear vision yet of how to proceed strategically.  This is where we try to help them. This involves developing new business models, moving into new markets, and evaluating how they can leverage new technologies. There's this sort of inbuilt newness in the things that we do and this is definitely something I like because it never stops. 
What are the misconceptions people have about being a consultant?
I think there are a couple of misconceptions. Consulting has changed. It's not just suits and ties – it's much more casual today. Also, it's a job that you can balance well with your private life. I have a family with two kids and that works out fine actually. 
What advice would you give someone trying to become a consultant?
I would advise you to try consulting with an internship first to see if it's really for you. There's a high conversion of interns that grow into consultants. This seems to be a very good filter, not just for us to get to know you, but also for you to decide if this is the right path for you and to figure out if you fit into the culture. I would advise you to try it out as early as possible – maybe during your Master's studies. You will get to be a part of a team and join a project, which in any case is a valuable work experience.