On the Talentspace platform, you can attend online recruiting events and meet interesting companies looking to hire the talents just like you.
Online Recruiting Events on Talentspace
Universities and employers host all kinds of online recruiting events on Talentspace, ranging from a small company presentation to a large-scale, multi-day, multi-company recruiting fair. 
During an event, you can interact with employers in four different ways.
Speeches are open to everyone and usually last from 30-60 minutes. You'll have access to a text-based chat where you can ask and upvote questions. 
Sessions are specialized talks offered by employers and could be anything from a Q&A session to an intimate workshop. Some sessions will require that you apply for a spot. Multiple participants can attend a session with cameras on, and you can also 'raise your hand' to be called onto the stage and ask a question. There is also a text-based Q&A section where you can ask and upvote questions.
1-1 chats are private video chats between you and an employer, lasting from 15-60 minutes. This is your chance to ask individual, personalized questions, as well as introduce yourself to a company and make your own impression.
Live booths echo the experience of a company booth at an offline career fair. Employers will host their own live booths where they answer questions and talk to you about roles at their companies. Live booths can be joined spontaneously throughout the event.
As you can see, there's plenty of interaction to be found at the time of the event. But well before the event begins, there's plenty to look at on Talentspace: 
Setting up your profile
Before you begin, it's important to set up your profile and fill it out completely, adding information such as your educational background, your work experience and specific insights into what you're looking for in a job. You should also upload your CV.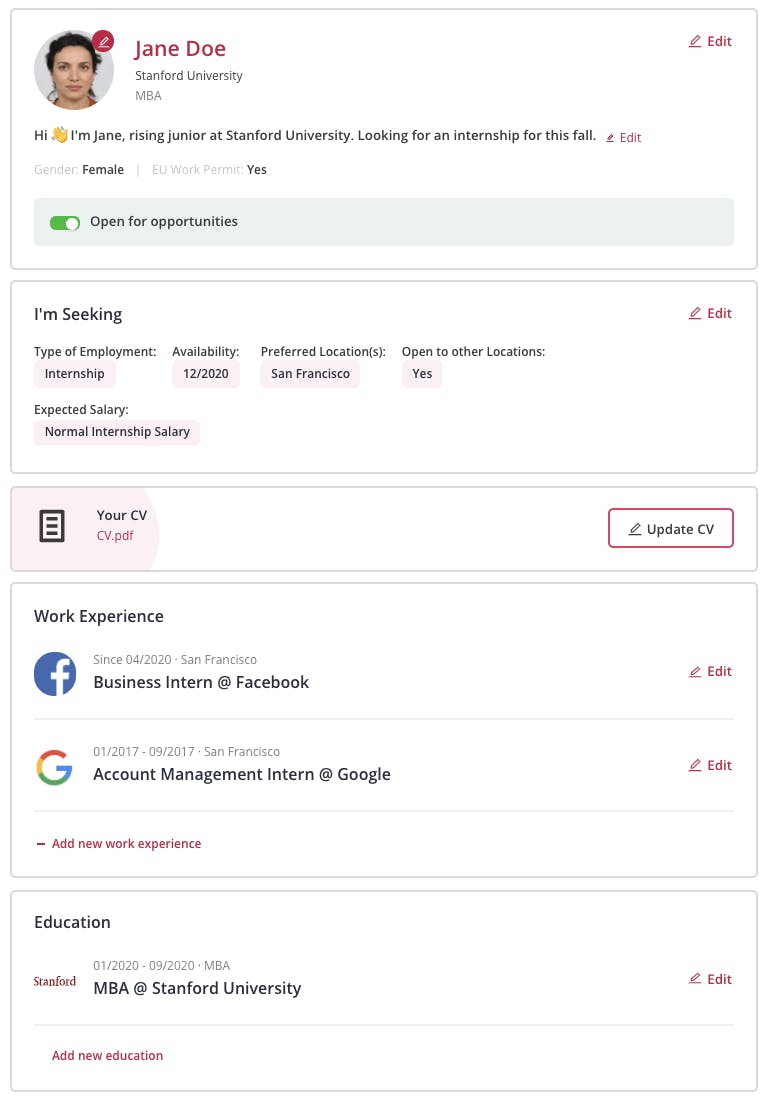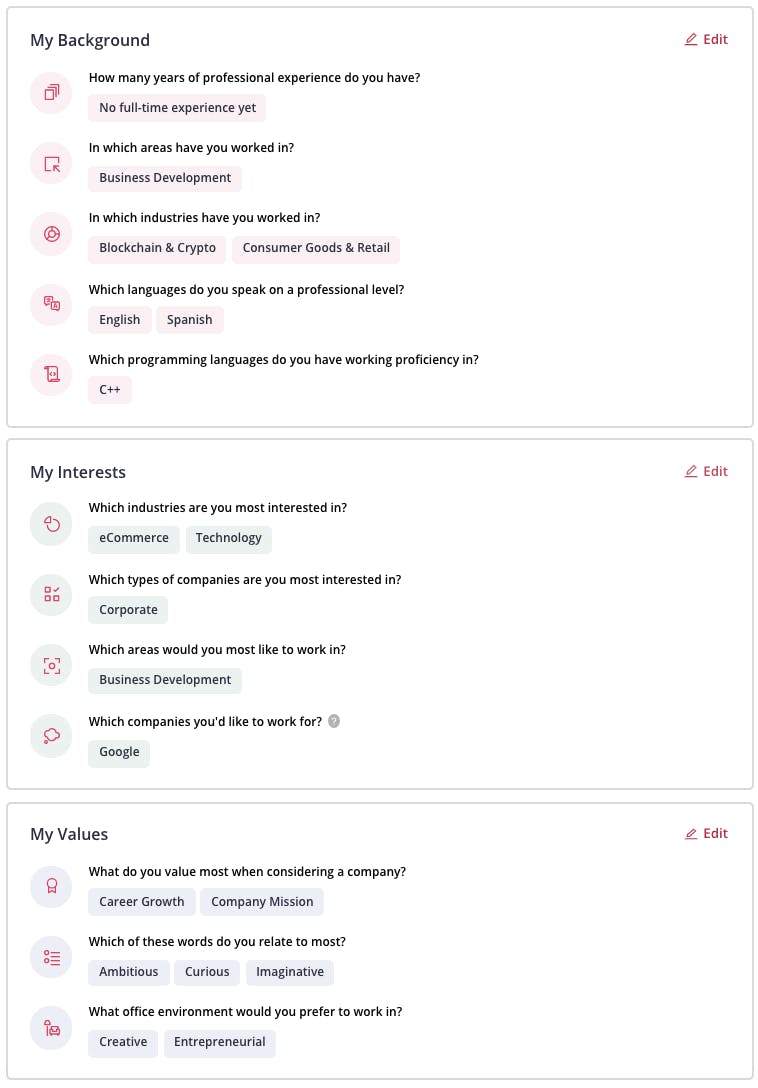 Identifying an online recruiting event
In the Events Overview page you'll find all the upcoming events hosted on Talentspace. An event might have been created by your university or a specific employer.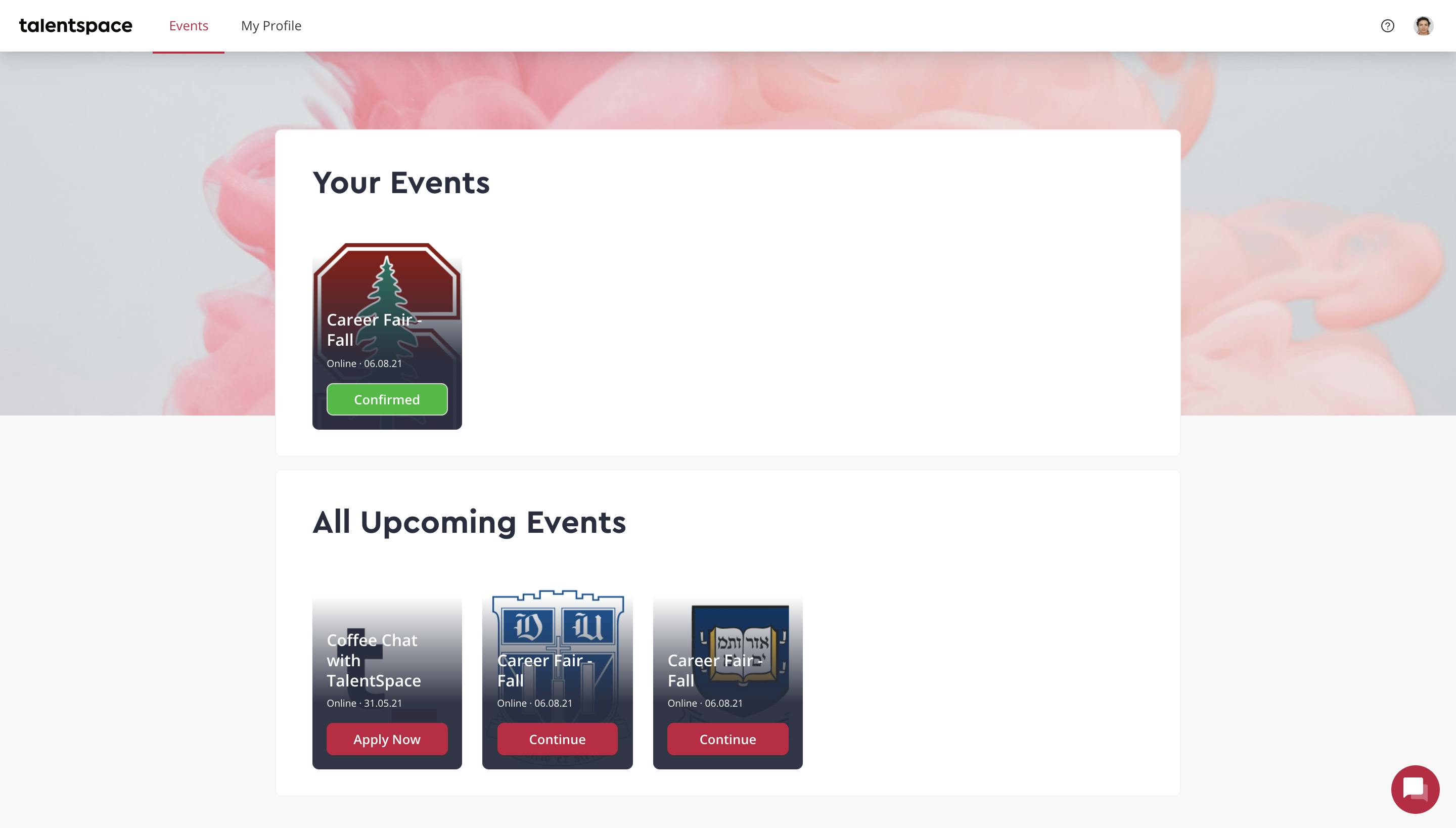 Your event dashboard
To get started, navigate to the event dashboard, which is divided into different tabs. Depending on the event, you might find any of the following sections: 
Live Feed: Resources to get you started plus live information during an event.
Sessions: An overview of all sessions that are taking place.
1-1 Chats: Employers you can request chats with. 
Companies: An overview of the employers participating in the event.
Announcements: updates on the event.
Live Booth: An overview of all live booths and their activity status. 
Jobs: Open positions listed by employers participating in the event.
Schedule: Your personalized schedule for the event, including any 1-1 Chat appointments and session sign-ups.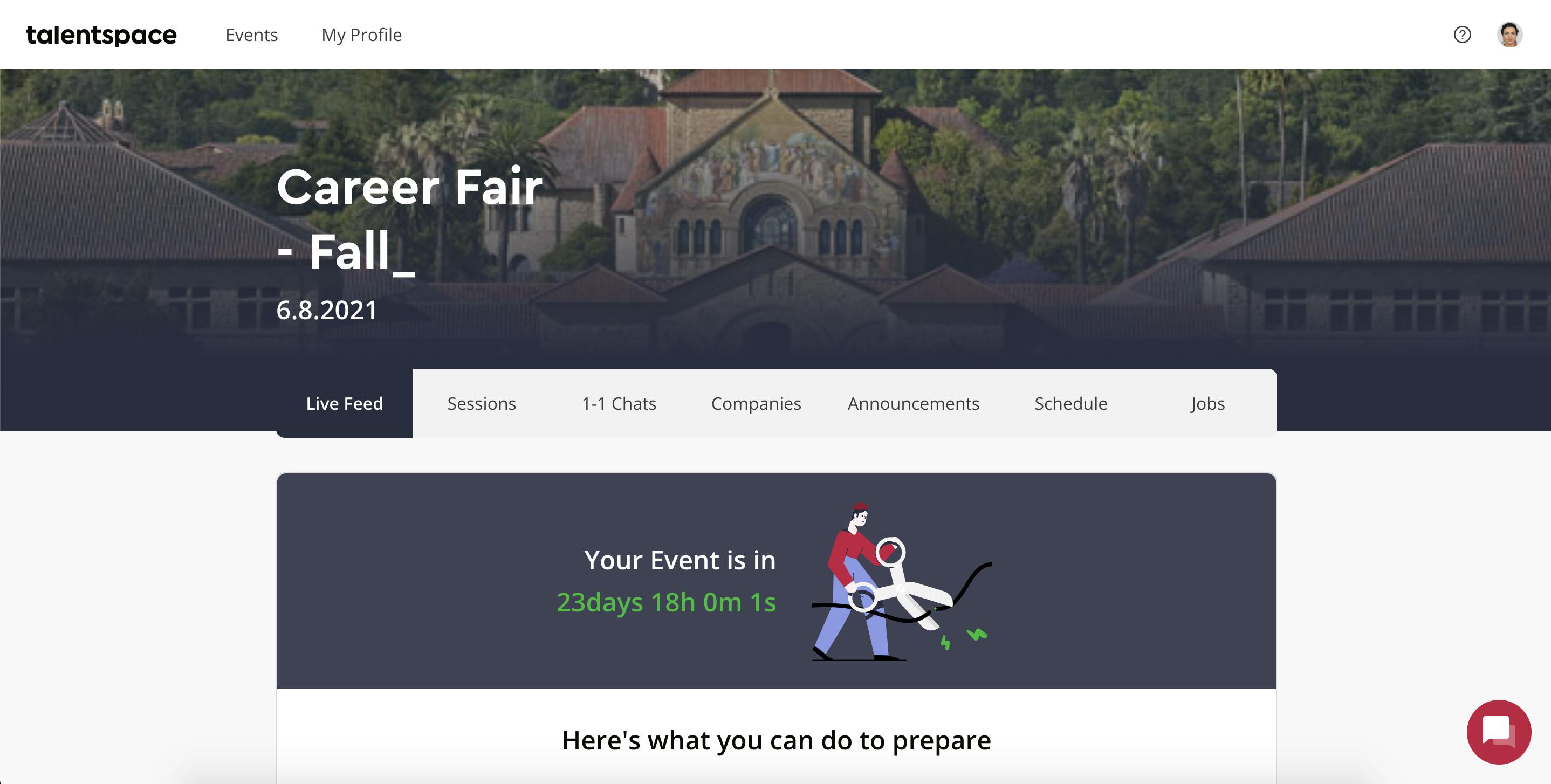 Registering and signing up for sessions
Based on whether there is a capacity limit, you can either request a spot at any session or simply register. You can find all relevant information, including topic, companies involved and time, about sessions in the "Sessions" tab.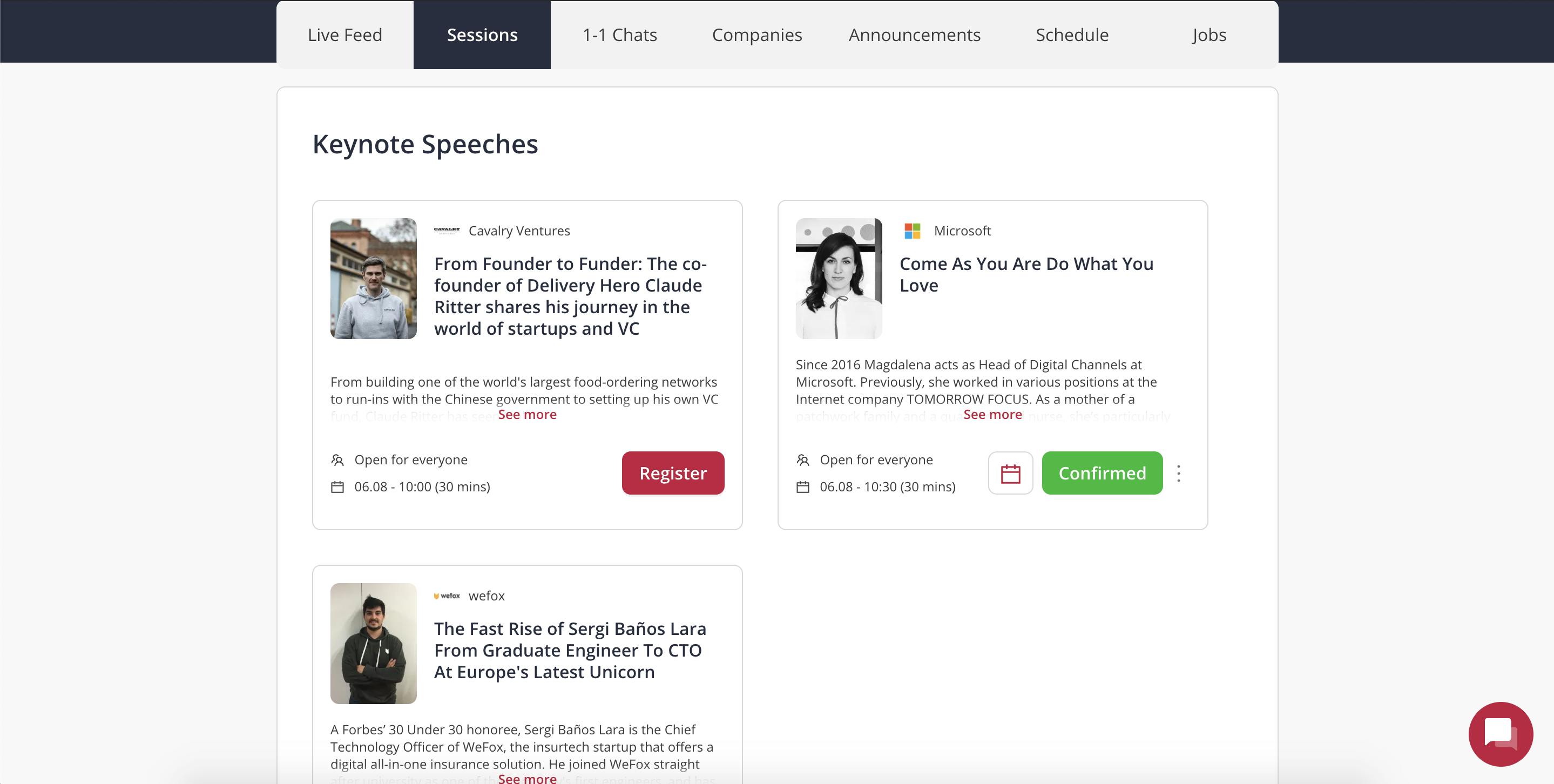 Requesting a 1-1 chat 
You may also request a 1-1 chat with an employee of a company that you're interested in. During these 15-60 minute conversations, you get the chance to ask individual questions and really get in touch with an employer. To request a 1-1 chat, navigate to the 1-1 chats tab and choose the employee you're interested in speaking with. Once your request has been accepted, you can book an open slot in the employees calendar. You can request multiple 1-1 chats.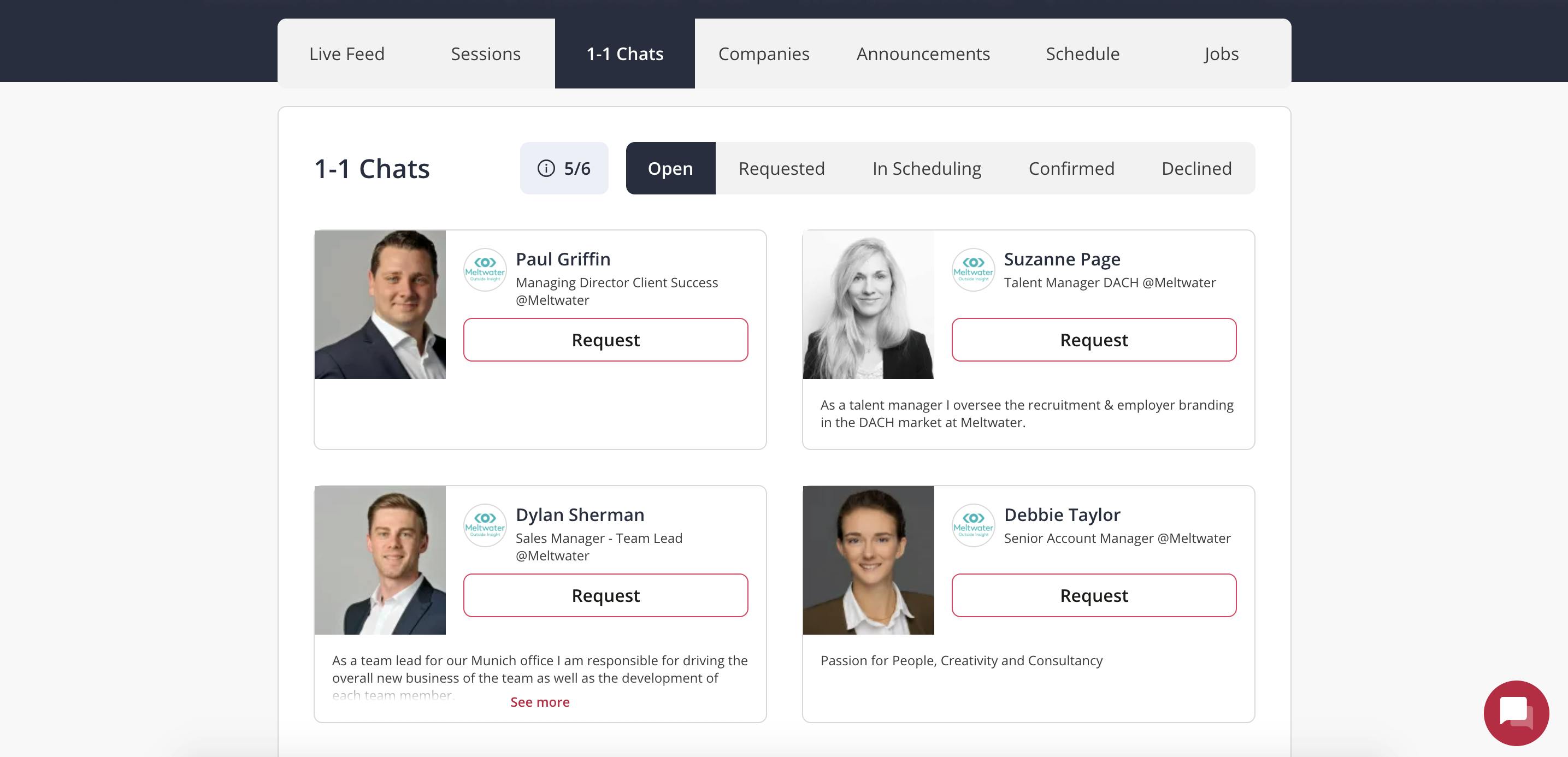 Inform yourself about participating employers
Prior to the event, you can discover interesting employers participating in the event via the "Companies" tab. Employers fill in their profiles with information about the company, the sessions they're hosting, their employees, FAQs, and open positions.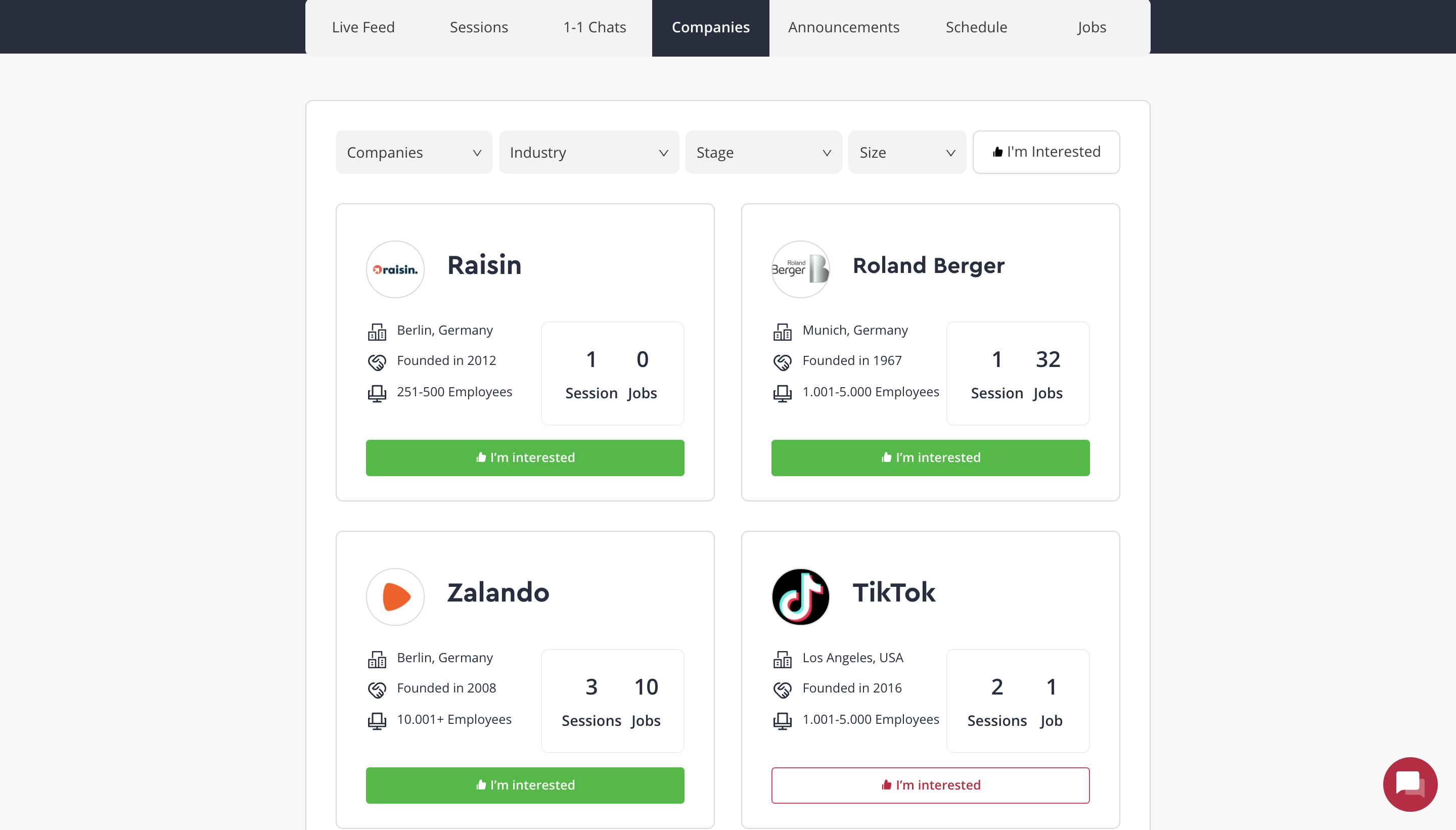 Review and save jobs  
On the "Jobs" tab overview, you'll find all jobs that have been posted by employers participating in the event. You can save a job for future reference by selecting "I'm interested".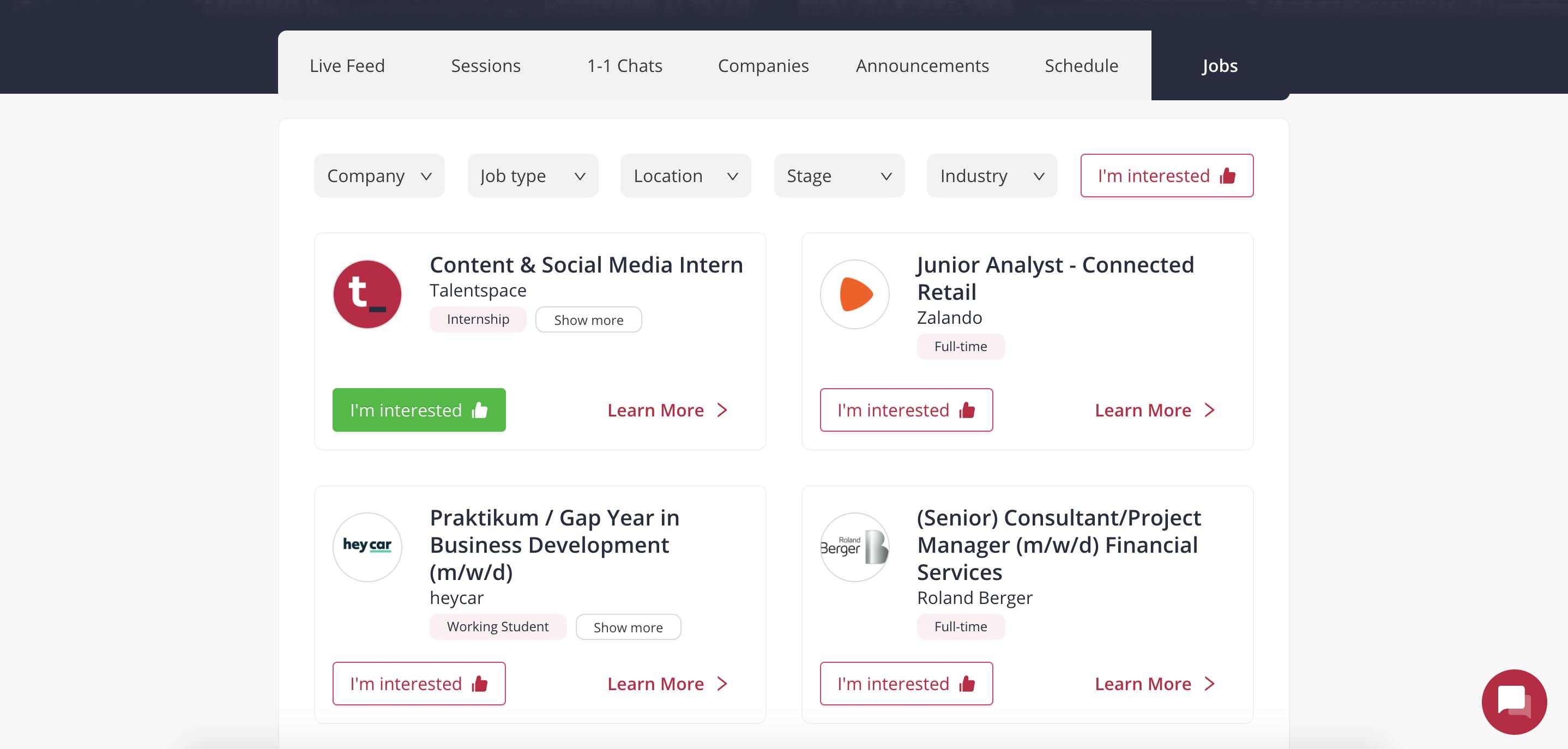 Preparing for the recruiting event
Consider reading some of our guides on best practices and event preparation: