In 2014 you founded Konux and then, in 2016, you founded FreightHub (now Forto). Did you always know you wanted to start your own companies? How did your studies at CDTM foster and influence this decision?
When I first went to university, starting my own venture in the future was far from my mind. In fact, I was considering a more conservative career path. At the same time, however, I found out that working on your own project and driving your own ideas, is something that motivates me to an incredible extent. The big change that CDTM brought into my life, was to diminish the fear of taking the first steps towards building your own venture. CDTM more or less gives you a guided tutorial on how you can bring an initial idea into practice and real life.
When was the moment when you decided that founding your own company was something you wanted to do?
A very important moment was when I was pursuing my bachelor degree in mechanical engineering. During that time I was heavily involved in a competition called Formula Students. It consists of students building their own race car. I continued to be involved in this throughout my time at university. This meant three years in and out of working in the shop with 40 to 50 other students. The students built a car from scratch, that goes zero to a hundred kilometers in about 2.3 seconds. This project was a big passion of mine, as it was amazing to see, how arduous everyone was about building the fastest car, even though no one was being paid.
What does your role as Managing Director at Forto entail?
At Forto I run the European and Asian commercial team, which currently consists of 150 people. My core responsibilities include investor relations and fundraising, sales, marketing, and business development. Therefore, a big part of my responsibility is to ensure that we have the required resources to meet the growth expectations of the company.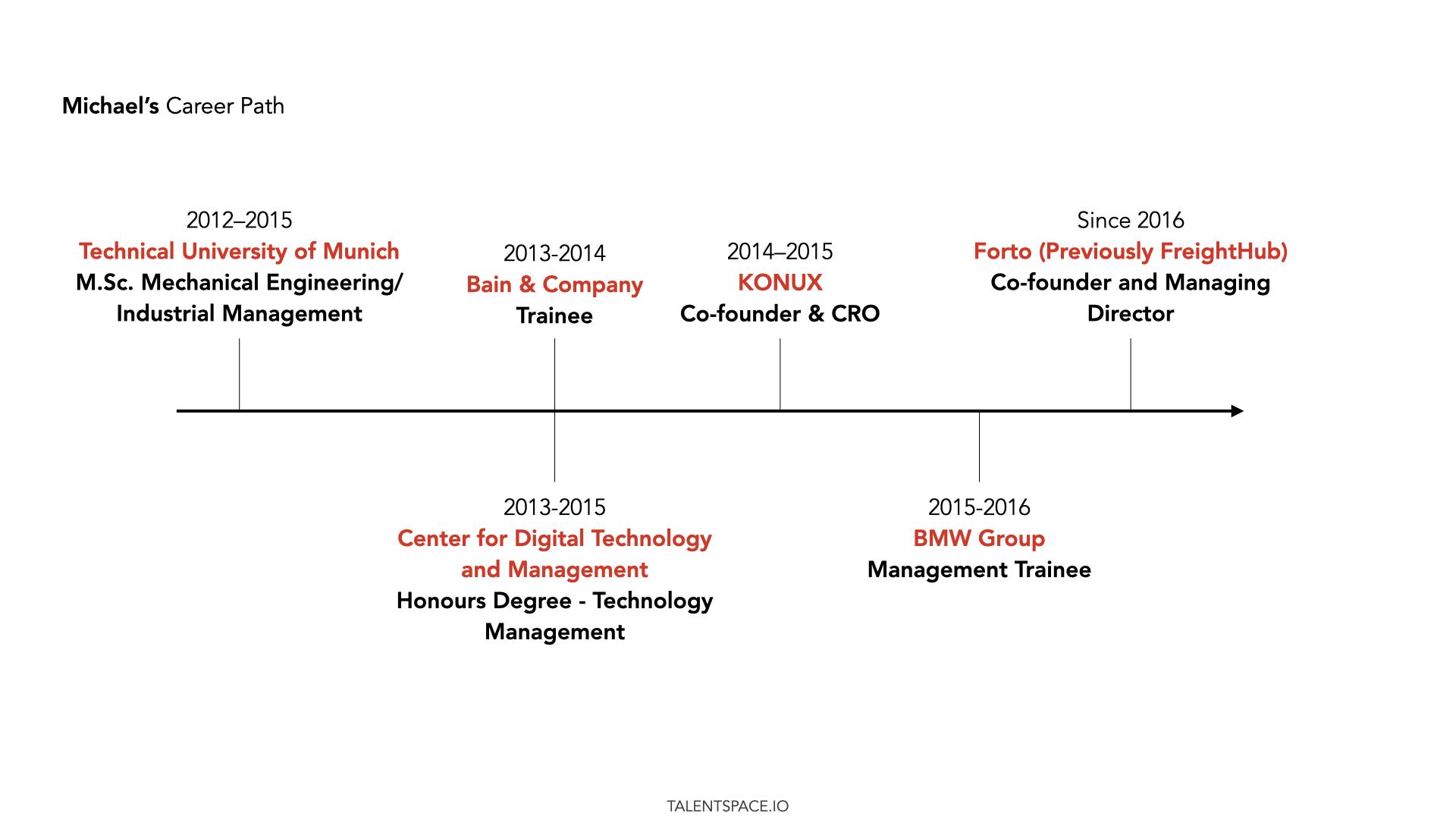 Would you say that you have a normal working day, or does it change day-to-day?
At the moment it is pleasantly productive. I had been traveling a lot during the last three to four years and now I am able to focus on getting work done - it's a lot more efficient. Other than that, my job pretty much changes every 8 to 12 weeks. We buy a company, we add a new country, and we'll be selling a new service. I initially started by reaching out to clients myself and negotiating contracts. However, today it's more about making sure we meet with the right kind of investors, establish partnerships, build tech integrations with the most relevant players and hire the best talent to evolve as an organization and meet the requirements of tomorrow.
What was the process of starting Forto and your motivation at the time? What gap did you see in the industry?
We came from an entrepreneurial perspective of finding the next biggest opportunity. That involved heavy analysis in different markets. Logistics happened to meet a lot of the criteria that we set out in the very beginning. I think it was rather an agnostic, and not so much a purpose-driven process. In the end, logistics was one of the topics that we discussed and analyzed heavily, which showed us that it's one of the biggest industries. There are 130 million containers being moved every year and 90% of the physical things that you see around the city have been in a container. Yet it's still a very paper-driven and heavily inefficient industry. Coming from a perspective of going through CDTM, talking about user experience and process flows, thinking about booking cabs, Ubers, having custom-made Spotify music playlists, and then switching back to logistics, where your prime partner in Hong Kong ships a couple million tons of air freight every year and doesn't even have a computer! It's just a different world.
Merging these two worlds and bringing the best people from the logistics space together with the best people in tech, was the initial core hypothesis, that made us believe that we could build a more intuitive shipping experience. We are based on a more efficient foundation, which relieves people in our operations department from a lot of the cumbersome work and gives them more space and freedom to focus on customers.
It's pretty much Murphy's Law. Everything that potentially could go wrong in logistics did go wrong.
What were some of the challenges that you faced in the early days?
It's pretty much Murphy's Law. Everything that potentially could go wrong in logistics did go wrong. The very first container, that we were about to ship out of Taiwan, was caught in a typhoon. The day this container was to be loaded on the vessel, a typhoon hit. Therefore the container could not be charged for several days. The customer was begging us and contacting us daily: Is the container loaded now? Would it arrive on time? By the end, it was about a two week delay, because more and more circumstances, such as the weather, came about, which are impossible to forecast.
Now our biggest desire is to give a customer the best possible picture on any current situation. We update them proactively. However, we not only update them on the current status, but also show them alternatives, that they can choose from, in order to meet the planned arrival. This can include switching from a sea freight shipment to a rail freight shipment, in order to make up for a two week delay that happened at the origin port. That insight is where we see our biggest asset.
As the company has grown, how has the culture changed over the last few years?
I think one of the biggest core values of Freighthub - or Forto (I still have to get used to the new name!) is: We are one. That means that there is a very heavy focus on collaboration. We are a very young company. We are now four years old and active in eight different locations. For us, home office work started two or three years ago. None of my commercial meetings ever happened on premises physically, because there was always someone dialing in from Hong Kong or Singapore. Our Head of Sales is in Bremen, our Head of Sea Freight Procurement is in Hamburg. We have a lot of different people working cross-functionally to make sure the client succeeds and that clients can grow their businesses faster. The utmost priority for us is to not create any kind of silo thinking and to make sure that on every level, from promotions, to bonuses and incentives, to the way people are praised and appreciated in the company, we stay collaborative. That is something that is at the very core of our work and has helped us to be successful in the past.
So, you've also been quite prepared for the coronavirus pandemic!
I think no one was prepared for such a pandemic unfortunately! In hindsight, we were lucky to be in a position to switch gears swiftly. Our circumstances were just way more fortunate than for incumbents.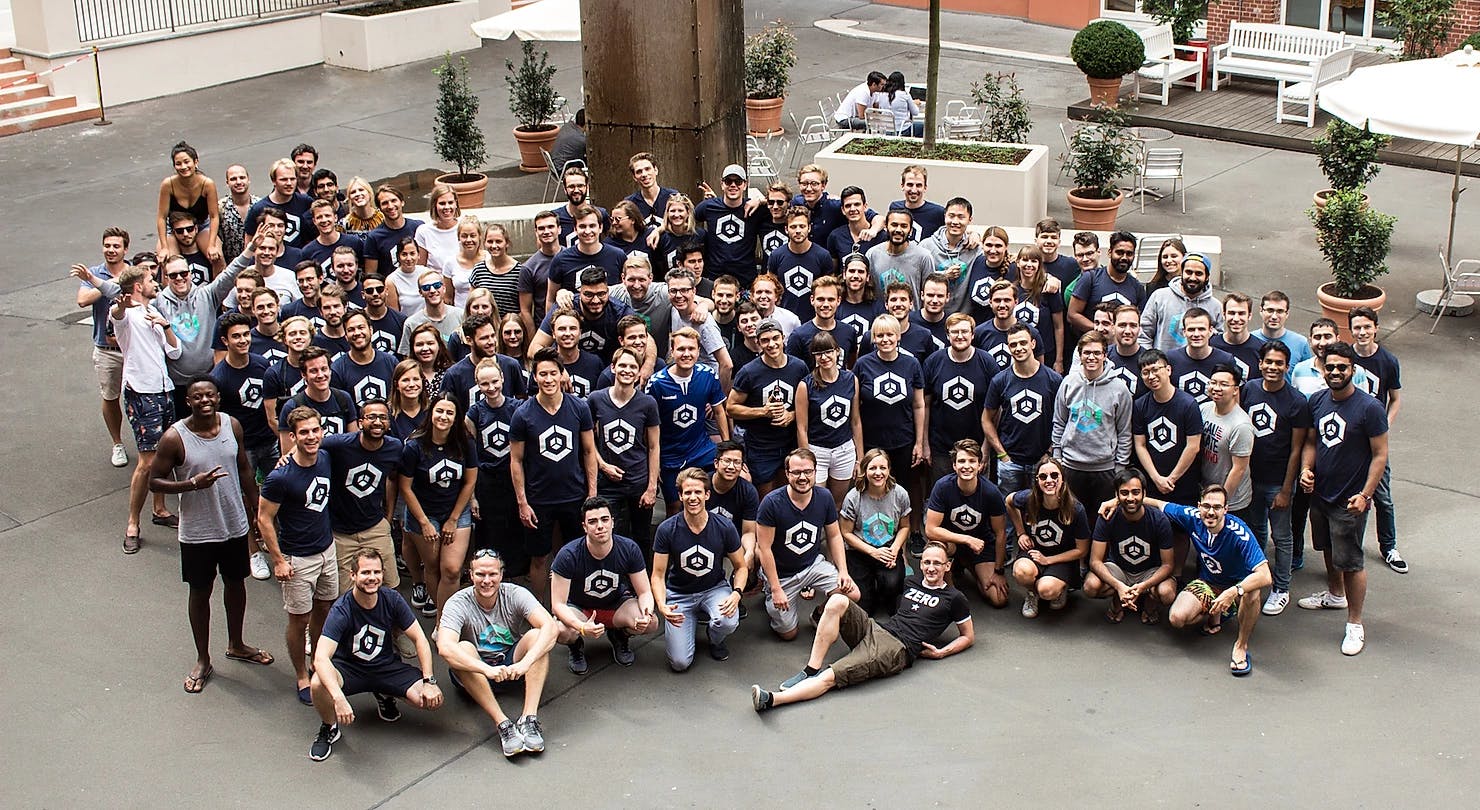 It's funny that you just tripped over the Freighthub/Forto name: could you tell us a little bit about the transformation of Freighthub to Forto and what sparked the decision?
That was actually a pretty long process. It took us more than a year to get it finalized, but I think the idea and the initial seed was planted in early 2019. We realized we were getting a lot of trust but as a company, primarily perceived as a sea freight forwarding company and a sea freight transport company. We have made a big switch towards offering supply chain services, warehousing, air freight, and delivery services. This transition needed to be more deeply rooted into our company DNA, and it was hard to see how this could happen without a name change and a significant rebranding.
We also saw that, especially within Germany, Freighthub is not easy to spell. We noticed how customer outreach needed to spell the name thousands of times. Therefore, we decided the new name had to be simple, it had to be swift, it had to show that the company has a strong technology DNA. With Forto, forwarding technology, we found the perfect name. Forto reflects that the company is not simply a freight service company, but also a technology company offering services. With Forto, we built a company for our employees, which provides a meaningful place to work, for our customers, to make shipping easier, and for the world, to accelerate global trade.
How has logistics changed since you started in the industry - especially in the wake of COVID-19? Is digitalization more common now?
Definitely. I think already today you can see that a lot of logistics startups are doing pretty well during this crisis. It's a system critical industry. No matter, if people are at home or at work, they still consume to some extent. For example, we saw a big increase in DIY gear. People are going to DIY stores, equipping their gardens, or they are remodeling their living room, they shop for new sofas. A lot of the eCommerce clients that we serve, saw a big spike during this time, only comparable to Christmas and Black Friday.
People today experience - also in the B2B context - that digital tools can heavily simplify their daily life. I could not have imagined that some customers would be doing a Zoom meeting three months ago, and today that is more or less standard. They have also now experienced that digital tools are not something to be afraid of, but something that can be helpful. I read a pretty amusing meme that said, "okay, who's been defining the best digital strategy? Was it the CEO, or the COO, or COVID-19? And the latter was the most successful!" That's what we see a lot of on the customer side now. For us, the first quarter of this year was the most successful customer activity we've ever had, especially on a traditional B2B customer side.
I think bigger companies are not necessarily made for radical transformation.
What would your advice for other young founders be?
That's a pretty difficult question! I think there are a lot of technicalities that you learn along the way; how to structure and build a sales organization, how to structure a fundraising process. One of the most challenging things I had to learn, was how to approach everything in an utmost rational way.
The second thing I had to learn, was how to gain resilience. You go on an emotional rollercoaster every day. Every day I receive super good news, as well as super bad news. It balances out over time. You get more used to it. It's difficult to live through those spikes, but I understand it is normal that things might not go well in the beginning and you need to work on making it smoother, easier, and better. It's a process. Choosing an entrepreneurial career is also choosing a process of growing within this level of uncertainty and insecurity every day.
The third thing I had to learn, is that working in this industry means you're working within a small circle of people. It's important in every job, but especially important here, where there's a few hundred VCs, a few hundred founders: I like that this industry is requiring a high level of integrity and moral standards.
Before you founded your own company, you also worked for Audi, BMW, and at a consultancy. Was it important for you to work at big established companies before you founded your own?
Of course, I think it helped me from a lot of perspectives. For one, I experienced how you keep a huge engine running. Dropping out of university and funding a company without ever experiencing the degree of professionalization practiced in the German car industry would have definitely hindered me in terms of scaling Forto the way we built the organization so far.
A second point is that it showed me how tremendously difficult it is for a big company to change a system. I think bigger companies are not necessarily made for radical transformation. Often approaching a business idea, one might think BMW or Mercedes or Siemens would be in a better position to build this product or to deliver this service. That's not necessarily true because they have other challenges. They have to carry a ton of legacy with them. They need to do an open heart surgery to change things. A startup company can start from a blank piece of paper and more or less build something from scratch, which is often easier than rebuilding an existing system.
A last point for me, is that one may often think the grass is greener on the other side. However, I experienced a variety of career paths and chose the one that suited me best and that gave me the highest satisfaction. I wouldn't want to change anything from my past or my chosen career path in the future.
What is the one piece of kind of crucial career advice that you think people tend to overlook or not think about so much?
I would say one thing - and it's kind of not in Forto's interest to say this, especially from a hiring/retention perspective: "As difficult as it may seem, you're never too young to build your own company. You should trust your ability to manage a lot of challenges along the way, even if you don't know how to figure them out from the beginning. Have a healthy level of self-esteem. Believe in yourself and carry within you the resilience I mentioned earlier, because a lot of people tend to underestimate themselves."