Sit in on this virtual coffee catch-up to find out how to turn a stellar education into an ambitious career path. This article is part of a collaboration between Connect Me at ESCP and TalentSpace.
Mathias, what was your career plan after you graduated from ESCP?
My passion and -- if you want to say so -- my career plan started even earlier than ESCP. I went to a consulting firm when I was sixteen, as part of a student internship. From that moment, I knew that I wanted to work in strategy consulting, so I followed the consulting industry and also investment banking closely.
What fascinated me was their working culture. They had such a fast-paced learning environment and an approach that valued structured thinking. I knew that was where I wanted to work. When I was young, I also dreamed of traveling, the big wide world and glamor to some degree. That's why big brand in consulting and investment banking, like Goldman Sachs, had a special attraction for me.
Luckily, I found exactly this in my first position at Oliver Wyman. Airport lounges, exciting worldwide projects, and a steep learning experience. Then after two years I moved to L.E.K. Consulting, where I joined the private equity practice for three and a half years and moved to Boston.
Why did you leave consulting and found Atheneum in 2010?
After a while, I found that great projects, hotels and consulting were not what I wanted for the rest of my professional life. At a certain stage I think it's normal to ask yourself, "What fulfills me?" Here, the idea of entrepreneurship and of starting my own new thing inspired me more and more. This was during a time when consulting firms were facing tougher times in the aftermath of the financial crisis. It felt like the right timing to go for it. Without the crisis, I might never have become an entrepreneur.
The other important aspect was my experience and seeing that a professional expert platform for management consulting firms and businesses did not exist at that time. I saw a real opportunity there. This was the core idea from the start, and it still is today.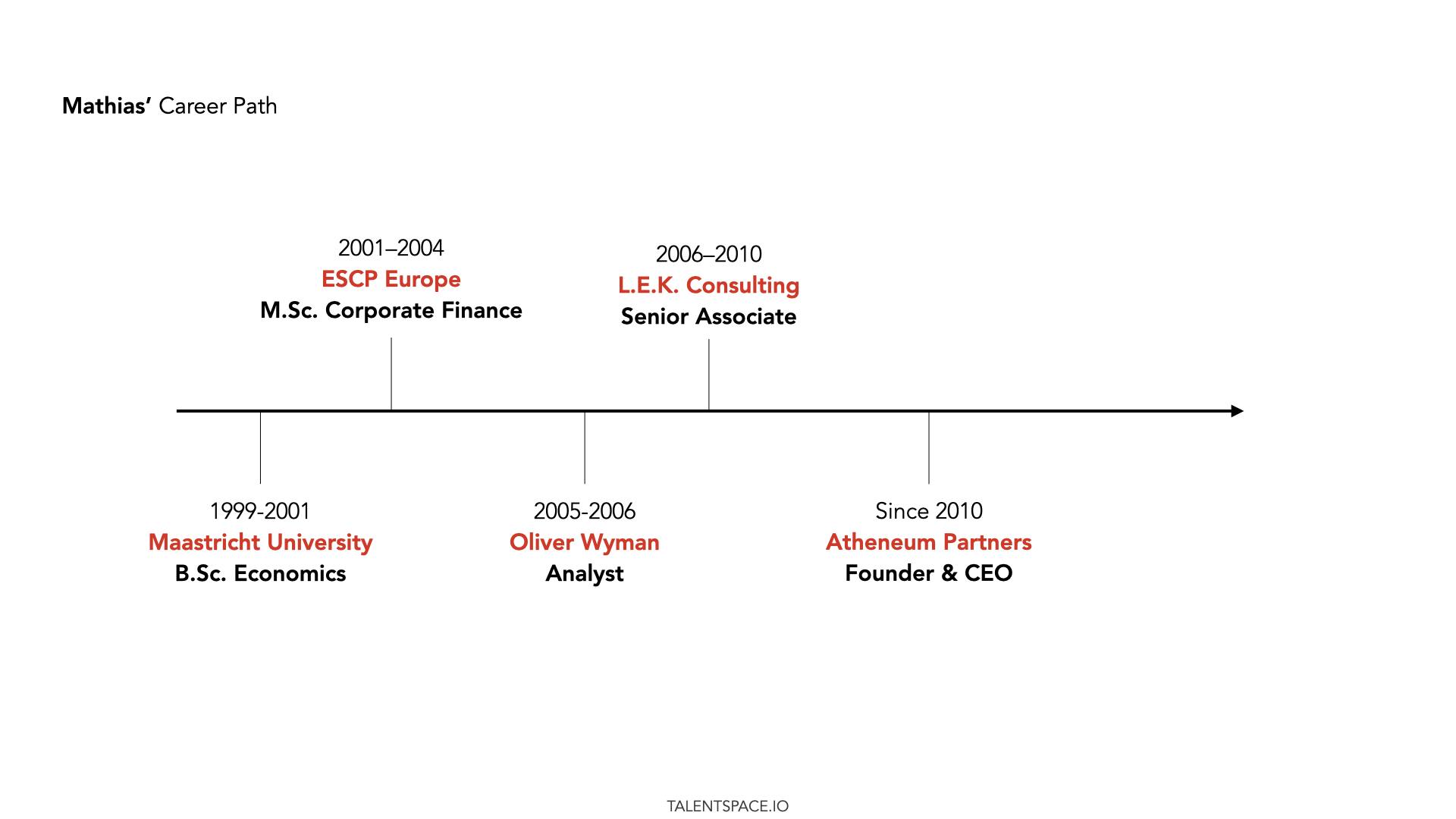 What is Atheneum's core business model today?
Since day one, we've been a global platform for expert knowledge. Today, that network is powered by over 450,000 experts speaking 40 languages. Besides our scope, with ten offices on four continents and around 350 people, our product has changed too. Along with our core expert interviews, we conduct more and more surveys for our clients. With this we've moved from an "expert broker" to a "knowledge broker". We offer this expert service to high-end clients from three main groups: consulting firms, like Roland Berger, corporates from diverse industries, and private equity firms.
How would you describe the company culture across Atheneum's offices?
The internationality of our company, teams and projects bind us and makes our job very exciting. We're also proud of our strong diversity, not only in terms of nationality but also gender and backgrounds from biotech, psychology and, of course, business.
Another important aspect to mention is that we are a very young team, with an average age of 26. We work in flat hierarchies, not only in project teams but in our firm as a whole. All the same, our culture is also performance-oriented. All of this combines to mean we have a really good atmosphere to thrive in, and a team that enjoys working.
What's special about working at Atheneum?
Our business projects are often ahead of the curve. For example, we've already dealt with the market risks of the current Coronavirus crisis and how to assure the availability of treatments. This was in mid-January, when many businesses did not perceive the risks and its implications. But also beyond pharma and life science, projects regarding future business risks due to changes in regulation, market dynamics or demography are important and exciting projects for us.
With every request from our clients, we also learn a lot. This means our learning curve as a company but also as project teams and as individuals are very steep.
What profiles are you currently looking for?
Our profiles differ a little from the "classic" consulting firm. Due to our focus on transferring expert knowledge, communication skills are a must and analytics are less important. People at our company, be it in sales or project development, need to have a passion for selling interesting topics. As a platform, this means that we communicate to both the client and the expert. And we also always need to have an idea of the specific domain we are transferred expert knowledge for.
We are always looking for talented and engaged people. Our open roles range from business development in Germany to account managers in Japan to data analysts in Pakistan.