The London School of Economics and Politics sends some of the most exciting new students out into the world every year, and many of them go on to amazing things: LSE can count 34 prime ministers, presidents and premiers, 18 Nobel Prize winners, and more than a few business magnates in their alumni. It's no surprise that the LSE Entrepreneurship Society is one of the school's most thriving societies, with over 500 members and regular prizes at the Students' Union.
The Society's latest venture is the educational and always enjoyable podcast, the talktank, which interviews entrepreneurial leaders like MCR Property Group founder Aneel Mussarat, Chief Strategy and Chief Customer Officer at Farfetch Stephanie Phair, and founder of the Big Issue Lord John Bird. In our new collaboration with the LSE Entrepreneurship Society, we bring you a first fistful of tips, ideas, and lessons from these great minds to help you along your way.
Be passionate
"I've started a lot of businesses in the past," Alborz Fallah, founder of CarAdvice, explained. "I created sixteen businesses before CarAdvice, and every single one of those sixteen was made for the reason of making money. CarAdvice was because I love cars - and it was the only one that actually made money properly!"
The takeaway, Fallah said, is to really care. "It doesn't mean you don't want to make money and fill a niche, but I think you need to be passionate about what you want to do."
Founder of Koru Kids, Rachel Carrell, agreed, pointing out that most startups take a long time to get off the ground. "You have to be emotionally committed," she said, "because it takes ten years for anything to accumulate value. I had this benchmark in my head that it would need to be something that would sustain me for ten years, for a huge chunk of my life."
Get ready to fail
"If you don't have failures, if you don't make mistakes, you're never going to learn," said Aneel Mussarat, founder of MCR Property Group.
I've never met a successful person who has not failed a lot. You need to fail, and you will fail. It's not about failing, it's about how you get up after failing.
Mussarat described the frightening experience of being a relatively young property magnate during the 2007-08 financial crisis. "I was terrified that I could go bankrupt, that I could fail pretty badly. The humiliation, personal defeat, public embarrassment, all those things were quite scary and daunting. But I had faith in Allah, I had an enormous amount of determination, I had a good team around me, and we navigated our way around that financial meltdown. It took four years but we got there. I learned a lot, like what not to do, how to structure, how to not make the same mistakes, how to be more proactive."
"I've never met a successful person who has not failed a lot," Fallah said. "You need to fail, and you will fail. It's not about failing, it's about how you get up after failing. I think all entrepreneurs in their essence share a very similar personality of perseverance, always wanting to keep trying, never giving up and not taking failure to heart. That's what I've learnt: even though we all have extremely different paths, we all have that in common."
Consider those $$$
Every founder needs investment. But the speakers on the talktank had interestingly diverse ideas of where that investment should come from.
"I really recommend crowdfunding," George Rawlings, co-founder of Honeypot said. "Because the great thing about a crowdfund is you'll also get publicity and marketing around the campaign. So it's not just that you're getting investors, it's more that they push you out to their network. We've got the Crowdcube badge for crowdfunding, and it gives people an opportunity to get in on your business and have a piece of the pie for a minimum of 10 pounds."
Other founders are more picky. "We were lucky that in each of our three funding rounds we were oversubscribed and that was a great position to be in because it means you can choose who your investors are," Carrell said. "I've been extremely selective about who gets to invest in Koru Kids and as a result, our roster of investors are freaking amazing."
Carrell did her "due diligence" in finding the right investors by calling other founders who had worked with them. "I specifically looked for people who had a bit of a rocky time. When things are going well, everyone's nice, so that doesn't tell you anything. I tried to find stories where the companies had gone badly and then really asked them how their investors behaved in that situation. At the same time I was talking to the investors, getting a feeling for whether I could be honest, whether I could trust them and have this mutual relationship. It is a bit like dating!"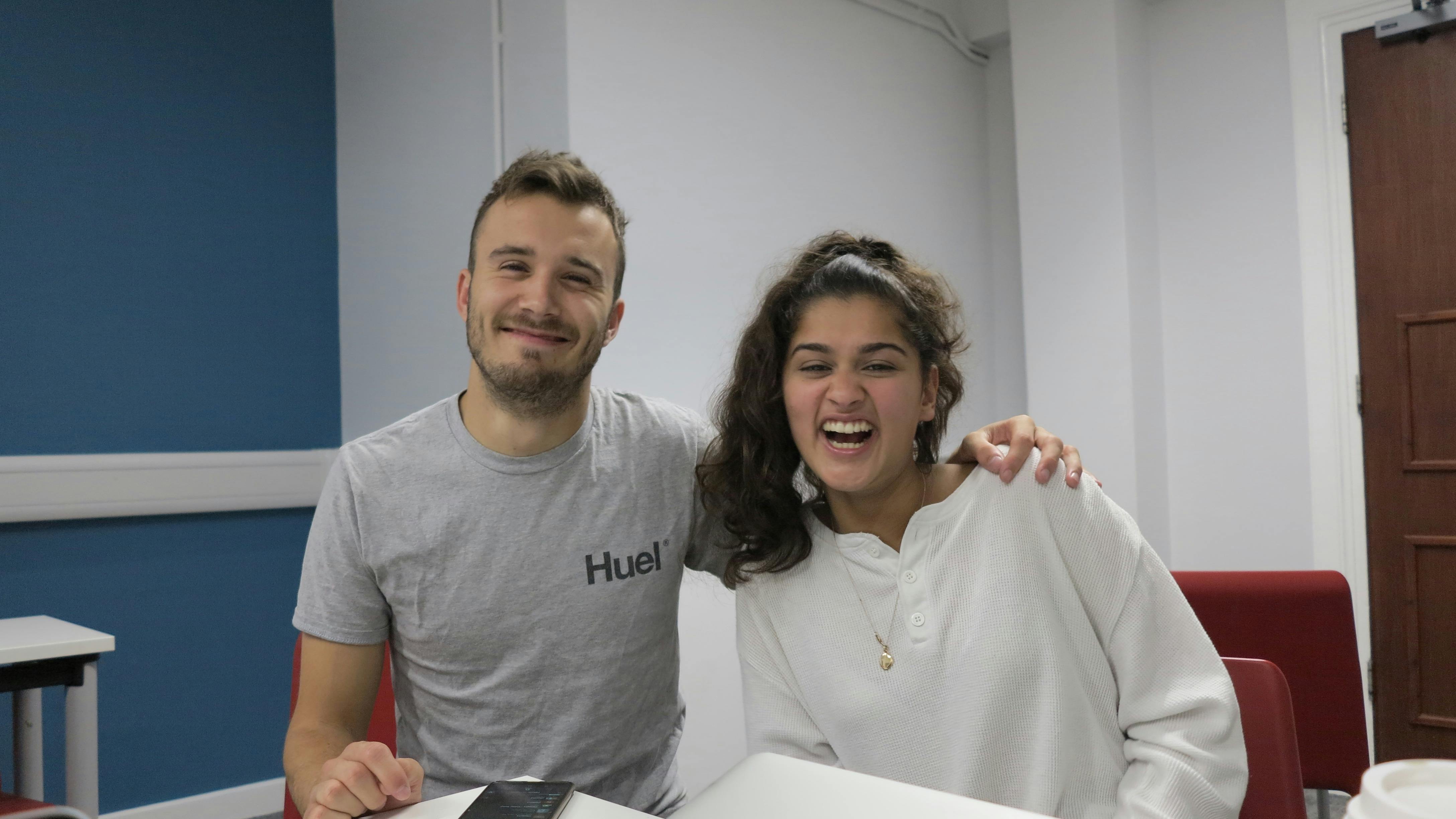 Surround yourself with smarter people
"Hiring is really key," said Stephanie Phair, Chief Strategy and Chief Customer Officer at Farfetch. "I'm a big believer that you hire the absolute best people you can hire. It's a sign of a strong leader to hire area experts. If they're the best, they'll look good, you'll look good, the business does good, and everybody wins. So why not?"
"One of my life lessons has been to hire the best people for the best positions, and usually those people have to be smarter than me," Fallah agreed. "Whether it's for sales or marketing or content - people who are just amazing in their category."
Phair pointed out that the definition of the best people will change as your company changes. "In the early days you don't hire the people you will later. You start small. You hire generalists and scrappy people in the beginning, who can do a bit of this and a bit of that and over time as the business grows, you start to professionalise those areas. Some people are able to stay the course, and some people are better in the early days."
That might even mean eventually changing up your own role as founder - as Fallah found at CarAdvice, when he replaced himself!
"I was the CEO until about 2009 when I decided I wasn't very good at being CEO," he said. "I was young, in my 20s, and I realised that I'm not necessarily very good at hiring, firing, managing people. I'm good at getting traffic to the business, great content, building hype and growth. But I can't do an Excel spreadsheet if my life depends on it and I don't want to either. So we got a CEO and it really helped monetize the business."
Share your responsibilities
Finding the best people for the role doesn't stop when you hire them: you have to trust them enough to give up some of your own power. And Fallah warned that many investors will be on the lookout for this.
"I get a lot of pitches across my desk for investment and the first question I always ask founders is, 'what's your shareholding structure?'" he explained. "The ones that say 'I own a 100%', I just throw in the bin. Because to me, that guy is trying to do everything and nobody else working for him has a stake in his business, and that scares the crap out of me. These people can come and go, they've got nothing, so he hasn't hired the best people, because the best people will not work for money, they work for equity. I gave equity to every person who I felt was a necessity to the business's growth. I didn't always get it right, but I think that you have to put the right people in the right place and take your own ego out of it. If you own 100% of something it's worth nothing. If you own 50% of something, it's worth a hell of a lot, and everyone else is involved and rowing in the same direction. That's where success comes from. It's always a team effort."
The reason why I chose these investors is because I deeply respect them and they're really good at their jobs and really wise, so I'd be an idiot to ignore their advice.
And that relationship goes the other way, too - don't be afraid to ask your investors for advice!
"The reason why I chose these investors is because I deeply respect them and they're really good at their jobs and really wise, so I'd be an idiot to ignore their advice," Carrell said, laughing. "So I ask their advice a lot, on a lot of different things, and then I don't always take it! I usually take it, but I don't have to."
And you might want to open up about more than just work advice, as Phair pointed out.
"I was a very young leader, and it took time to learn the balance of what it takes to be a strong leader," Phair said. "I was very private, and I thought that was the way to be super professional. But it was actually my husband who was like, 'You're just going to come across as a weirdo!' I realised over time that people need to relate to you as a human, and not just as a boss or a colleague or a peer. So over time I've become a lot more open and built more meaningful relationships with people. I've become a better leader as a result."
But Phair's advice isn't just for leadership positions. Whether you want to found your own company or you're looking for ways to succeed in a role, the common themes of perseverance, courage in the face of failure, and teamwork are sure to be helpful. If you found this insightful, find more great advice in the full episodes of the talktank.