Could you tell me a bit about your background and how you ended up in your current role?
My studies were more related to political science, but I always knew that I wanted to do something practical. During my Masters, I was given the chance to launch a venture from scratch with Rocket Internet in Australia. It was a very intense experience, but we had an extremely good team. This is where I really fell in love with the concept of launching companies and starting from scratch.
Afterwards, I came back to Germany and applied to a Talent Summit, which actually helped me land an internship at the Lufthansa Innovation Hub. It was quite a different experience to Rocket Internet, as it was more corporate. I then spent two years at a German B2B fintech start-up. I joined them before they even had seed funding. I was an Entrepreneur-In-Residence, again starting a business from scratch. It involved managing everything at the operational level, but it was too far away from the business side, so I left to look for a new challenge. I spent one and a half years in Iran, but decided to move back to Europe due to the economic situation there.  I got in touch with Daniel, who was my CEO back in Australia and who had just launched Choco. I never planned on recruiting as a career path, but it sounded like a unique challenge to hire people for a stealth hypergrowth company.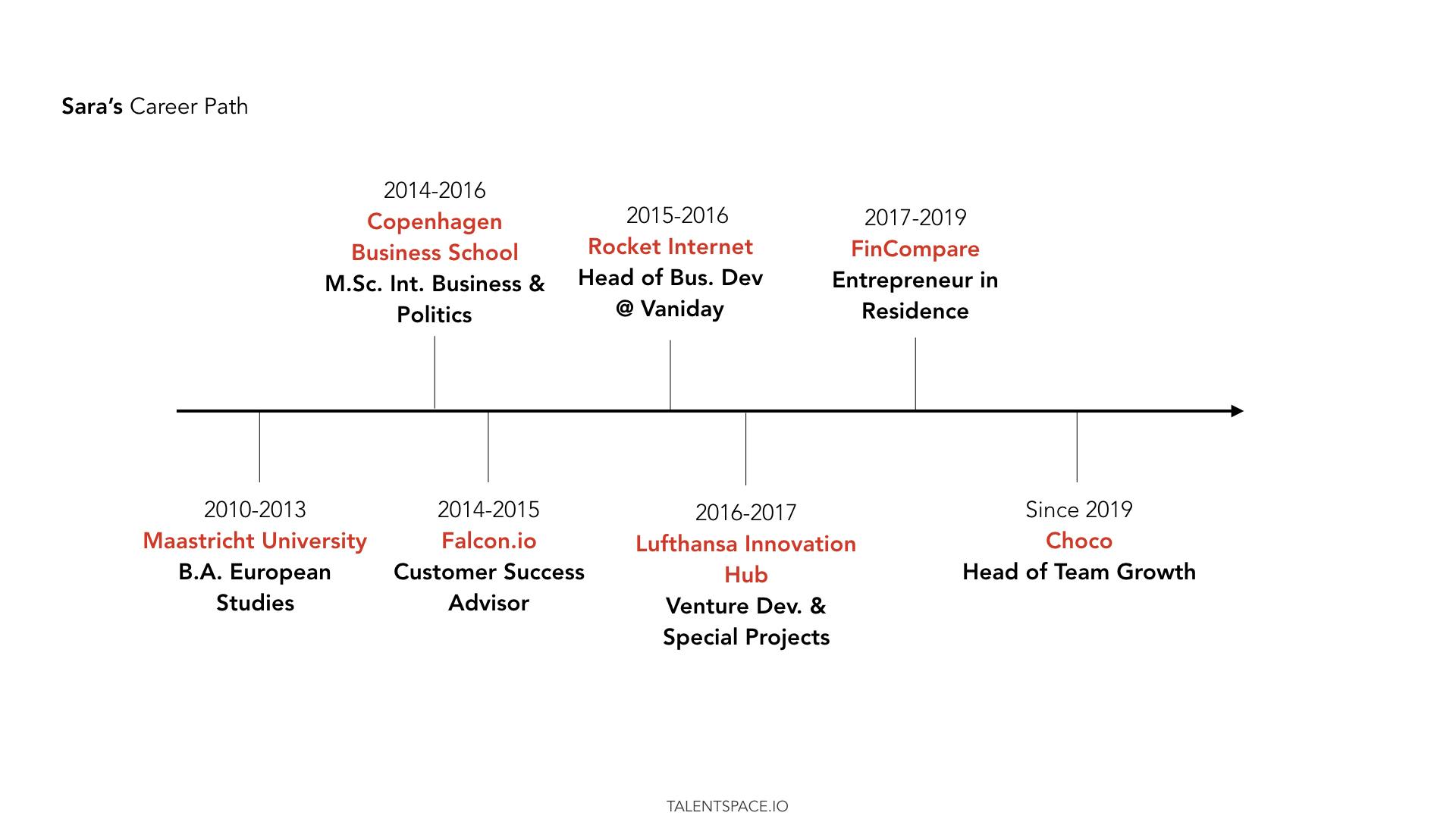 What does a typical day or week in your role look like? 
We started out of Berlin but expanded very rapidly into 15 other cities across Europe and the US. My main responsibility is to staff the teams globally, in any department and any market. There's actually no typical day because things can change within hours, depending on where there's a need. I was very lucky to join a team that was extremely motivated and they trusted me to lead them along the way. We've set up the team in a way that everyone is dedicated to a specific region and knows the local talent market, which has worked very well for us so far.
What qualities does someone need to succeed as a Head of Team Growth? 
You need to do things for a purpose and not just for the sake of it, but you also need to go with the flow. When I interview people, the main question that I always ask is "Why?" For example "Why did you study there? Why did you get into an exchange there and why did you intern at X and Y companies?" For me, knowing these answers is really important. Were their internships or their career choices purposeful or just for the sake of it? Do they really have an intrinsic motivation, or do they do something just because everyone is doing it? Having a purpose and intrinsic motivation is very important for us.
There is another thing that reflects our company values. We see people that come to us before a big announcement. We can identify who is coming to us for a mission and who is coming for a big name. We don't have the employer brand of Google or Facebook, but we have a very big mission that you can identify with easily. 
What do you think is the most fascinating part about your job? 
The most fascinating part of my job is the diversity of people. I interview for a range of roles, like product or more analytical roles like business intelligence and data science. They're very diverse and attract very different characters. I always have to understand what is important for a role. Maybe a person is not an extrovert, but the expertise that this person brings might be very crucial for a specific job. So I dig deeper into people's passions and character. This is something that I learned on the job. It's not about how loud a person can be in an interview or whether they can cheer me up. I like talking about the passion of this person. 
What advice would you give someone who wants to work at Choco?
Do it for the mission. I cannot say 'be motivated' because I believe it's something that's intrinsic in people. Be yourself. We really value very unique characters.