Can you tell me a bit about your background and how you ended up in your current job?
My background is in Political Sciences and Economics. I worked in the Government Affairs team of Uber in Germany, which was quite exciting. Then I realized that I don't want to sell things or promise things. Rather, I want to build things. So I left and joined heycar as a product manager and really liked that role.
Through heycar, I had met Julian Blessin, who is the co-founder of TIER. I reached out to him and this is how I got into the company. My first role was at the intersection of the Growth and the Marketing Team, but I wanted to be a Product Manager again, so I reached out to the CTO about transitioning. Instead, he said that he had seen my work and thought I would be better suited to the role of Executive Assistant. It was really nice to be noticed by him, and this is how I got into my current position.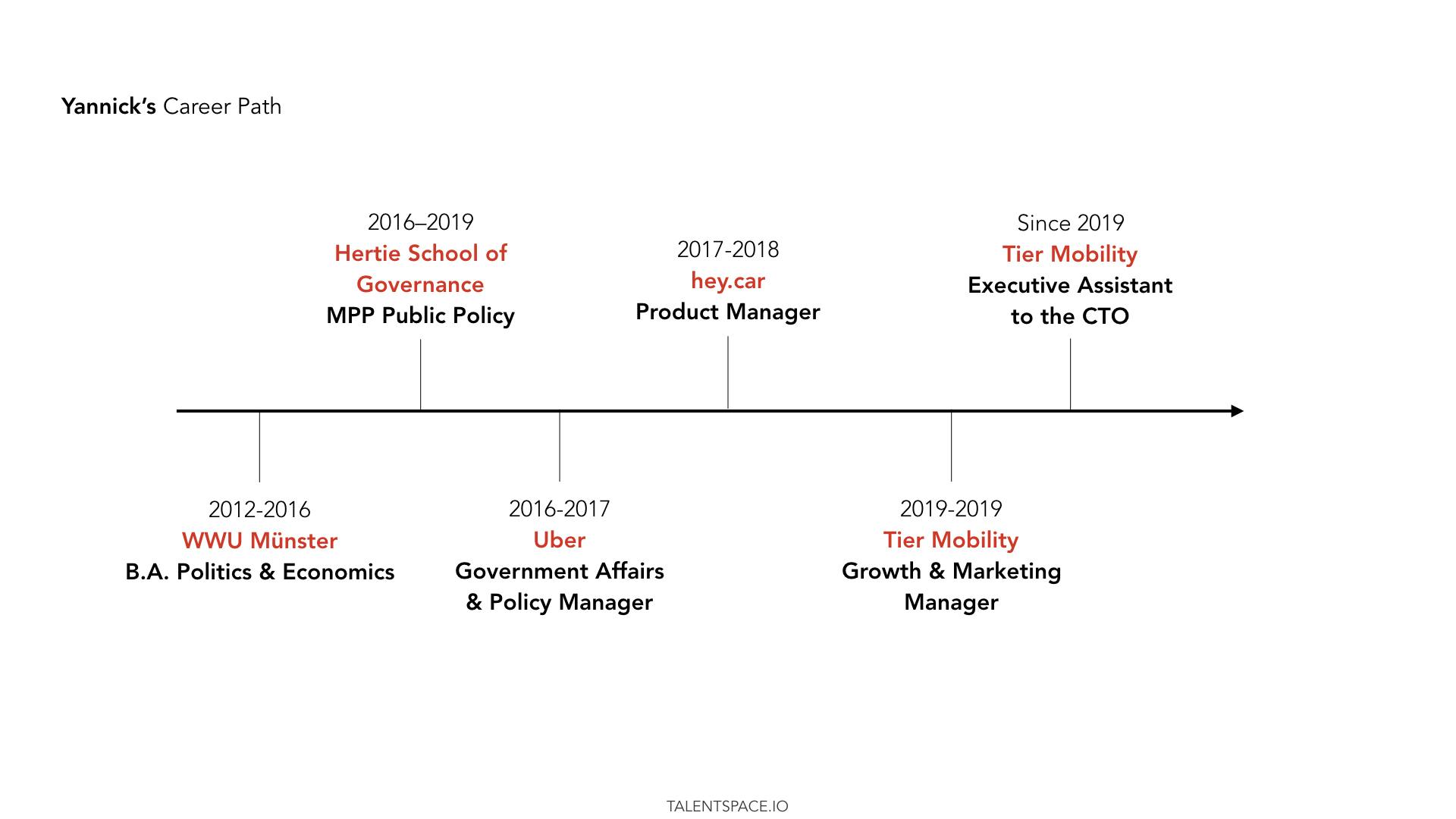 What do you do on a daily basis? Could you walk me through your role? 
When the CTO pitched me the role, he said that he'd never be able to tell me more than two weeks in advance what I will do, which was part of the charm. I would broadly say that 30% is assistance to the tech team management. We're around 60 people at the moment, all with our own rituals and processes which need to be steered. That's too much for the CTO to do by himself, so he needs someone to assist him with this. The other 70% is project work. I go into a project as a Product Manager when we don't have anybody operating as one and the project needs to be rolled out fast. For example, we just launched a project where we sell refurbished scooters. I was the product manager there and also worked quite strongly on the commercial side. 
What qualities does someone need to succeed in your role?
When our CTO hired me for this role, he said that he believed I could be successful because he perceived me as somebody who can easily get into topics. He needed someone who could onboard themselves onto a new topic in half a day and who could easily get into new teams. In this role you're exposed to a lot of different teams and shouldn't be shy in new settings. 
What I like about TIER is that we produce something very tangible. I know it sounds cheesy to refer to the company slogan, but we have changed mobility for good.
What's for you the most fascinating thing about your job? 
What I like about TIER is that we produce something very tangible. I know it sounds cheesy to refer to the company slogan, but we have changed mobility for good. I like that in my role I have quite a bit of responsibility for making this happen since mobility is very present in the idea of everyday life. What I liked about the last project is that we took the benefits of our company, which we usually use in urban areas, to very remote places in the countryside.
I think the overall pace is insane. TIER is the fastest-growing mobility company in the world and being a part of it is extremely exciting. 
What are the challenges you face in your position?
I think there's a natural challenge in any position at TIER because we are very fast growing. Everything is new because we do things that nobody's ever done before. Any high-paced growth comes with the challenge of coping with the pace and delivering quality in the given time. My role as a product manager involves a lot of stakeholder management. That becomes difficult if everybody's running at a high pace. You're also involved in a lot of topics at the same time, so I would say that they are the biggest challenges.
What is the one misconception people might have about your title? 
People often think that I manage someone's calendar, but this isn't what I do. I have a huge amount of respect for personal assistants and people who help manage executive and leadership positions, but what I do is different. 
What advice would you give to someone who's trying to break into the industry or wants to work in your domain specifically? 
You should be prepared to deal with the fast pace. We are such a fast-growing company and that means that you should enjoy working at such a pace. What's good is that we don't work crazy hours and have quite a regular work schedule, especially in the tech department. We make sure to keep stress away from people because that's when you burn people out and nobody wants that. We are very ambitious but that doesn't mean that we work over the weekends or nights because that wouldn't be sustainable. Also, it's not fun.