Tell us about your background and how you ended up in your current position at McKinsey & Company?
I did my Bachelor's in Business Administration at the University of Zagreb, Croatia. After that, I continued with a Master's in International Management at Vienna University in Economics and Business. I also did an exchange semester at the University of St. Gallen. 
The most important professional experiences that shaped my career path were experiences that I had gathered in consulting. I did numerous internships at management consultancies like ZEB, A.T. Kearney, Roland Berger, Accenture, and lastly, I interned at McKinsey before joining them full time. But I also worked in the startup scene before joining McKinsey, with internships at etventure Startup Hub in Berlin and weXelerate in Vienna. So, I'd say all these achievements and experiences led to the place where I am right now, and my strategic planning is why I have the pleasure to work for McKinsey.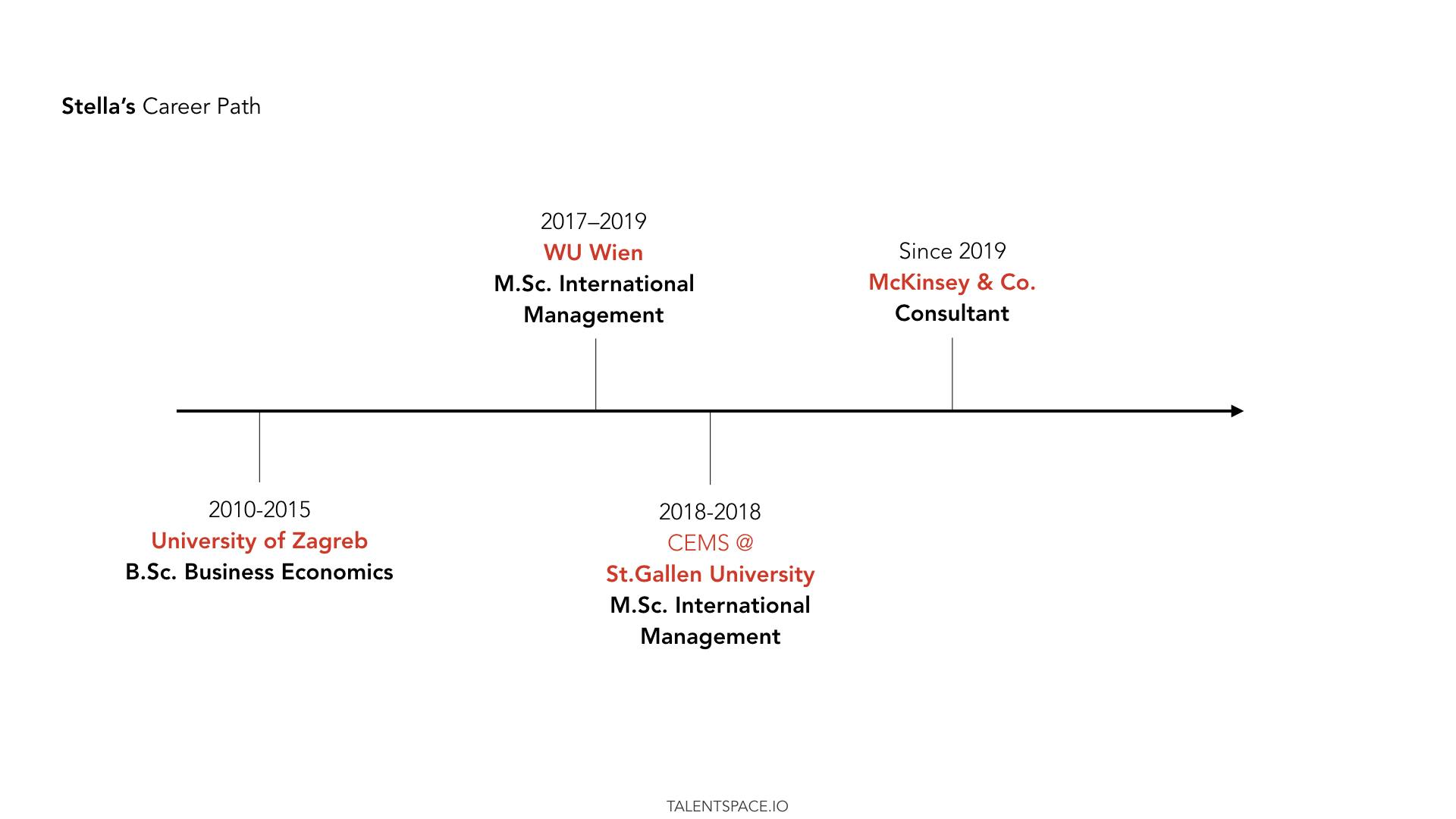 What were the major career decisions that led you here, and how did you make those decisions?
Regarding my decision to work for McKinsey: Before I joined them full time in Vienna, I clinched an internship with them in Croatia. I managed to get a good impression of the work during my time there. I was super excited about the engagement that I got during my internship, developing digital products in the financial industry. We got to work in an agile way and in a cross-functional, international team. That's why I rejoined them in Vienna.
From my perspective, the key arguments to work in consulting are the chances to tackle the most diverse set of business challenges and industry settings. What I mean by that is that you have an opportunity to tailor your path in consulting and not have some predefined job description where you already know from day one what you're going to be doing every day. In our field, you get surprised by every new engagement and project. Furthermore, the opportunity to work with some of the brightest minds who take their jobs very seriously and enjoy it with such great passion and commitment, was why I wanted to work at McKinsey. And lastly, I enjoyed and succeeded in my tasks and felt that I'd have what it takes to work here.
What makes McKinsey a good employer for you?
McKinsey's a good employer because of their ability to attract the greatest talents, and the ability to work at some of the most important and relevant engagements for large companies. Working on the economy's most important strategic projects is, for me, a great honor. Furthermore, the company invests a significant amount of time, energy, and money in training their employees and mentoring them as well. Our culture is also open and direct, which I really appreciate. 
What does your typical day or week look like?
I'm a fellow at McKinsey (a general consultant), meaning that I'm not affiliated to any particular industry, function or practice. So this gives me a lot of flexibility when choosing my engagements. I could be working on an organizational restructuring project for a company in the energy sector, and my next project could be developing digital products in the financial industry. This is the magnitude of change and diversity which you can expect. 
As for how a typical week looks like, Monday to Thursday, we're at the client's site, at a local McKinsey office, or a hotel. On Fridays, I'm in our main office, where I get to meet with other colleagues who are not on the same engagements as I am but are affiliated with my office. Workflow time-wise, Mondays to Wednesdays usually are more intense, and the working hours are longer, but Thursdays and Fridays are a bit shorter. 
There are two main parts to the role:
The analytical part: Analyzing data and gaining insights from which our team derives decisions or conclusions. If the data is not given to us, we need to make forecasts and estimates based on research, studies, and experiences.
Conceptual work. Developing a concept and think of specific measures or ideas to solve problems that we've identified. Examples could include: how to optimize communication channels for clients or how to improve the service level in the contact center for your clients? We then divide the conceptual work into conducting interviews and workshops. We usually interview people from the company to get an understanding of the overall situation and to identify pain points. During workshops, we sit together with the clients and try to join forces and derive solutions, ideas, or concepts to solve the current problem.
What qualities does someone need to succeed in this role?
Strong analytical skills are a must. Alongside that, you should also possess the ability to be very structured and organized in how you address problems and how you communicate. It's essential that you clearly express your ideas or thoughts. Furthermore, you need good people skills as well. You should know how to deal with people, have empathy and understand situations, whether it's comprehending their agendas, their fear, or points of view. Also, you need to be a team player as you will never work on your own during an engagement. Be open to feedback and mentoring. Lastly, you should be curious and proactive and have the ability to handle a lot of responsibilities and uncertainties.
What's the most fascinating thing about your job?
For me, it would be the amount of freedom I have in my work. It starts with choosing engagements in my desired industry or company. You also get to work with new colleagues every single time and report to other supervisors as well. This is very exciting as no engagement is like the other.
What challenges do you face in your position?
One is undoubtedly time pressure. You're always working against deadlines, and the workload never gets smaller, so time is never your friend. But you can thrive and learn how to be even more efficient under this kind of pressure. 
On the other hand, clients can be challenging as well. You will meet clients who are skeptical of your work and don't want to share information with you. Communicating and dealing in those situations can be hard, and that's where your people skills come in handy.  
And lastly, deep-diving into an industry and becoming an expert in it with each new project can be quite demanding. For example, you just finished a project in the financial sector, and your next project is in the energy industry. As you talk to others in the industry and company, you want to leave a professional impression upon them. Thus you need to very quickly accumulate the knowledge and ability to follow a conversation and meet these people on the same level.
What advice would you give someone who wants to land a job at McKinsey?
I would advise them to be themselves and work on it. Don't try to copy the paths of other McKinsey employees, create your own unique story, ask yourself why you want to work here, and why they should hire you. McKinsey is interested in people who are unique and special, so the best advice I can give is just to be yourself.