Tell us about your background and how you ended up in your current position at McKinsey & Company?
I have always been fascinated about entrepreneurship and building things. So, the most logical step for me back then was to get a business education. To figure out what this is all about and what I want to do with my future, I used my university time to do as many different internships as possible – always switching between industries. I worked for a non-profit organization, an investment bank, a startup, a consulting company, and a VC before starting my career in consulting at McKinsey.
You did your Master's at ESADE and LSE. How was your experience there?
Transitioning from a German state university with 600 students in one classroom to a business school environment was definitely an interesting experience, in a positive way. Mostly I appreciated the great variety at ESADE and LSE, not only in topics and tasks, but also in fellow students coming from all over the world and super interesting backgrounds. The work in teams on case studies and consultancy-like projects was a lot of fun to me and, in my opinion, a great preparation for the real business world.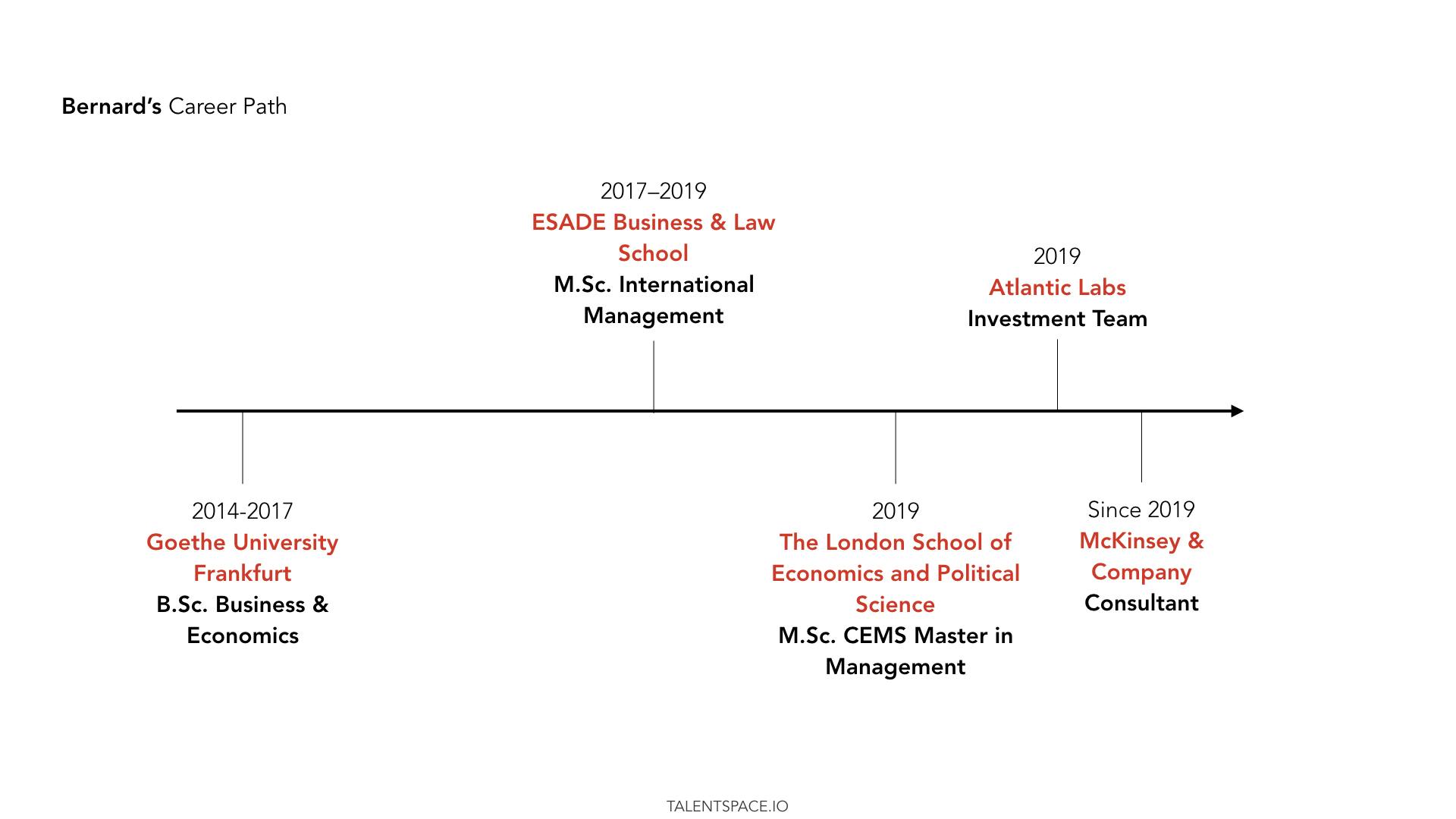 You interned in several industries such as investment banking, startup, VC, and consulting, could you tell us about the differences you saw in these areas, and what your takeaway was? 
They're all very different in terms of the functional work you do but share some core characteristics. The environments are fast-paced, and the people you get to work with are very committed to their work. I loved to see how different the work approaches in these industries are; for example, in investment banking, you get taught an analytical skillset and attention to detail, especially when it comes to nitty-gritty analysis work. On the contrary, in a startup, you're super hands-on and pragmatic in your solutions. It's more about execution and getting things done instead of fine-tuning analyses or the last slide of a presentation. Along the way, I met some people who could merge these skillsets, and were detailed-oriented when it was needed, but also quick on their feet with a hands-on mentality.
And did you plan your internships deliberately, and how did you map it out for yourself?
When I started studying, I went to every kind of career fair and workshop I could find just to get myself exposed to as many different environments as possible. Through that, I was able to see what was out there, and could figure out what's for me and what isn't. Although I'm super passionate about startups, I didn't start in a startup right away because I felt that it was essential to set a foundation of skills. And I think big structures and established work environments can help to lay a solid foundation. I wanted to learn hard skills like doing analysis, working with Excel and PowerPoint, etc. These are things that you don't learn during your studies but are essential in the real world.
After establishing that specific skillset, I had the chance to work for AUTO1, where I found myself with a lot of responsibility and learned how to execute and push things forward. For me, personally, starting in a structured environment like a big bank or consultancy, followed by a startup, was a good way to go.
What were the major career decisions that led you here, and how did you make those decisions?
Through my studies and internships, I realized that I get most excited when solving challenging problems. While McKinsey might not sound like a logical choice for people that are passionate about entrepreneurship, I found that it provides all the opportunities to learn whatever you want, starting with a key skill needed in entrepreneurship – solving complex problems. Also, the way I see it, no matter in which industry you'll end up, you'll always need decent analytical skills.
The first thing that I did to make a decision was reaching out to my network – luckily, I have some people that I trust with these things. I specifically talked to people who were in positions that I could see myself in in five to 10 years. Secondly, I went to career fairs and events to meet like-minded people, like the Berlin Talent Summit, which allowed me to exchange ideas and get career advice, as well as to getting inspired by other participants.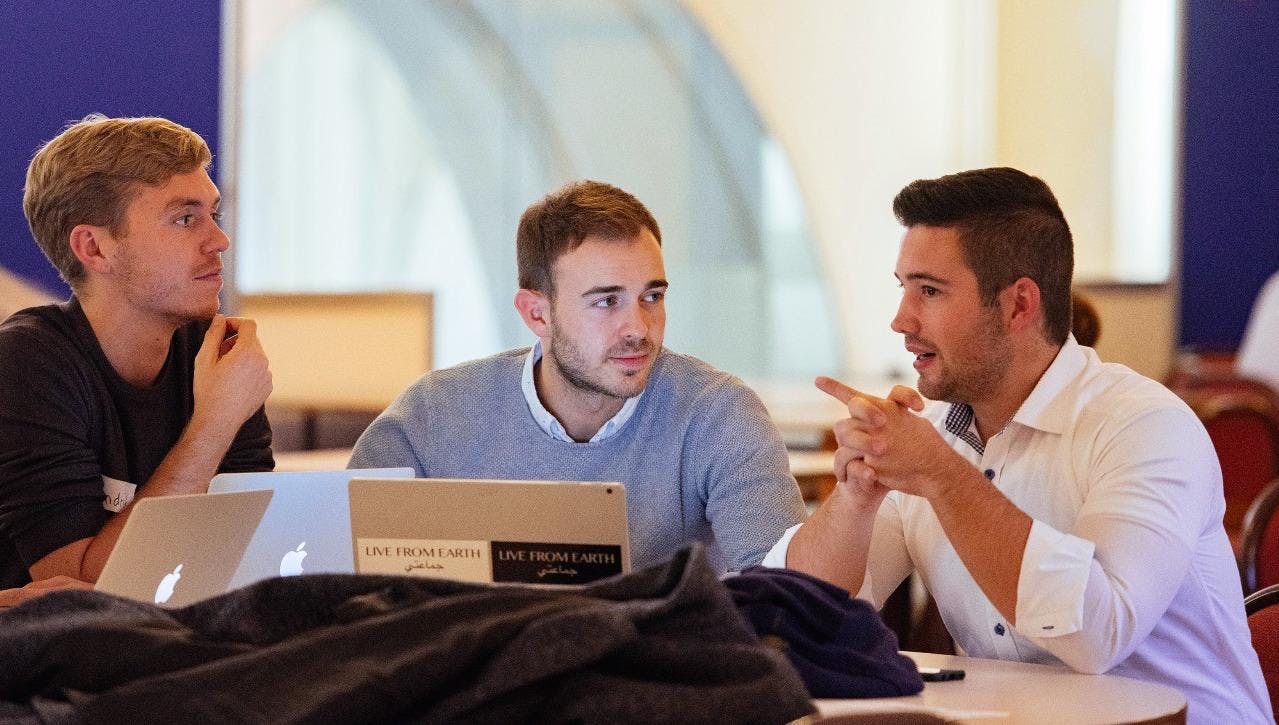 What does your typical day or week look like?
There's no typical day or week – my week highly depends on the project I am working on at that moment. There are, obviously, some similarities across most of them. Usually, my morning starts with a team meeting to get an overview of what everybody's doing, because in the end, consulting is a team sport.
Currently, throughout the day I mostly meet clients and am quite heavily involved in the process of co-developing solutions together with them. We sit down together, get to the root causes of their challenges, and co-develop solutions or ideas which can solve these pain points. The second big part is working by myself to drive analyses or develop concepts, or with the team to discuss insights from the client meetings.
If I were to split up my work, it's 40% client interaction through meetings or workshops, 30% working with a team where we discuss things further and dive deeper into problems, developing hypotheses to test further, and the last 30% is dedicated to working on my own.  
What qualities does someone need to succeed in this role?
In my very personal view, the most important quality is being a team player. If you see yourself flourishing in that kind of environment, then consulting might be a good career for you. The second thing I'd say is being analytical in solving problems or challenges. You should bring the ability to dissect a problem into its different parts and be excited about finding solutions. Lastly, be comfortable with change. It's an integral part of the job as you're constantly exposed to different topics, teams, clients, geographies, etc.
How does McKinsey support you in your professional growth?
At McKinsey, we have a dual mission. Meaning, on the one hand, we want to create as much value as possible for the client. And on the other hand, there's a focus on developing and leading our talents. 
We do that in two ways: One way is to give regular feedback, both upwards and downwards; this means that everyone helps each other out in improving their skillsets. Your colleagues are genuinely interested in your growth. And the second is providing training courses whenever they are needed. You can ask for training in an industry you haven't worked in yet, but is of some interest, or even to deepen your current expertise. McKinsey offers a tailored learning experience at every stage of your career. 
And how would you describe the culture at McKinsey?
As McKinsey is quite a diverse company with many different office cultures, it's hard to condense into a single word. Still, there's a common thread throughout the entire organization; we're all people who want to grow personally and professionally. Everyone is committed and has some kind of vision for themselves and the world around them – at least that's what I'd like to believe.
Also, everybody's genuinely interested in each other. We see ourselves as one big company where we want everybody to succeed. People are very supportive to help you when you want to learn about new topics or overcome challenges.
What advice would you give someone trying to break into your industry or land a job at McKinsey? 
In the end, it doesn't matter if you're an engineer, doctor or come from a business background. You just need to be genuinely curious and thrive in your environment. So, it's more having a great interest and willingness to learn, than bringing along the perfect skillset before your start. 
I'd recommend attending one of the many recruiting events by McKinsey, like workshops and campus sessions, these are the perfect opportunities to get in touch with consultants and learn first-hand about the job. An internship would also help you to assess whether consulting is really for you or not.
Do you have recommendations on how to best prepare for the interviews?
I can only share advice based on my personal experience here. I think to succeed, you need to be able to solve problems in a structured and effective way and be able to communicate your approach clearly. You will face a lot of non-standard problems on the job where you'll have to think analytically and come up with a solution. That's also a good thing to keep in mind about your interviews; we're not looking for someone who just follows the book but rather, someone who can approach problems logically and communicate that. 
But as always, there are a couple Do's and Don'ts that you should keep in mind. I'd recommend practicing with peers or even someone with more experience and go through some case studies as if you'd be in a real life situation. That way, you'll learn how to approach case questions logically and how to communicate well. Then, I think you'll be fully set up for success. 
What's your five-year plan? 
To be honest I don't really have one. Right now, I am super happy that I can expose myself to topics at McKinsey that I always wanted to be involved with and just learn as much as I can. Having this large flexibility to progress inside, or outside of the firm is a good feeling right now – so let's see where this will take me.