Could you please tell us a little about your background and how you ended up in your current job? 
I'm originally from Hamburg, Germany and studied International Business at Maastricht University in the Netherlands. It was very common for students to immediately go into consulting or banking after graduation but this didn't appeal to me at all. I knew that I didn't want to sit behind a desk, working on numbers all day - I wanted to be in touch with people and I knew if I went into banking or consulting, that that would be difficult. It was also important for me that whenever I work on something, that I can see the direct results and impact I have on the business.
As soon as you take banking and consulting out of the equation, you're left with either the corporate or the startup world. For me, it boiled down to whether I wanted to be a part of an old economy that was constantly being challenged by digitalization or if I wanted to be on the side of the companies that are pushing for change. It was clear that I wanted to be on the side of the latter rather than just trying to survive. Being able to build something from the ground up and see it grow was something that I had always wanted to do, which is why after finishing my studies in Maastricht, I moved to Berlin. 
First, I started working at the Axel Springer Plug and Play Accelerator to get a bird's eye perspective on the startup scene. Through this experience, I ended up joining one of the startups from the accelerator as a product manager. After being part of the development of their first MVP, I soon realized that I wanted to move into sales and work with experienced founders with global ambitions. 
With a bit of luck, I was introduced to Daniel Khachab, the founder of Choco. They were in their very early stages, having set up the initial team of 10 people, raising an impressive pre-seed round, and finishing up the MVP. After joining the team in summer 2018, we went on to prove product-market fit and then quickly took our products to new cities and countries, growing the team tenfold. Being part of this level of growth has been a truly amazing experience.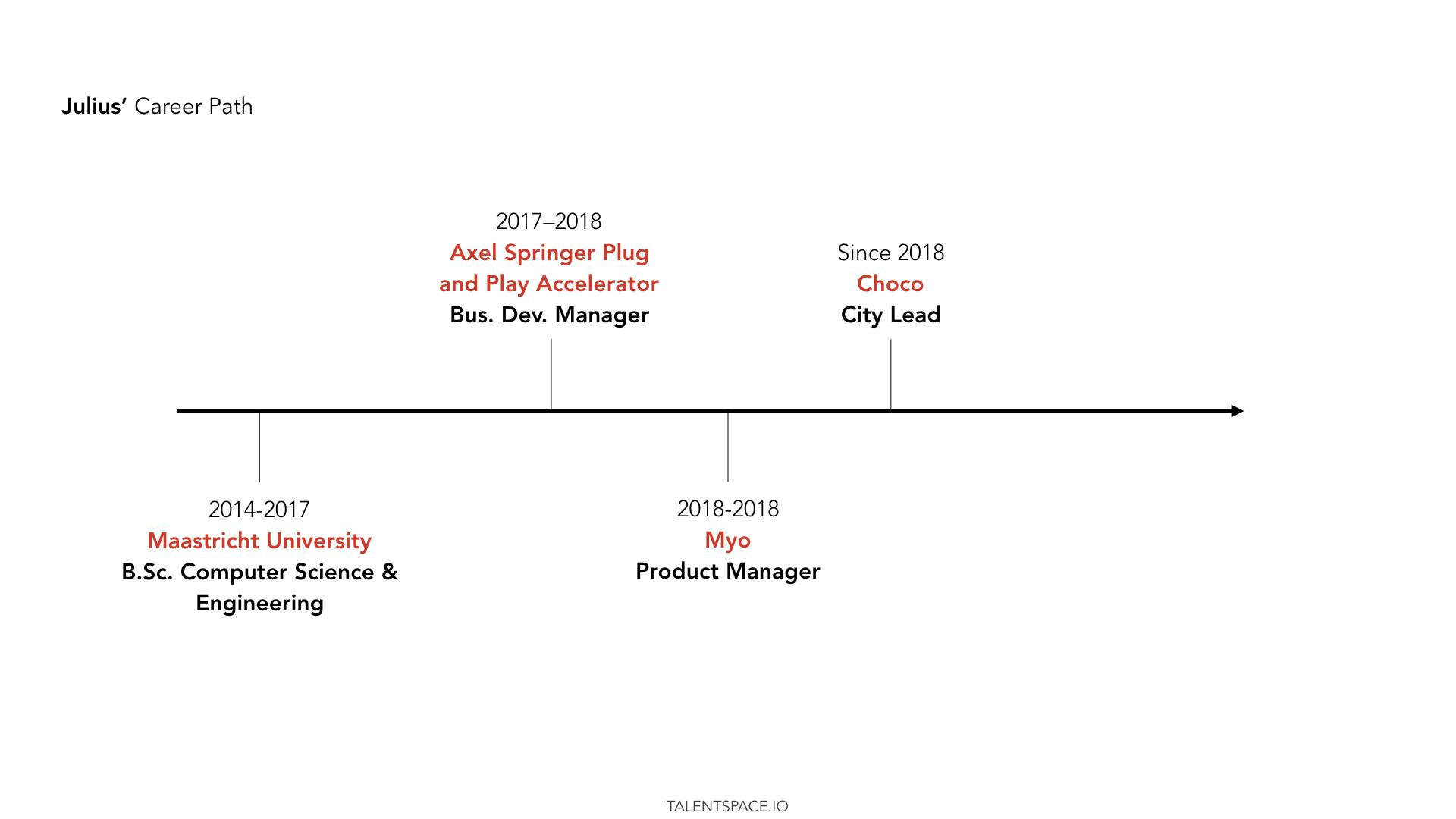 Could you tell us a bit more about Choco and your role?
At Choco, we want to become one of the largest and most successful businesses of the next decade. Our mission is to reduce food waste on a global scale by redesigning the food industry's global value chain. The first step towards realizing this mission is our food-supply ordering platform connecting restaurants and suppliers, and simplifying the way food is traded between them. 
As a City Lead, I oversee and manage our cross-functional team members and act as the key stakeholder in decision making processes. It's a mix between acquiring new users through our sales team, keeping those users on the platform with the help of our account managers, and partnering up with key suppliers in our markets, which we call vendor partnership management.
Could you go into more detail about some of the projects you work on?
When it comes to our app, the most important part of our expansion is scaling the business on the buyer/restaurant side. It's about spreading out into the market as fast as possible and finding new ways to get to restaurants, bars, or cafes to pitch the app to them. 
We have a strong sales process and background as we are quite bullish on that front. We go into the restaurants, try to meet the owners, identify network effects, and close not only on individual restaurants but also find multipliers. 
The supply-side is much more long term and sales cycles are longer. Here, it's about deal sourcing, trying to identify suppliers that are the most important, and then setting up meetings and building relationships to create long-lasting partnerships.
What qualities does someone need to succeed in your role?
Being able to adapt to change is probably the biggest one. No day is like the other and you need to be resilient, comfortable with constant change and happy to be challenged by new situations.
When I started out, I was able to perform well quite quickly and as a result, gained more responsibilities - everyone at Choco can follow this path as long as they constantly outperform their targets and put the team first. We're always looking for hungry underdogs who want to build something remarkable and join us on our adventure.
What's the most fascinating thing about your job?
The most fascinating thing is having identified product-market fit for an app that works all over the planet. In the past year, we were able to successfully launch in any new market we entered and this gives you a lot of confidence in what you're building.
What challenges do you face in your position?
People management is a very new thing that I had to learn – keeping motivation in the team high, making sure that everybody is engaged and that everybody sees the bigger picture. At the same time, because we're growing bigger – more markets, and more cities – it's very important that we keep the culture the same as it was when we started.
What's the one misconception people have about your job?
One misconception is that when it comes to the type of sales that I'm talking about – cold calling and field sales – people would classify that as something that's not fun or something that isn't a good fit for them. But once you get into it, you realize how much of a multitasking job it is, how much you can learn about convincing people, and how much fun it can be to approach different types of characters, find new ways to convince and win them over.  In addition to this, sales is an incredibly important role at the stage we are in, because it's key to understanding the people and users that you're working with, especially if you want to dive into other functions like operations, product, or growth later on.
What advice would you give someone trying to get a job at Choco?
I would say that you need to be extremely ambitious - both personally, as well as professionally. We are looking for people who dream big and want to go to the moon with us. I believe that we can only make a change on a global level if we all keep pushing 100% every single day and live a team-first mentality.