Tell me about your background and how you ended up in your current job. 
I'm from Austria but I was born in Munich and lived in Germany my whole life. I moved back to Vienna for my Bachelor's in Mechanical Engineering and Management. I always wanted to work in a startup because of the drive they have – the fast-pace was something I wanted to be a part of. I found Choco and applied straight away. It wasn't related to my studies, but the combination of food and a tech was really appealing to me.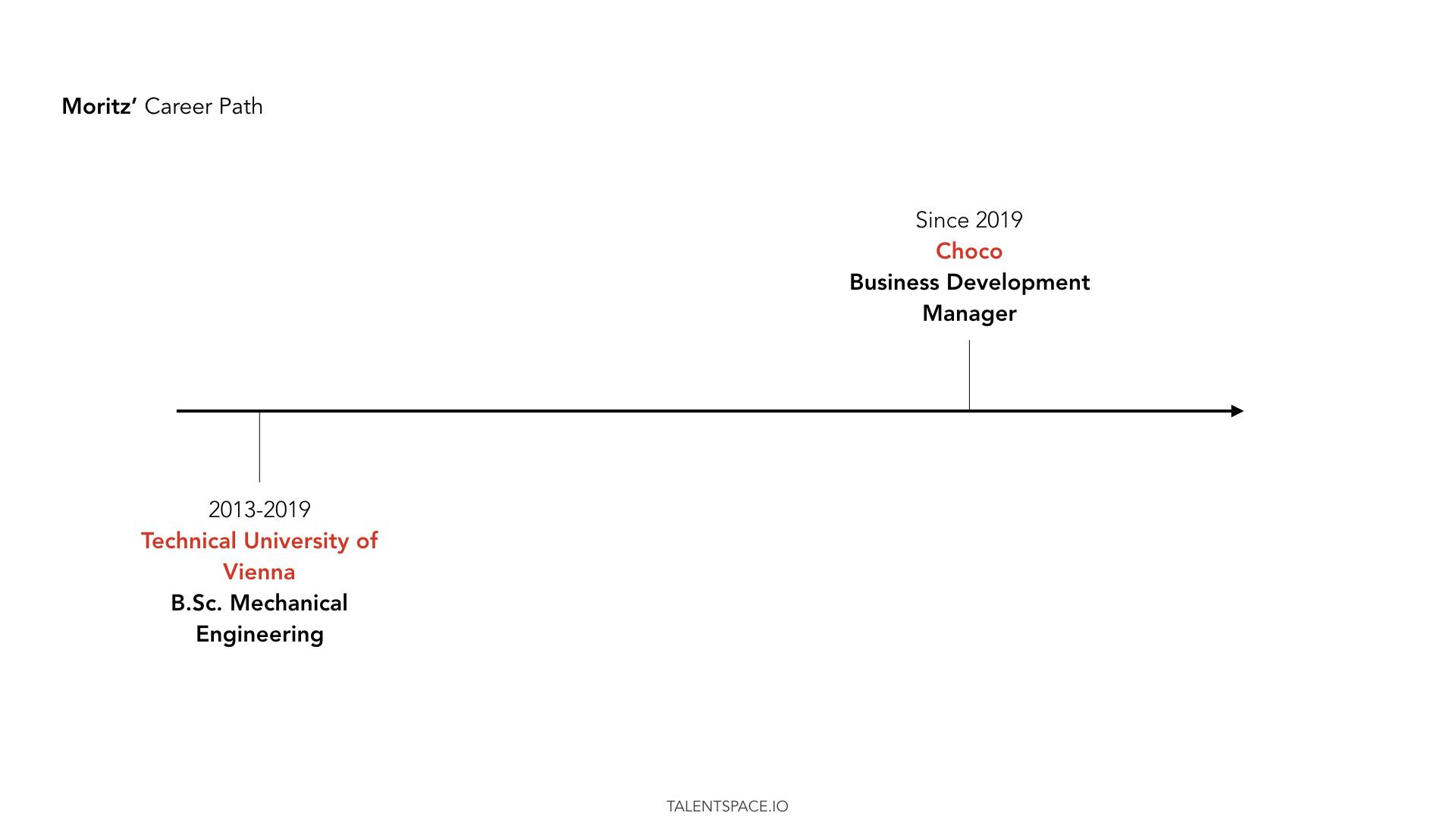 Could you walk me through your role; what does your typical day/week look like?
Right now, I'm doing business development in Germany and I take care of German cities. There are two parts to my role: One is about driving customer acquisition; getting new restaurants on board. It's essentially sales. The other part is talking to the suppliers that we work with.  
If you want to succeed in this role, what qualities do you need? What is important? 
I think it is very beneficial if you know how the food industry works, especially the food and beverage industry. Knowing how restaurants and bars operate, how they communicate with their suppliers and how the whole ordering process works is very helpful in the beginning. Also, as we talk to so many people with different personalities and backgrounds, you have to be very open-minded and need to be able to adapt to situations quickly. That's a skill that I have developed in this role. 
Can you give us an example of how you have used this skill? 
In a conversation with someone, you can adapt it to how the person behaves and frame it accordingly. In the first minute, you can identify the problems or the pain points that this person has encountered with a specific process. Then you can try to include this into the conversation. It's about making the person feel like it is a good conversation and not a bad one. 
What's the most interesting aspect of your role? 
What I really like about my role and also about my company is the people that I work with. We're a very international company with people from 40 different nationalities. When you're in the office, you hardly speak German. When you go to another team, like the tech team or the people relations team, you understand their background and get to know all these different cultures. That's very important because in my position I travel a lot and experience different cities, countries, and cultures.
What are the biggest challenges in this position that you have to face?
I take care of topics that are not necessarily related to each other, so it's very important to keep a good structure to your day and when you want to actually finish a task, complete it and do it well.
Are there any misconceptions you think people have about your industry or about your role?
I would say about the industry for sure. The food and beverage industry is one of the oldest industries in the world and is it still very old school. People have been going out for a drink or for food since forever, and things haven't changed so much. It's not really digital, just basically pen and paper a lot of times. People usually don't believe me when I say that they still send faxes in restaurants, but that's how it is!
Is there any advice you can give to people who want to come to the industry or in your company?
Get to know the industry. It's really beneficial if you have worked in a restaurant. Talk to friends or families that own a restaurant or are suppliers and ask them how these processes work. Then you already understand the problem we are solving.