Tell us about your background and how you ended up in your current position at Google?
Since high school, I've been passionate about digital innovation and new technologies. The point in which this passion into a future career, was with the professional experiences and internships I undertook during my Bachelor's in International Economics, Management and Finance at Bocconi University. As a student consultant for JEME Bocconi Studenti, the university's Junior Enterprise, I worked on consulting projects for corporations and innovative small and medium-sized enterprises (SMEs). I also interned in the Business Development department at Foodinho, a food delivery startup that aimed to revolutionize the Italian market, and was subsequently acquired by Glovo. 
Following my Bachelor's in 2016, I moved to Dublin for my Master's in Digital Innovation at the University College Dublin's Michael Smurfit Business School. There, I had the chance to work on research projects, deepening my knowledge about the use of technologies and the impact they have on corporate, social, and economic dynamics. In 2017, I applied for a full-time role at Google as an Account Strategist, and since then, I've been in the company's EMEA Headquarters in Dublin.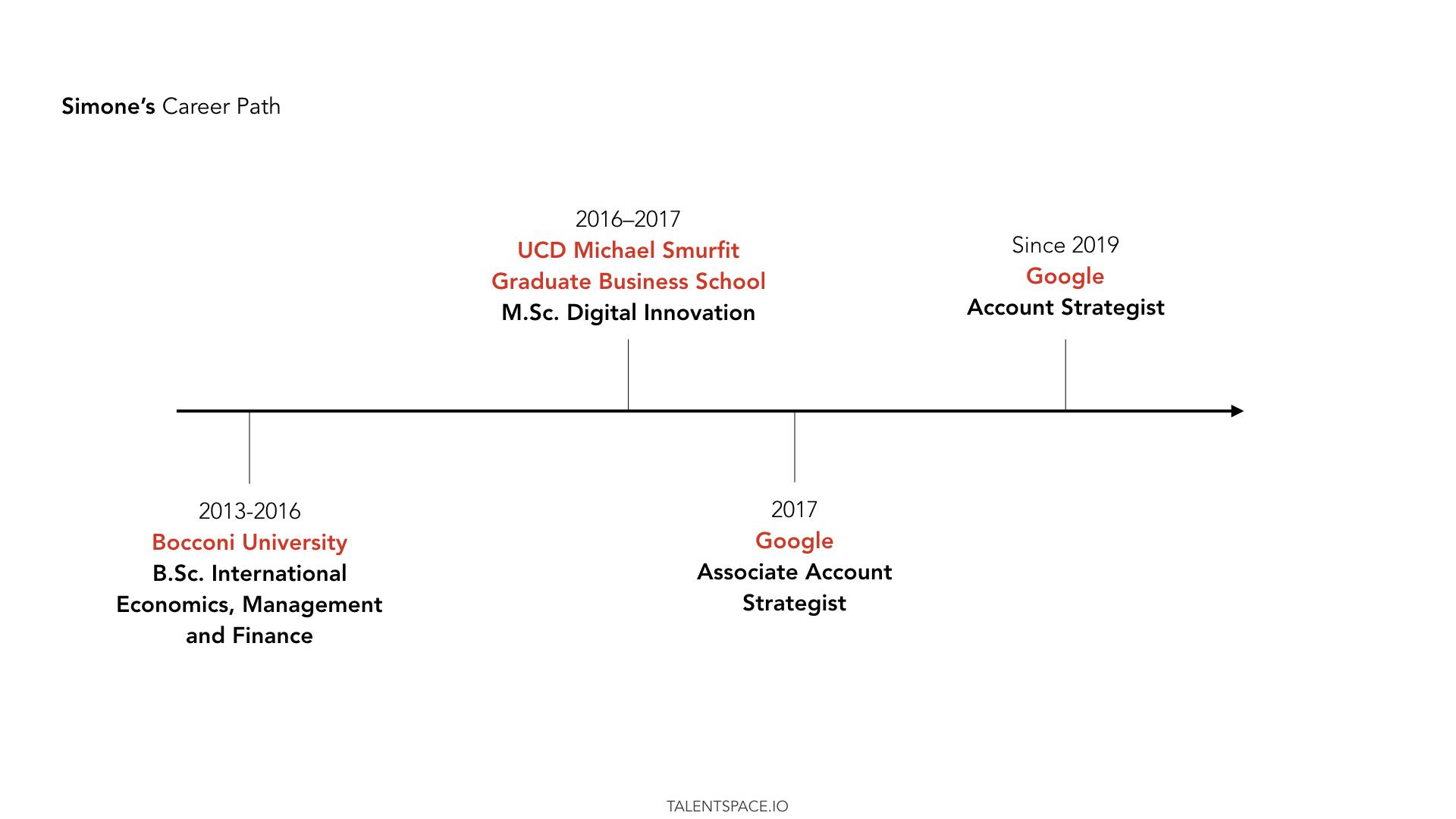 What were the major career decisions that led you here, and how did you make those decisions?
I think that the most important decision was to move to Dublin after my Bachelor's. Taking that 'leap' wasn't easy at the beginning, but my decision was based on three elements:
1) The course: I chose a course that was specifically tailored to my passion and would equip me with the right skills to succeed in the digital world.
2) The city: In my opinion, Dublin is one of Europe's most vibrant tech hubs at the moment and the ideal place for a young graduate to kick-start their career in tech.
3) The people: Since my postgraduate studies, I took part in many events in the Dublin tech scene, such as being a TalentSpace Ambassador and organizing the first Dublin Talent Night. These events and experiences gave me the chance to meet several young professionals working in tech companies. Through that, I had a better grasp of what my future job would look like and could see that this was the right career path for me. 
What does your typical day or week look like?
As an Account Strategist in the Google Customer Solutions (GCS) team, I help and support SMEs and startups to grow and scale through Google solutions. So the majority of my time is spent on offering the best strategic advice to maximize their return. I usually kick-off my day around 9.00 am or 9.30 am with breakfast at the office, and then I start meeting with customers. Alongside the core role, there are different internal projects which I'm involved in, giving me the chance to work with cross-functional teams from all over the world. There's also time to attend gym courses, swim and enjoy relaxation rooms where it is possible to fully recharge during the workday. 
What qualities does someone need to succeed in this role?
A genuine passion for SMEs, a solid growth-oriented, customer-first mindset, a passionate team spirit, the ability to think outside the box to create an impact on your clients' businesses, creativity, and resilience.
Organizing the world's information and making it universally accessible and useful
> 100,000 employees

Mountain View, United States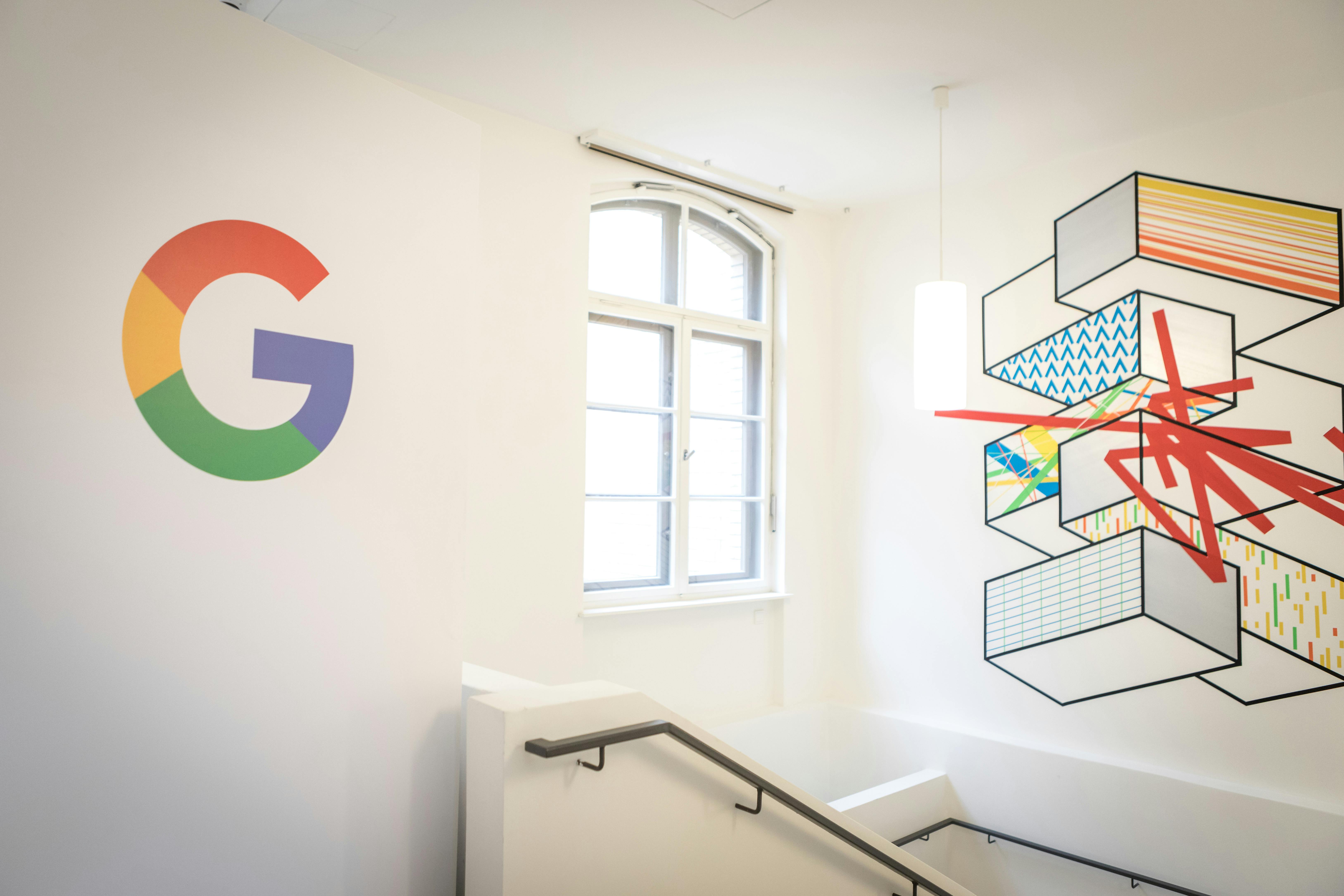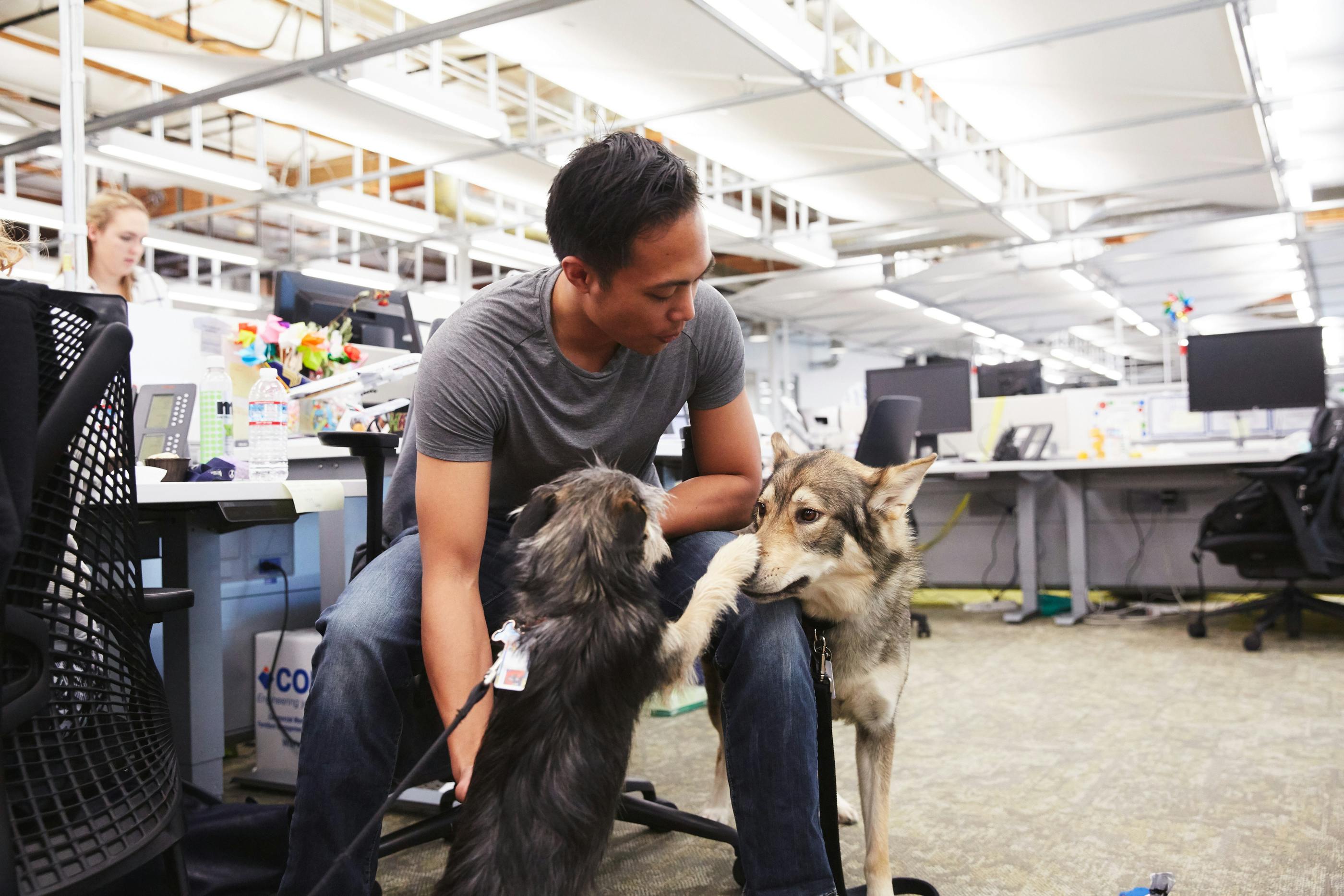 What's the most fascinating thing about your job?
I believe the most fascinating thing about my job is the close and strong relationship I build with my customers every day. Being a constant touchpoint gives me the opportunity to collaborate directly with different key players in the organization and provide the best strategic advice to help their growth. All in all, I think that the most rewarding thing about my job is the success of my customers and being directly involved in it!
What advice would you give someone trying to break into your industry or land a job at Google? 
First of all, in order to be successful in your career, it's pivotal to understand and follow your passions and interests. If you're searching for the ideal next career move, reach out to the network you've built; talk to the professionals you met in your studies or early career who are working in the very same role you're applying for. 
If you think Google and tech, is the best way to go, check out the Google career site. You'll find plenty of information about my role (Account Strategist), the hiring procedures, and locations. The website is intuitive as it provides filtering options for job opportunities and requirements based on your preferences. I suggest you create alerts to be among the first to know when your ideal job opportunity is published. Good luck!