Tell us about your background and how you ended up in your current position at BCG DV? 
After high school, I decided to study mechanical engineering, and then I went on to study industrial design for my Master's. During my Master's, I became interested in the business side of things and broadened my studies to include more economics modules. This led me to join a program called Manage&More. It exposed me to the world of entrepreneurship, and I realized that I was really interested in the integration of startups and what's happening in the digital space.
After my Master's, instead of taking the obvious route of becoming an engineer somewhere, I moved back to Berlin and joined Rocket Internet as a product manager. It wasn't on a whim, though; I had researched different paths I could take, and product management really spoke to me as it combines all of my interests – products, design, science, and business. 
I was fortunate to start at Rocket Internet as a junior product manager fresh out of university, usually you'd need several years of work experience. It was a fantastic environment to learn in, and I got a lot of responsibility very quickly, but I was also interested in building more innovative products. I heard about BCG DV, and it really appealed to me. So I made the switch, and I've been here for three and a half years.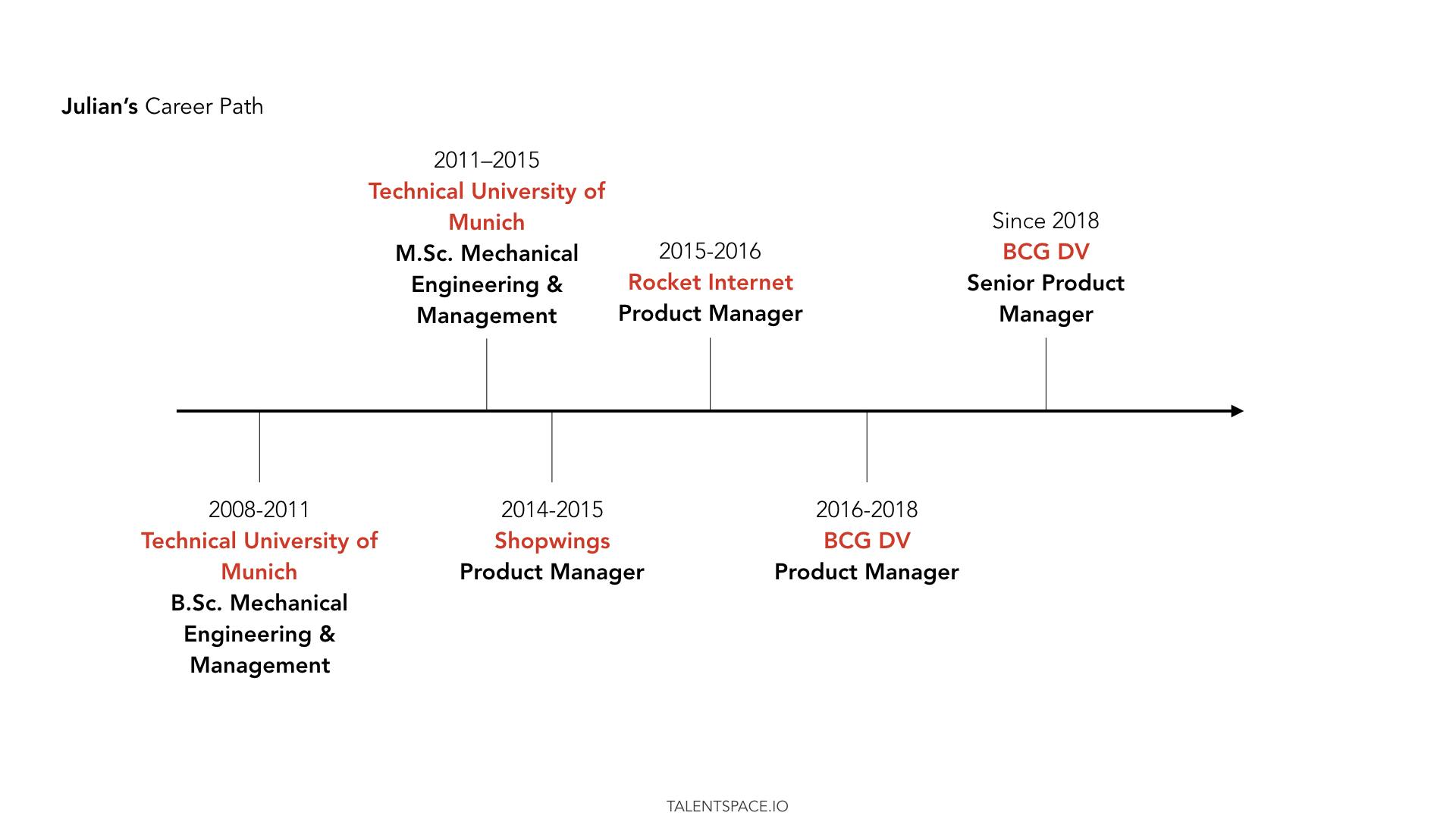 What were the major career decisions that lead you here, and how did you make those decisions? 
The first pivotal point was deciding what to study and to go in a technical direction. The second big pivotal point was being exposed to the Manage&More program in university. It transformed my idea of what the traditional route and profile for a mechanical engineer are. After that, I became fascinated with the startup scene, and it made me want to move into a more digital direction. Ultimately, that was the spark that started everything and led me to pursue product management after completing my degree.
What does your typical day or week look like?
Product managers often build ventures from scratch, and I'm very involved in the earliest stage of product management, typically before a product even exists. Ultimately, the role of a product manager is to define the minimum viable product (MVP) and to work out exactly what we're going to launch. Sometimes we're brought in the early stages, but it still takes a lot of ideation to find out what we're going to build. We call this incubation, and it can be anything from starting to build a product to launching a product in the market. 
A typical day consists of a lot of stakeholder management and making sure everyone is aligned. Product management is the point in product development where different disciplines come together. I need to facilitate and coordinate the development between three different functions. The first function is the writing of the code and the actual product build. The next is coordinating the designers who do the user research and to understand how to translate user needs into a user interface. And the third function is the business case; how it can be monetized and aligned with marketing strategy, customer segment, and the market.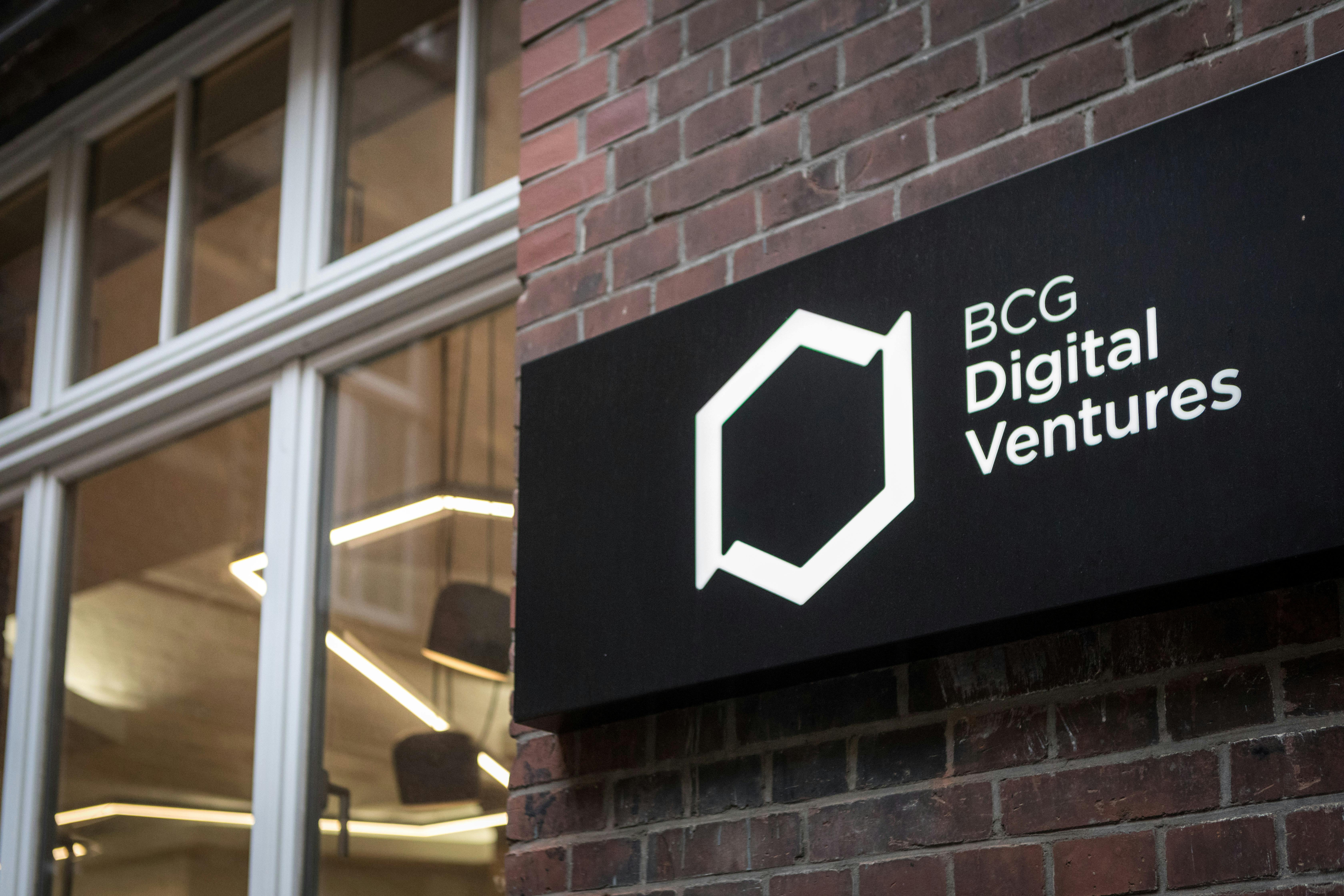 What makes BCG DV a good employer for you? 
First and foremost, I'm really fortunate to work with very brilliant people. The hiring process is tough, and the quality of talent is very high. Everyone is highly driven and motivated, and also really nice. The working environment is great, and you're surrounded by people with extensive experience who you can learn a lot from. 
Secondly, it's really innovative work. We're often at the very starting point of building something new and are involved in the process of launching something entirely new into the market. I find this super fascinating. 
Finally, we have a very strong focus on personal development in terms of feedback, training, and culture. You get to develop not only professionally but also personally. The combination of all this makes for a great employer, and I think it'd be hard to find a better one.
What qualities does someone need to succeed in this role?
For product management, it's crucial to have an analytical mindset and be able to break down problems into smaller packages and unravel them. You'll excel at the job if you're always thinking about the user and thinking about the value of everything. A lot of the work is about prioritizing and trade-offs. You need to be close to the user, but also stay analytical and build things not just based on your own opinions, but on data. 
With product management, you're involved in three disciplines – design and user, technology, and business. A good product manager has to be adept in all three areas. You have to be able to speak the language of an engineer, a business developer, and a designer and to be able to understand what they're doing. You don't need to be able to do those jobs, but you need to be able to grasp them fully.
The leading corporate investment and incubation firm
> 1,000 employees

Manhattan Beach, United States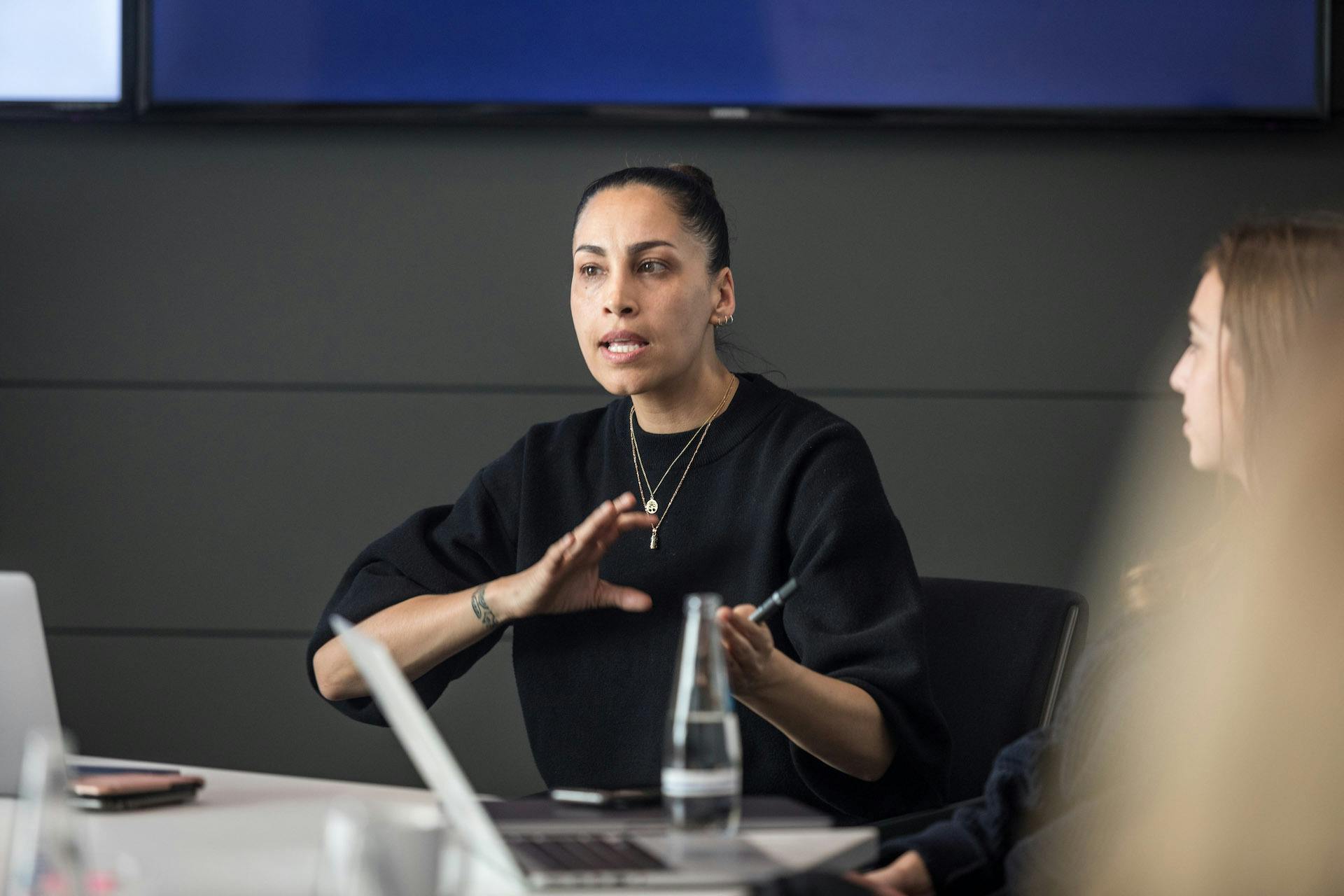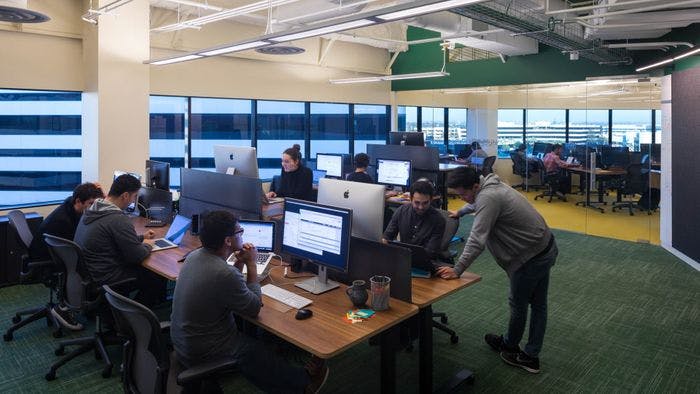 What's the most fascinating thing about your job?
For me, it's when everything comes together after months of hard work, planning, meetings, and putting everything together. When you launch a new product and get the first user feedback, and realize that people are actually using something you designed and thought so much about, it's so cool. You're essentially giving birth to new businesses and products, and when you succeed, it's such a fascinating and magical moment.
What challenges do you face in your position?
One tough aspect of being a product manager is that you're leading without authority. You're making a lot of product decisions, but you have to coordinate a lot of people. It's about stakeholder management, getting everyone aligned, and sometimes also making really tough decisions like pushing back and telling people something can't be done.
One common misconception is that some people think product management is just making a work plan and making sure the work is divided up and so on (...) It's really about developing a vision and having a clear idea of what a product should be like, how it needs to be shaped, and what the strategy to execute it is.
What's a common misconception people have about your position or industry?
One common misconception is that some people think product management is just making a work plan and making sure the work is divided up and so on. That's only a small part of product management; there's so much more to it. It's really about developing a vision and having a clear idea of what a product should be like, how it needs to be shaped, and what the strategy to execute it is.
What advice would you give someone trying to break into your industry or land a job at BCG DV? 
In product management, you're always going to have one really strong area, either business, design, or technology. For this reason, you should try to cover your gaps and develop a full profile by getting some exposure in other areas. Getting an internship is an excellent opportunity as you'll be able to work in supporting experienced people and learn from them. If you find someone willing to take you under their wing and help you in one particular area, that'll give you a great start.