Tell us about your background and how you ended up in your current job.
I discovered my passion for fast-growing, tech-driven startups during my undergraduate studies at university. At the time, I worked alongside the founding team of food delivery startup eatclever, helping to develop and grow it.
Inspired by this experience, I decided to join a Hamburg-based company builder when I left university. I was part of the Entrepreneur in Residence program. It gave me the opportunity to develop business ideas in a venture capital-backed context and to work together with great founders and investors. After this program, I was looking for an ambitious and young environment and saw ABOUT YOU as my next challenge. ABOUT YOU is mainly perceived as a fashion platform, but what really excited me was the tech focus of the company that enabled its exponential growth to "unicorn" status. I've been at the company for one year now and it's a dynamic and challenging environment, and it was the right decision to join.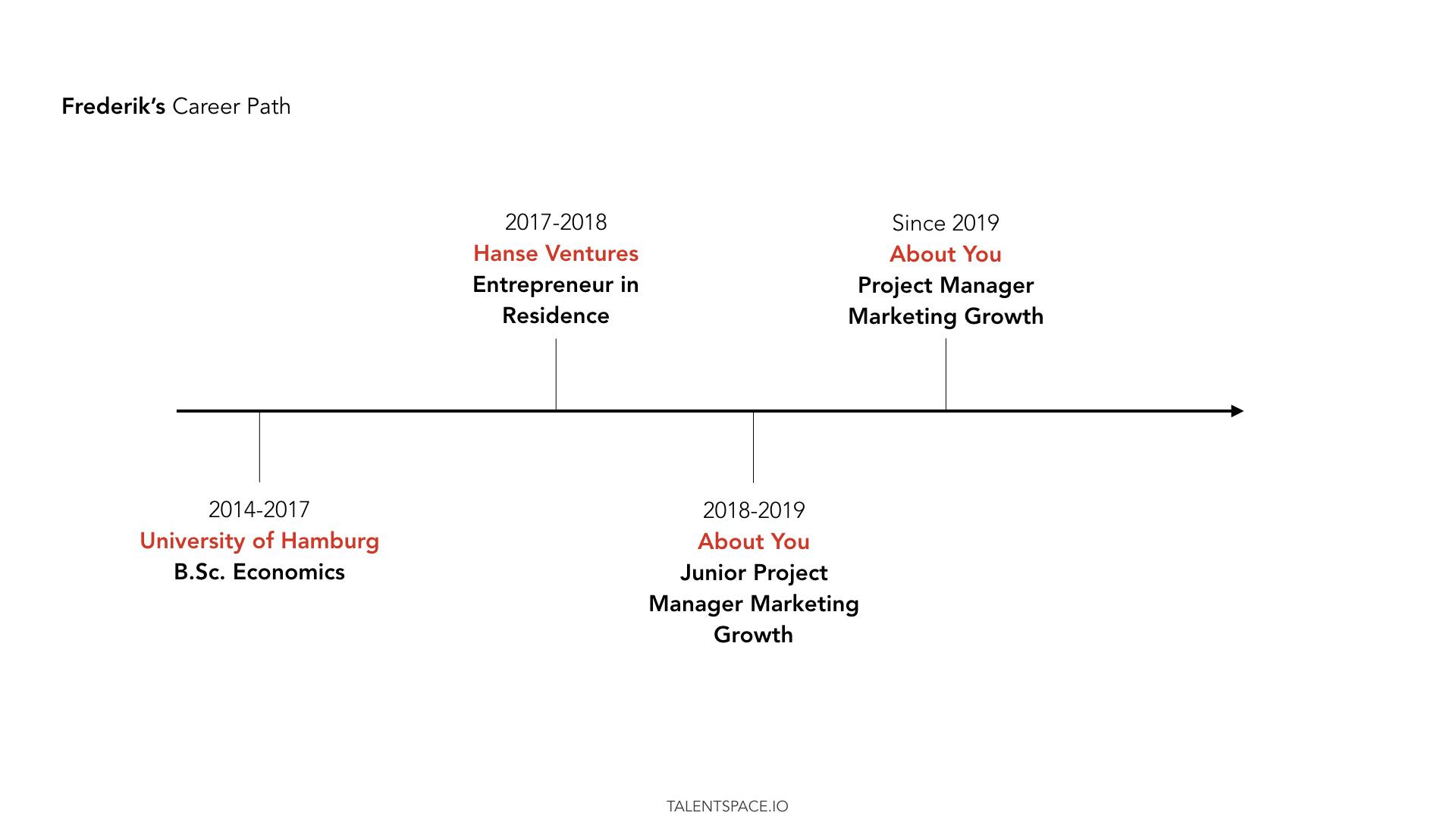 Could you walk me through your role; what does your typical day/week look like?
Over the last year, I was responsible for developing an internal startup from a scratch in the broader marketing context as well as launching ABOUT YOU in two new markets in Eastern Europe. The diversity of the tasks as well as the fast-paced environment means that there is no such thing as a daily routine. In general, I'm very fortunate to work in an environment that enables me to shape and define my role quite freely. However, I can break down the majority of tasks into two major buckets:
Analytical Work: Business cases, market analyses and KPI evaluations are included in every project and account for a majority of the invested time. 
Project Management: Working on bigger projects, such as country launches, with many different internal and external stakeholders requires a solid timeline and upfront planning. The ongoing tasks include meetings, external negotiations, and decision making together with the management. 
What qualities does someone need to succeed in this role?
An analytical understanding and quickness to grasp new tasks and challenges are key. Besides that, managing complex projects with many stakeholders from different departments as well as external stakeholders requires very clear and transparent communication. Of course, it also helps a lot to have a broad interest in marketing and the whole digital ecosystem as well as a curiosity for learning new things. Overall, I'm convinced that thinking and acting like an owner is crucial to succeeding in any environment. 
What's the most fascinating thing about your job?
What I really embrace is the fact that I am able to work with people that both challenge and support me. My background as a generalist working in a cross-functional context allows me to work with colleagues from various departments (Tech, UX/UI, and Finance, for example) which broadens my professional horizon every day. On a personal level, I enjoy working with so many passionate and ambitious colleagues from more than 40 countries. 
What challenges do you face in your position?
Given the ambitious growth trajectory of ABOUT YOU, unforeseen situations and mini-crises are an almost inevitable part of the journey. In this context, the solutions often require quick decision making with the involvement of the major stakeholders in a busy environment. In order to successfully manage those situations, two abilities are crucial: prioritization and clear communication. 
One thing that almost everyone underestimates is the growth potential of the online fashion market (...) While it may feel like the market is already covered by big players, only 15% of the European fashion market is driven by e-commerce.
What's the one misconception people have about your industry?
One thing that almost everyone underestimates is the growth potential of the online fashion market. I know I did before diving deeper into the industry! While it may feel like the market is already covered by big players, only 15% of the European fashion market is driven by e-commerce. Given that tech will disrupt the whole industry along the entire value chain, it feels like a great time to work in this environment with great future potential.
What advice would you give someone trying to break into your industry?
Especially as a young professional starting your career, it helps to avoid limiting job opportunities to job titles and instead see the bigger picture. In the context of young and fast-growing companies, job titles are often not set in stone and can be actively shaped along with your skills and passions. On top of that, those environments regularly offer great new challenges. It helps to stay curious, talk to a lot of people, and express your interests and ambitions openly.