Tell us about your background and how you ended up in your current position at Stripe?
It started with my undergraduate in business computing. As a student, I got into, not just technology itself, but into working with customers and connecting the domain experts with the technologists or the people working on the software. After finishing my Bachelor's, I did my Master's at the Hasso Plattner Institute (HPI) in Potsdam and dived deeper into basic computer science research. While doing that, I also founded a startup that rekindled my passion for connecting technology with people. As the CTO, my tasks included talking to customers and listening to their needs. 
After 18 months, I decided to leave the startup and look for a job where I could work with people and connect them with technology instead of becoming a standard coder. It was then that a former colleague of mine pointed out that Stripe is an interesting company to work remotely. I found a job as an integration engineer at Stripe, where I was able to combine both things. You need a lot of in-depth knowledge about the product and the technology behind it as you talk to people up to the CTO's level, so excellent people skills help in communicating in a structured and clear manner.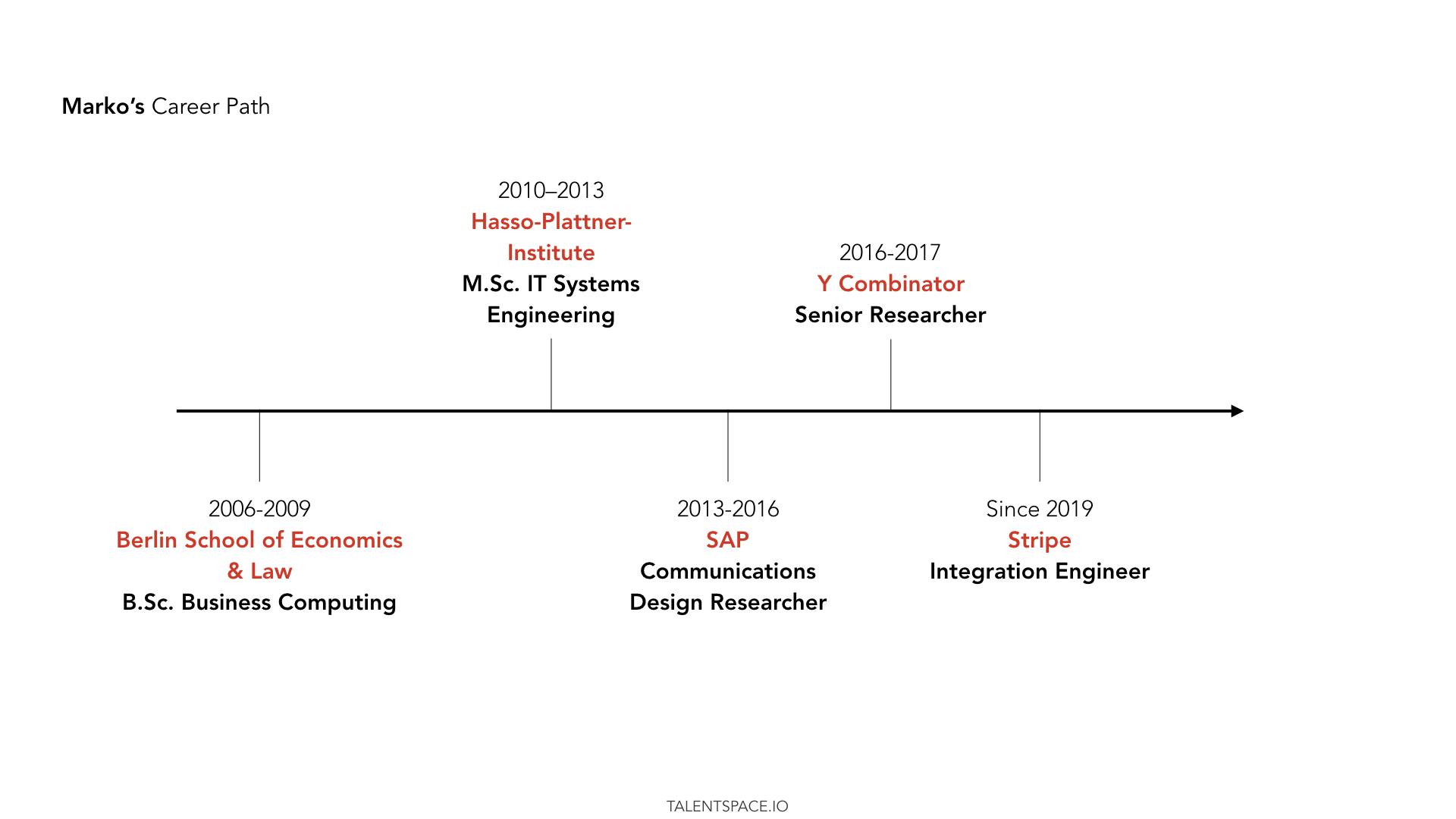 What were the major career decisions that led you here, and how did you make those decisions?
I was always drawn the idea of working with people in the technology field. So one of the major decisions was deciding to partner up with IBM for my dual studies. I was coding before my Bachelor's, thus learning how companies work and what kind of business domains exist was crucial for me. Working for a startup as one of the first tech people shaped me a lot as well. 
The next biggest step was pursuing my Master's at HPI, which also focused on the people's side of technology - this was what led me to start my own business.
Did you plan to launch your own startup? 
Before founding my startup, I participated in one of the HPI's business startup contests, which strengthened my interest in starting a company. I always had ideas, but what I've learned that's even more important is having a team and people with whom you can work with. 
I was drawn to many different things, but a former colleague approached me with his research that was defunded. And they wanted to start a company around it. In the tech scene, I think people mostly focus on the research and technical side of things but have no idea about what it truly takes to establish a company. I realized that I needed to team up with someone who knew how to build a company, and in my opinion, he was the right person to start a company with. 
What does your typical day or week look like?
At Stripe, what I do is classified as an integration engineer, but some companies also call this position a customer success engineer. It's a personal preference, but I don't like that they focus on the engineering part as 50% of my job consists of building relations and connections. 
As an integration engineer, we work with the largest customers - for example, Kickstarter or Lyft, helping them build their integrations. We always work with a deployment team (which takes care of everything besides the technical side) that oversees the financial training or explains to the customers how Stripe and our payments work. My job is to explain the parameters customers have to set and how everything fits together. To sum it up, I work with code snippets and with stakeholders internally and externally.
A more concrete example would be if a customer has a specific request for a service we don't yet provide, I can communicate it to the product team and help them to develop these requested features. And externally, it's about helping the customer to integrate successfully as quickly as possible. I have to point out that I'm working entirely remotely. Stripe used to have four engineering hubs located around the world. After I joined the company, they introduced the fifth hub, called Remote. In doing so, they were able to attract more talents and get really good coverage around the globe. So whenever one of our customers has a question or an issue, there's always at least someone online who can help the customer.
What makes Stripe a good employer for you?
I really, really like Stripe. For the past few months, I have been saying that it's either the best job (or one of the best jobs) I've ever had. What I appreciate is the fact that Stripe puts its customers first. The first principle at Stripe is 'User first.' I've worked for different companies in the past, but here, I can see and feel that they're serious about it. I try to help my customers as much as possible, but there are also times when I need help. In such situations, I know that I can rely on the product team or other colleagues to help me out. The reason is not only that they want to help me but also want to help the end-customer by overcoming obstacles together.
What qualities does someone need to succeed in this role? 
You need to be very strong in your technical/engineering skills and have excellent people skills as well. We've been hiring for the past year but only found two people capable enough to do this job. Most applicants are very strong in their technical skills but miss out on fulfilling the people skills component. The latter is very important as the job requires you to talk to the CEO or CTO of a company. Thus you need the skills to communicate clearly and in a structured manner. You need to able to put forth your arguments very well as you'll have to defend your decision in front of them. So the challenge is to find someone good at the technological part and can effectively communicate with people as well.
What's the most fascinating thing about your job?
It never gets boring. Stripe has launched eight or nine products by now. And our customers use different combinations of products and various features. On the one hand, I'm consistently learning about new things while the products itself keeps developing, and new features continue to be launched. And on the other hand, given my background as a researcher, it's quite interesting as I get to dig into many different topics. 
Global technology company building economic infrastructure for the internet
> 2,000 employees

San Francisco, United States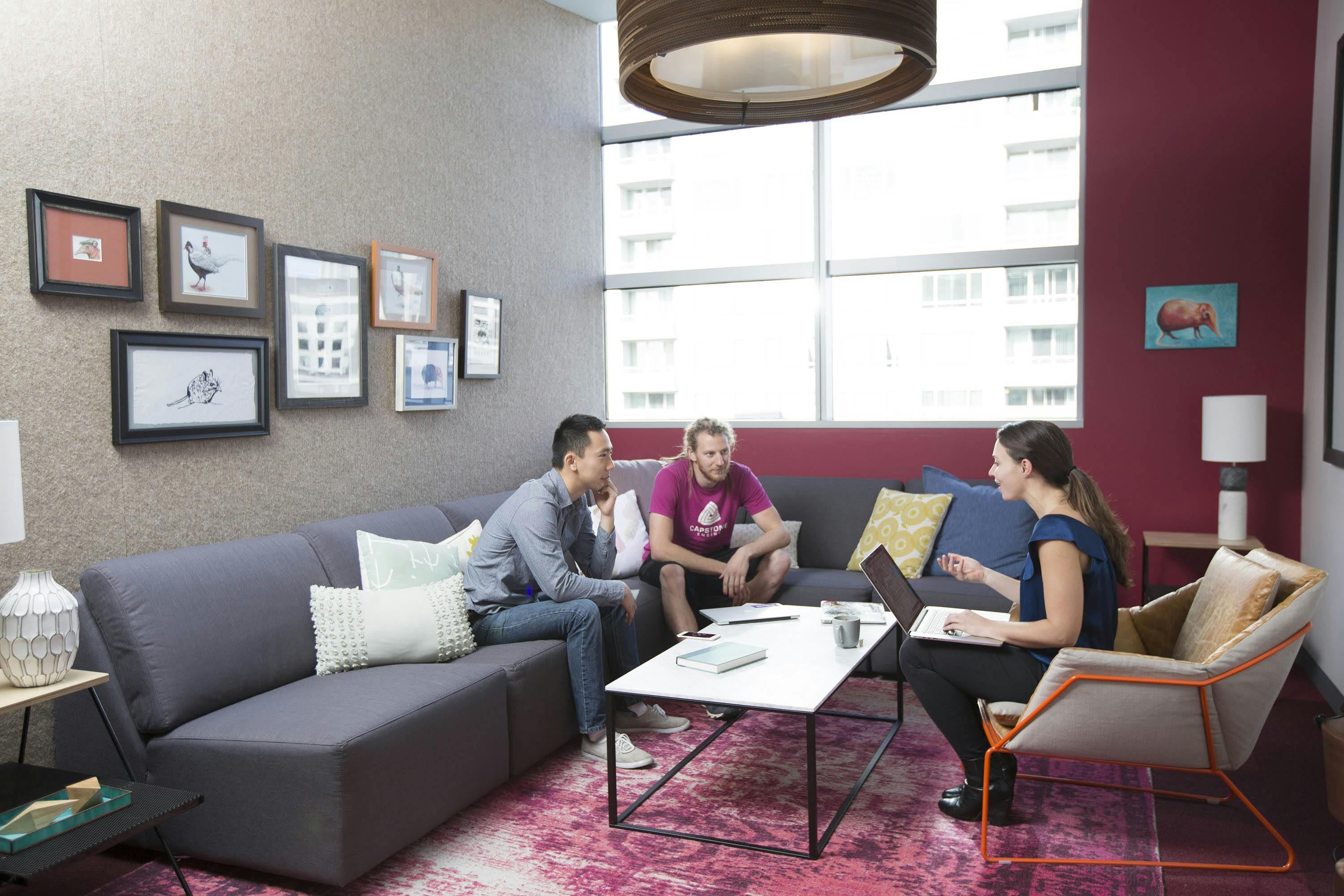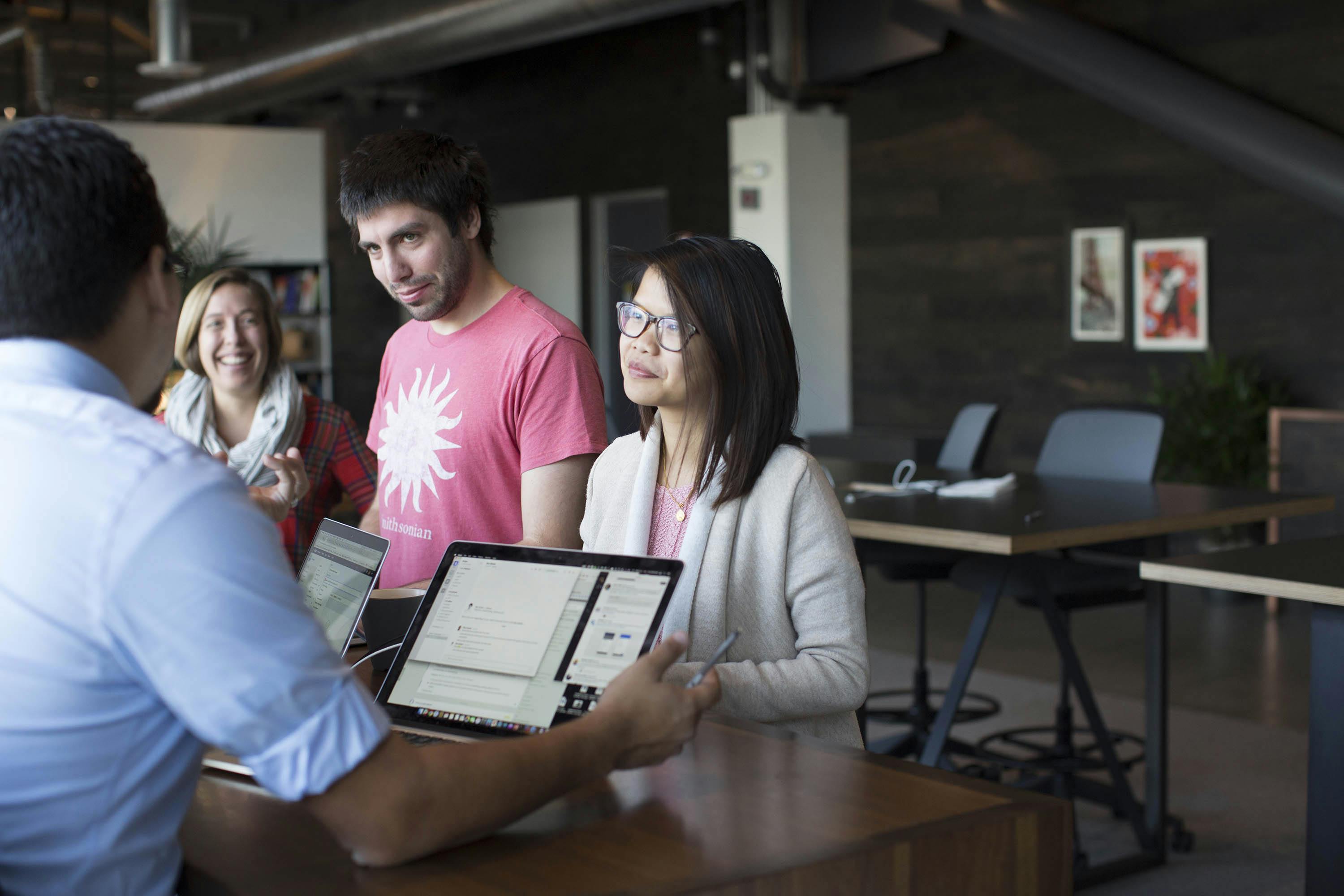 What challenges do you face in your position? 
I'm still quite fascinated about the job and the company, but I think one challenge Stripe is facing right now is maintaining our great company culture. Stripe has been exceptional at fostering a great company culture, and the company is still led by its two founders, John and Patrick. They succeeded in setting up the company in such an interesting way cultural-wise and also hired some amazing people for leadership roles. But we've been growing by more than 50 % over the last year, meaning from just over a thousand, we're now about two thousand employees. Naturally, this has led to changes in teams and responsibilities. Keeping up with all these changes is a big challenge, but it's one that I think will shape Stripe in a good way. 
What's a common misconception people have about Stripe or the industry?
I am not sure if it's a misconception, but I feel like not many consumers know about Stripe. We're more like an underdog as we offer white labels, which means that on our customers' websites like Lyft or Kickstarter, it doesn't say: Powered by Stripe. Although our current focus is on the US, I'd love to see our products being used in different parts of the world as well.
What advice would you give someone trying to break into your industry or land a job at Stripe? 
Specifically, for my role, you need to be strong on the technical side of the product and have excellent people skills. A computer science degree isn't a requirement, but it would definitely help. Essentially, we're looking for people who are unique and passionate. 
Also, being sharp and questioning things can help you a lot. At Stripe, we call it 'Disagree and Commit,' which translates to stating your opinion and standing for it. Furthermore, you should be able to understand someone else's position and listen to them. For example, you will have to convince the product team why the customer needs a specific feature and help the team develop it.
Just follow your interests and try stuff that's outside of your comfort zone out. You might find something interesting as a result. When I started business computing, I've honestly never thought that I'd love to work with people this much. 
Since you live in the US, do you have any advice for people who are considering moving to start the career there?
That's a good question. I think what really helps is doing internships at companies in the US. Try to get an understanding and feel of whether you'd like to work and live here. On the internship, excel in your role and build relationships within the company. After finishing it, they might come back to you, or you can easily reach out to them after your studies saying, "I finished my Master's now, and I'd love to continue to work with you. Can you tell me about the next steps?" And I believe they'll be more than happy to help you if you've shown your worth.