Tell us about your background and how you ended up in your current job.
I studied International Business Administration at the Rotterdam School of Management (RSM). During my time there, I developed a strong interest in entrepreneurship, which is what motivated me to get involved in Berlin's startup scene after my graduation. That was how I got connected with TalentSpace, securing a position there as Entrepreneur in Residence. My role was quite varied, as it is at any startup. I helped with the organization of various Talent Summits and Talent Nights, and was also overseeing a lot of the marketing tasks. It was through this experience that I realized that I wanted to further develop my skill set in this area. 
Then one day I spotted a LinkedIn ad from Growth Tribe. They were recruiting talents for their first Growth and A.I. Traineeship, which would pair young professionals with some of Europe's leading high-growth companies. I was lucky enough to land a place on the six-month program. It involved being guided by experienced coaches on relevant growth processes and practices, and then being given the opportunity to apply these tactics at a partner company. I was paired up with Helloprint, and it has been a memorable ride ever since.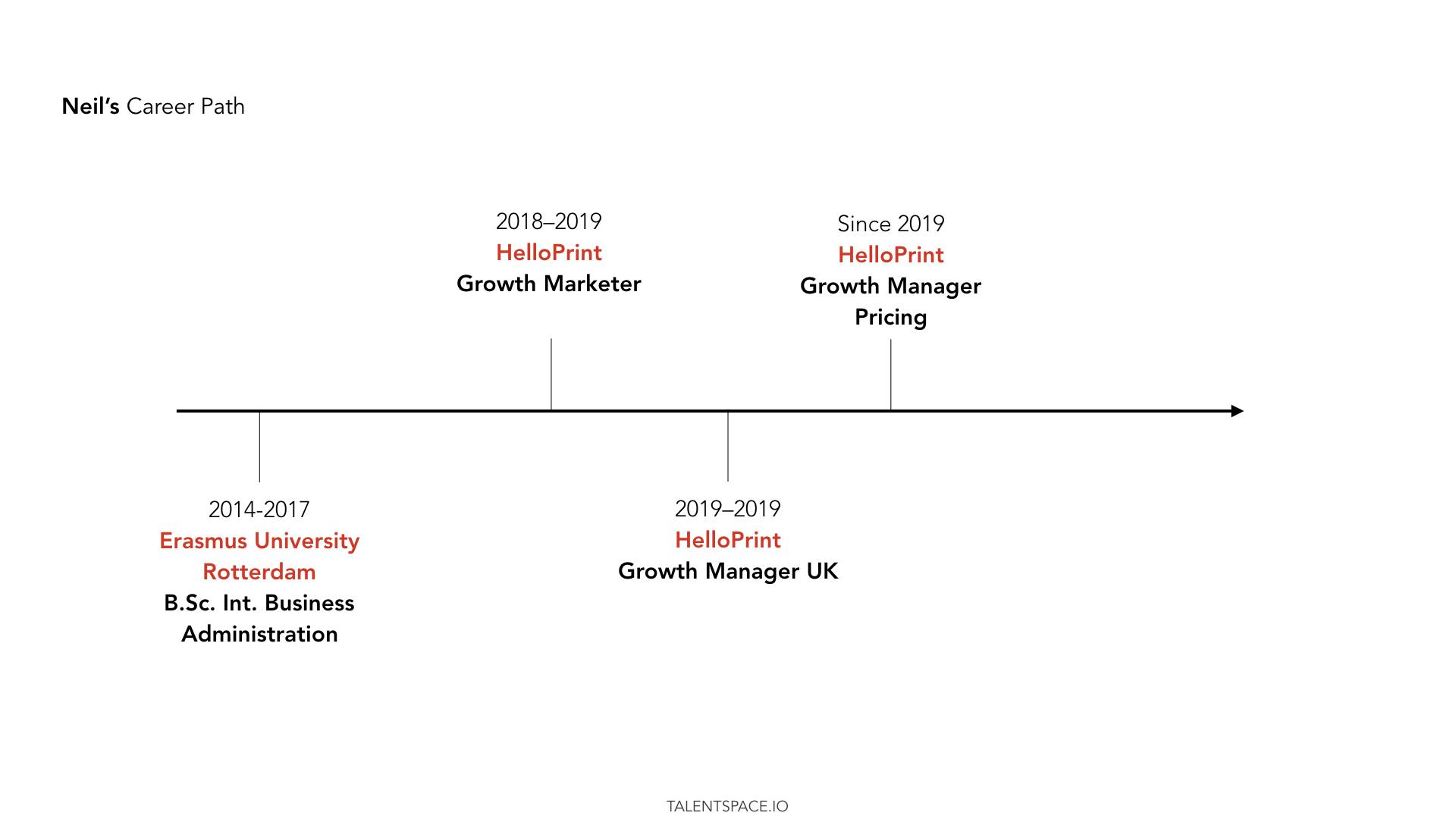 Could you walk us through what your role entails; what does your typical day/week look like?
Quite frankly, there is no such thing as a typical workweek at Helloprint. One thing we do regularly is to align early in the week to gauge the current performance of the company. We look at a variety of metrics including the number of new customers acquired, revenue from both new and returning customers, gross profit margin, growth rate, and so on. We look at all of these metrics both on a country and category level to help us preempt any areas we'd need to be wary of. In addition, we are always testing different tactics to convert new customers and better retain returning customers. This is achieved through an experiment ranking session where we gather ideas from a variety of teams, prioritize the most impactful ones, and execute them. We launch about 4-5 experiments per week at Helloprint. Other tasks entail liaising with domain specialists – SEO, SEA, Content and Product – to see how we can better improve our marketing tactics and proposition. 
What qualities does someone need to succeed in this role? 
You must be analytical or have an affinity with data. Every decision that a growth hacker makes is based around data – both quantitative and qualitative. Being data-minded helps to reduce gut feeling-based decisions and can help to significantly improve the impact that you have in any setting. 
You should be intrinsically interested and curious about different marketing areas. Impactful growth hackers usually take the form of T-Shaped Marketers who possess both a wide knowledge of several marketing areas and a deep knowledge of one or two marketing areas. These areas can range from topics such as acquisition channels to front-end frameworks to conversion rate optimization practices to experiment design. Growth hackers thus need to constantly stay up-to-date on a variety of marketing topics and having an inherent passion for these areas is essential. 
You cannot be a perfectionist in this role. The core role of a growth hacker is to implement processes and practices which can help a company scale. This requires testing a lot of different things in order to gain initial insights which can help in iterating. In order to execute at speed, growth hackers should be comfortable with shipping out things like experiments and features which are not completely perfect. One of the most popular mantras in the growth hacking industry is to "ship fast and fix later."
What's the most fascinating thing about your job?
The most fascinating thing about my job is being able to work in a multidisciplinary team. We have recently changed our entire team structure at Helloprint in order to represent more of a growth squad. Each squad is extremely multifunctional and is comprised of a variety of profiles including growth hackers, developers, data analysts, UI/UX designers, and a domain specialist. This is an incredibly valuable way of working as you can approach challenges with a variety of perspectives and you also have the ability to complete more tasks within the confines of your multifunctional team. This not only increases our speed of execution, but also offers a great learning platform on a personal level. I am generally very curious about a variety of areas such as web development, data analytics, and acquisition channels. So being surrounded by 'experts' in these fields provides the perfect opportunity for me to learn as I can just approach anyone in order to find out more about a particular topic.
What challenges do you face in your position?
The biggest challenge in my role as a growth hacker in the Pricing and Persuasion team is coming up with and implementing experiments where we can better test our pricing strategies and tactics. Print is a commodity product and to help acquire and retain customers, we have always employed either a cost-based or competitor-based pricing strategy. This allows us to provide a variety of printed products at the most affordable prices in the market. The challenge now is not to steer towards being the most affordable, but rather how can we position ourselves in the eyes of the customer so they believe they are being shown a fair price. This is a much more dynamic and value-based pricing strategy which will require a lot of creative thinking and experimenting to establish.
What's the one misconception people have about your position?
One of the biggest misconceptions about growth hacking is the belief of companies that solely hiring a growth hacker will instantly result in a 10x improvement to their growth rate. Although I believe that hiring growth hackers or growth-minded individuals will certainly help, it will not bring any impact unless the company itself has a growth mindset. Companies with growth mindsets are ones that are willing to try new things and innovate, aren't afraid of failing and see failures as a learning point, and are open to critical feedback. This mindset is something that is imperative to the success of any growth tactic. Without it, a company can hire the best growth hackers in the world, but it will never be able to make the massive impact that it desires.
What advice would you give someone trying to break into your industry?
There are two key pieces of advice I would give. 
1. Establish your theoretical base
The first thing that anyone should do is to read as much as they can about growth hacking. You should be able to answer how it is different from marketing, what the most common traction channels used today are, what the marketing or pirate funnel is, what the difference between vanity and actionable metrics is, what some of the biggest growth hacks are, and so on. There are so many articles, videos, and books available today which can help you paint a clear understanding of this field.
2. Get some valuable practical experience
In my opinion, you can take two routes to gain the necessary practical experience to complement your newly acquired growth marketing knowledge. The first route is taking part in a growth hacking traineeship, similar to my Growth Tribe experience. Participating in a traineeship is an incredible launchpad into this industry as it is the perfect combination between self-learning and on-the-job learning. Other traineeships to consider are The Talent Institute and Rockboost. I would also recommend having a look at the competitive landscape in your local area to see if something similar is offered closer to home.  
The second route would be to find a local mentor or high-growth company that can help you gain this experience. In terms of mentors, there are a variety of entrepreneurial and growth hacking communities nowadays which offer you a good starting point to get in touch with an experienced growth mentor. I've found that growth hackers are quite responsive on LinkedIn to budding professionals who are curious to learn more about the game. This mentality has really helped me get in touch with some truly incredible growth hackers out there! 
In terms of companies, it's good for you to find out which companies in your area are currently scaling. You can use Wired, TalentSpace, or Crunchbase to find relevant companies. Crunchbase is quite interesting as you can filter which companies have recently raised a big investment round (Seed or Series A). This can help you to quickly identify companies that are currently in or about to embark on a period of growth. It is very likely that these companies would be looking to hire growth-minded individuals. 
The best piece of advice I can give you when approaching mentors or companies is to be transparent about your experience and motivation about growth hacking. If you lack experience in this field, don't let it hold you back. Use it as an opportunity to show others your growth mindset and your ability to pick up things fast and bring true value to the cause. Mentors and companies truly appreciate this and will take more time to invest in you.