Talentspace is the first all-in-one live online recruiting event platform. Using the Talentspace platform, you can connect with talents digitally.
Online recruiting events on Talentspace
The Talentspace platform is a home for all online recruitment events, big or small. Whether you want to host a career workshop specifically for your company or you're participating in a large-scale, multi-day, multi-company recruiting fair, the Talentspace platform has the capability and features you'll need.
There are four major ways to engage with participants on the platform.
Speeches
Speeches are essentially a live video presentation hosted by high profile speakers or employers that can be tailored to suit your needs. They are intended to address the entire event audience so only the speaker(s) is on video, with the option to upload their slides or share their screen. Participants engage via a text-based chat and Q&A.
Sessions
A session is essentially a live video presentation for multiple people. They could be an intimate coffee chat or workshop with a handful of participants, or company presentation with 50 participants. In a session, the participants are visible to the speaker and can be invited on stage with full video and mic capabilities.
1-1 chats
1-1 chats are (informal) interviews built right into the Talentspace platform. Both participants and employers can request, schedule and join private video chats. This can take the form of a meet and greet, with the chance to go straight to getting to know the participant better and talking about the potential roles at your respective company.
Live booths
Live booths are similar in form to offline career booths. As an employer, you control your own live career booth, where participants can come in and out to echo the experience of walking up to an offline career booth. Multiple participants can interact in a live booth at the same time and the others can listen in. If the booth is full, i.e. if the maximum capacity of people with video and mic capabilities is reached, participants request to join the booth and wait in the queue. As an employer, you will be notified when a participant requests a spot and can invite them to participate in the booth with both camera and mic capabilities.
Employer checklist
Follow our checklist for a guide through the process of setting up your event on Talentspace.
1. Create your company profile
Navigate to the "My Company" tab, where you can set up your company profile with all the relevant information.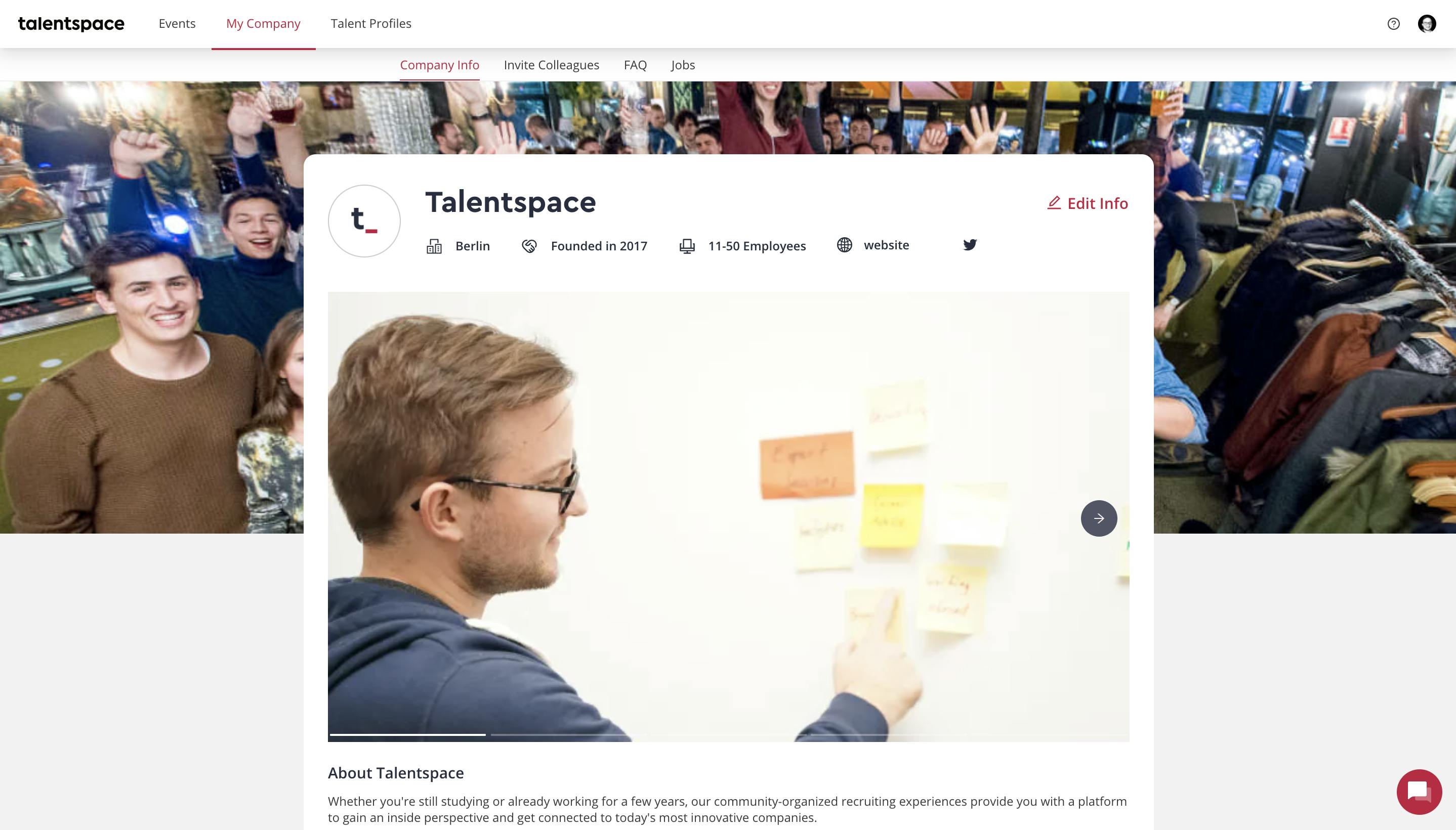 2. Invite your colleagues
Other team members can also join the event and gain access to all employer functionalities.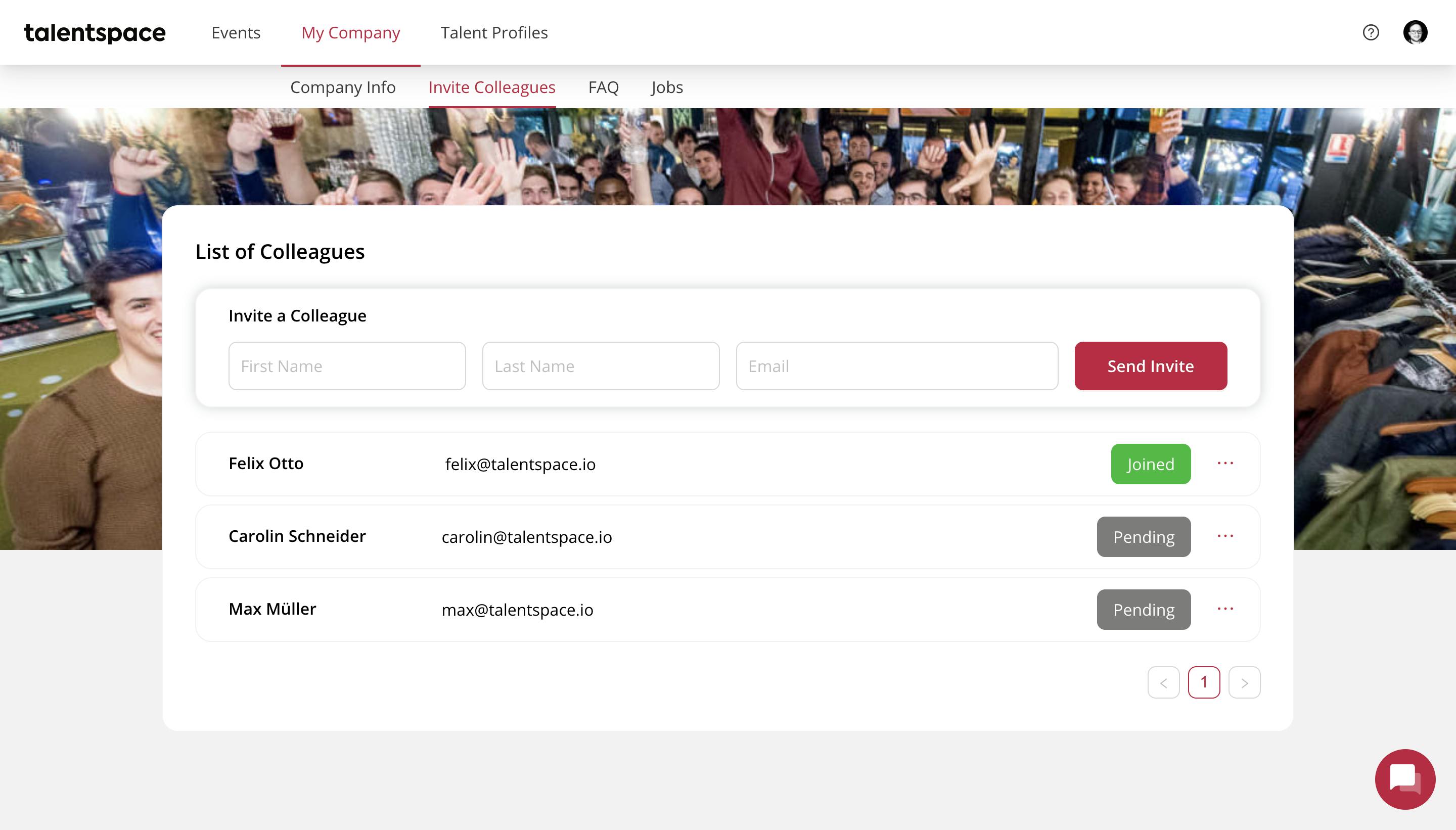 3. Add jobs
Post any current company job opening to your profile. Simply fill in the job title, job post url, type of job, location, and a short description.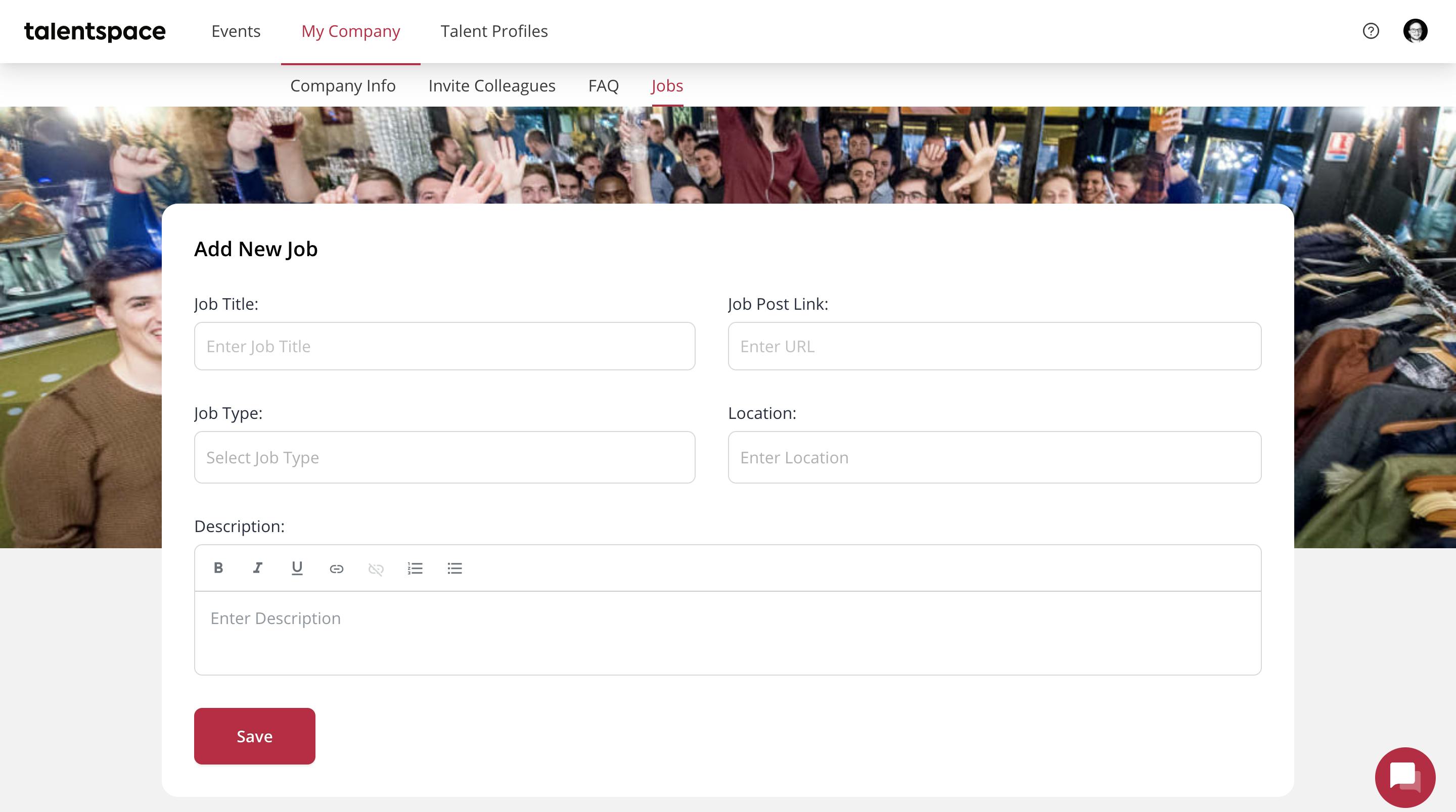 4. Add FAQs
FAQs cover topics such as your company, culture, work, and interview/hiring processes. Participants use this as a resource before reaching out to you and/or posting questions in the Q&A Board.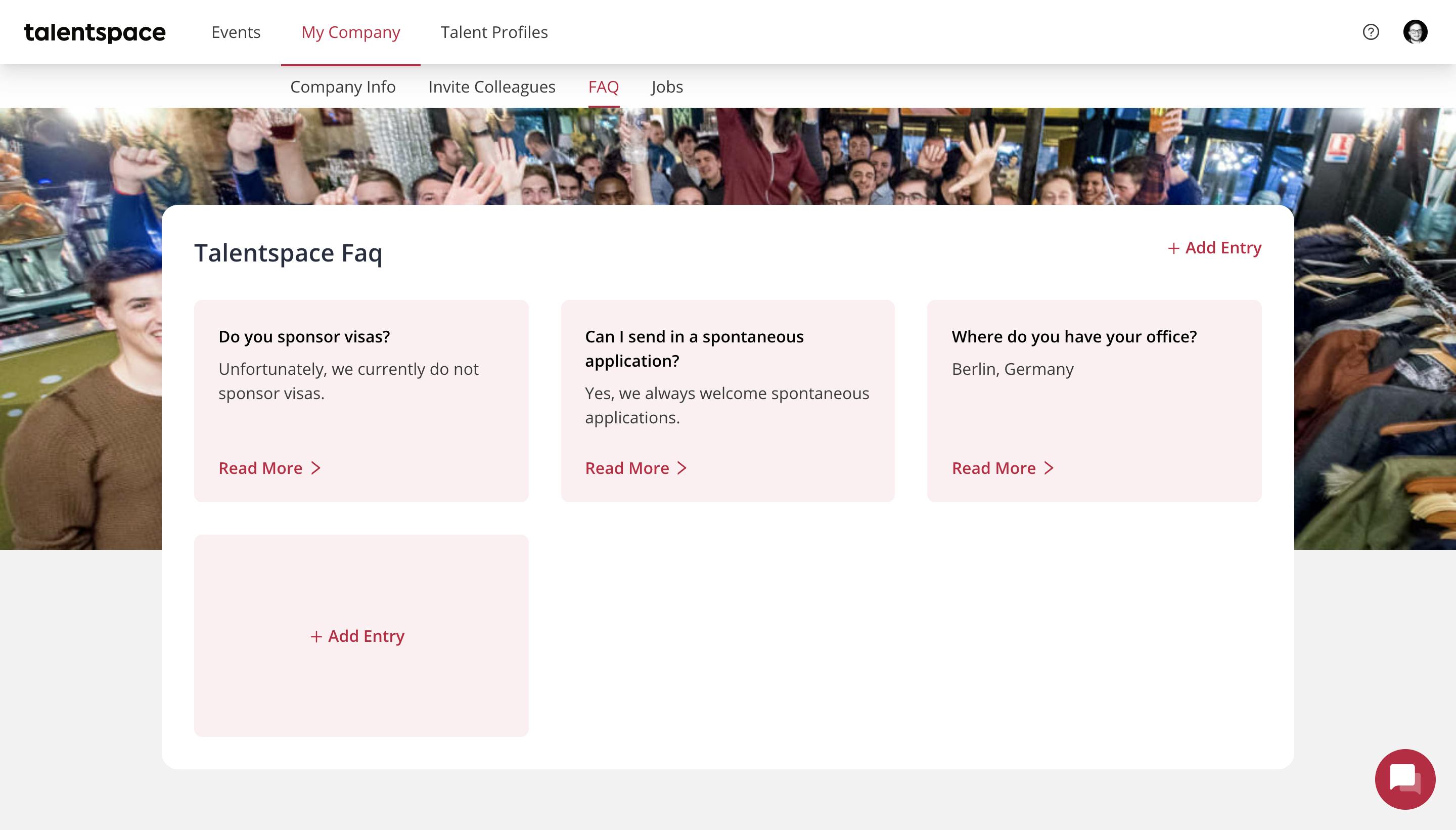 5. Create sessions
Within your event page, create and edit your company's sessions. These sessions can include workshops, talks, panels, company presentations, and coffee chats. The duration and capacity is customizable, subject to the event configuration.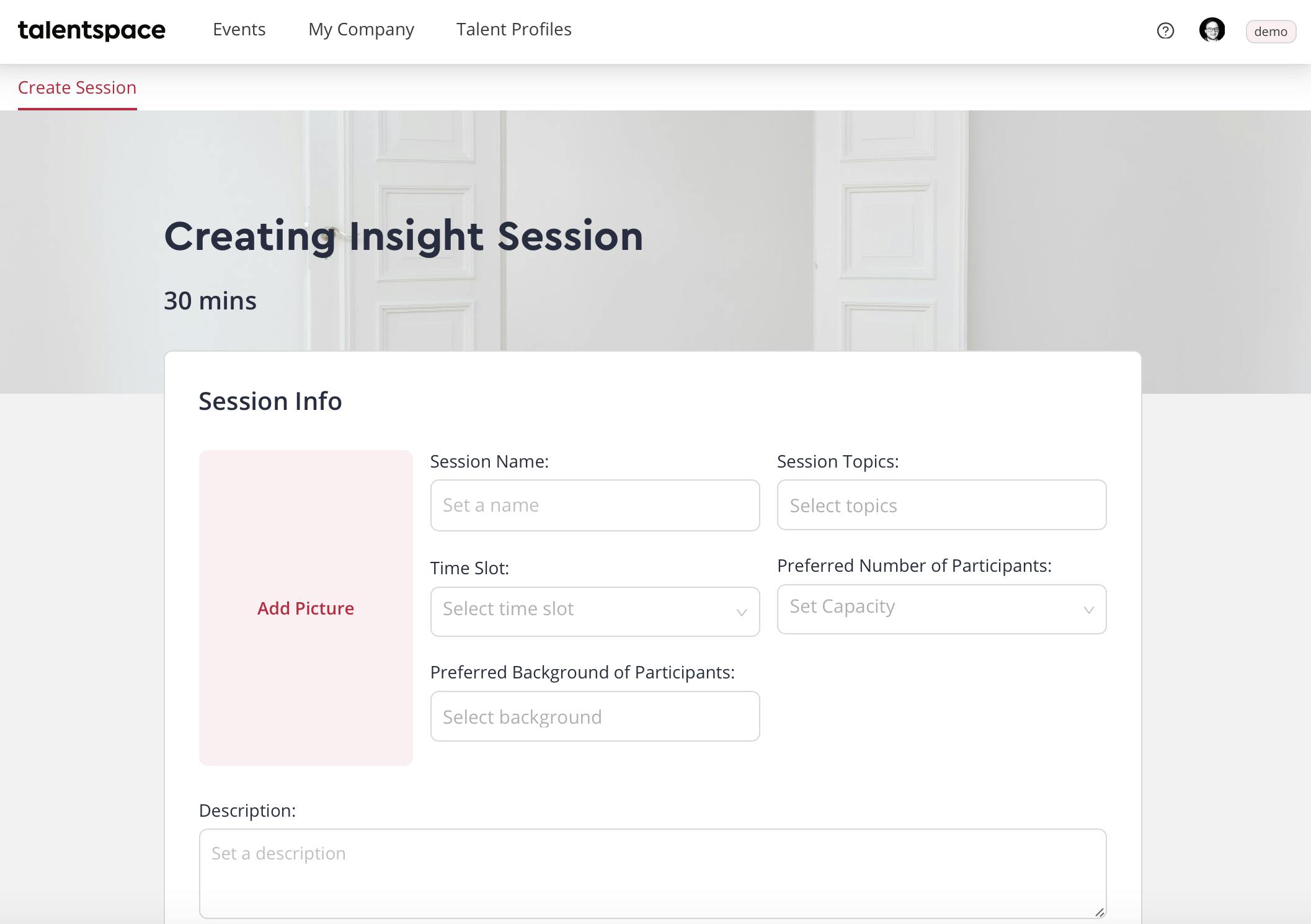 6. Complete your personal profile
Make sure your personal profile is complete, with a picture and job information details, so that participants know who they are talking to.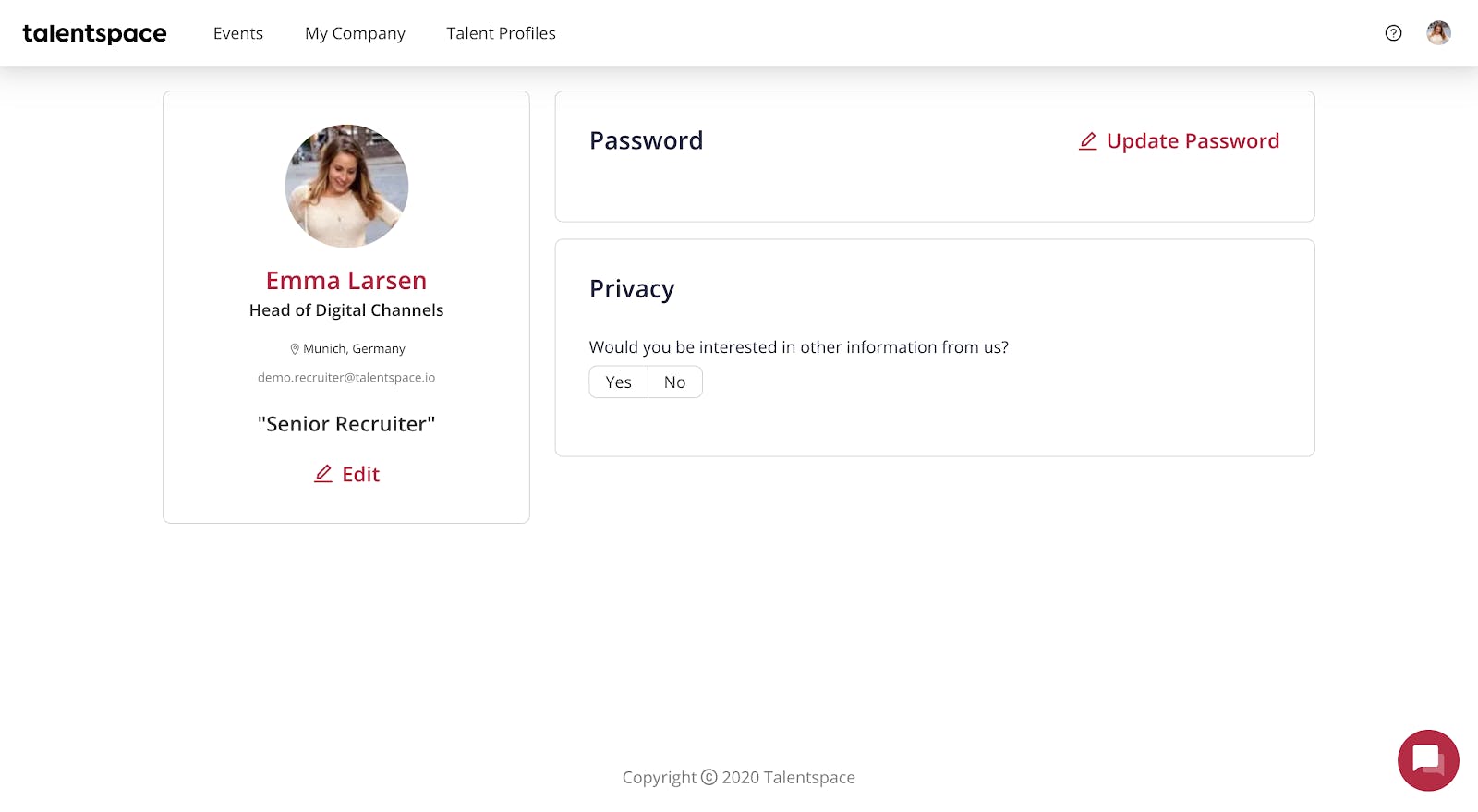 7. Configure your 1-1 chat availability
Each employee can configure their own 1-1 chat availability according to their personal schedule. You review all incoming requests and decide if you would like to accept or decline the 1-1 chat.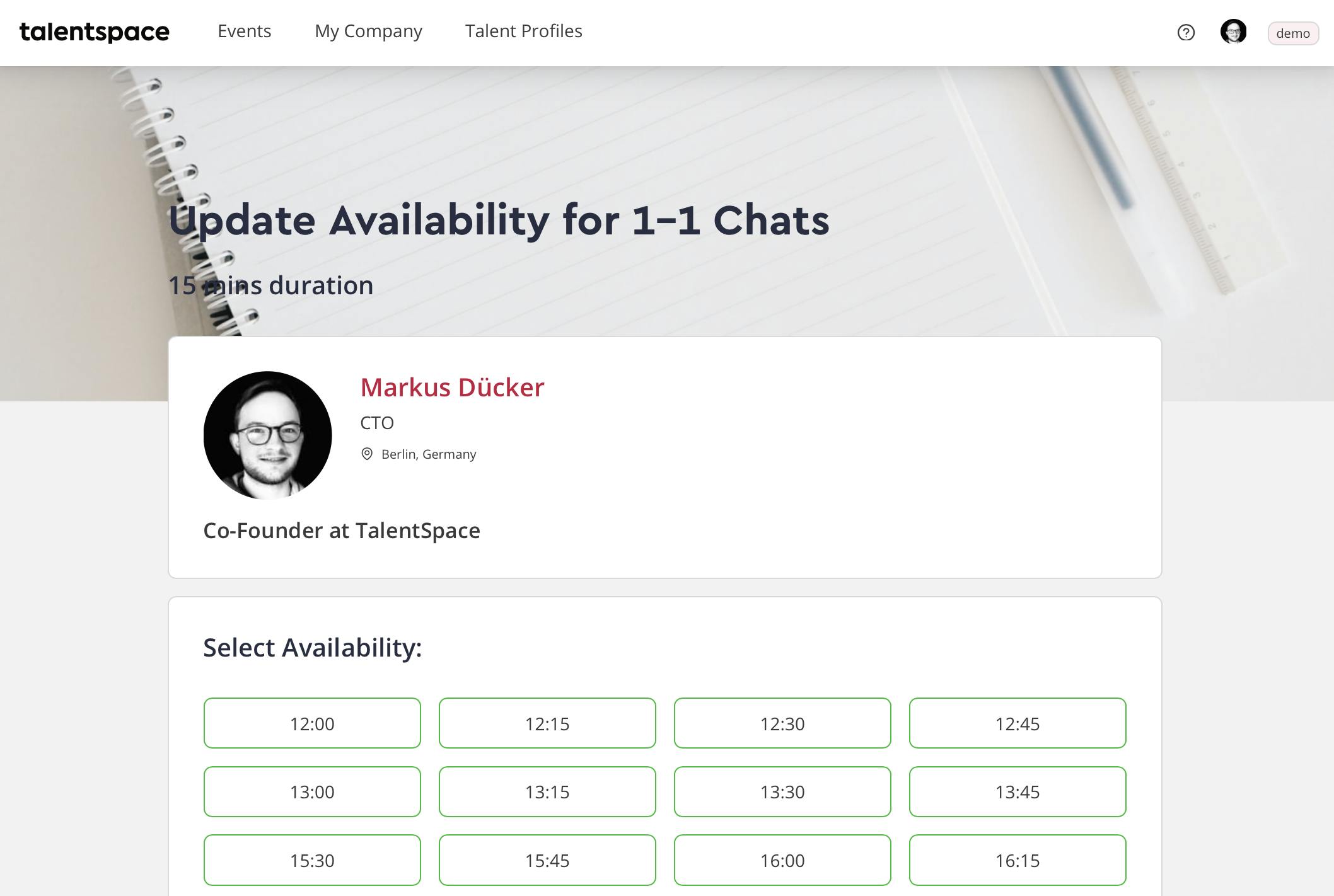 8. Review participant profiles
In the Talent Profiles section, you will find all participant profiles. These profiles are searchable and filterable according to different criteria and keywords. You can also save, comment and upvote profiles, as well as downloading CVs.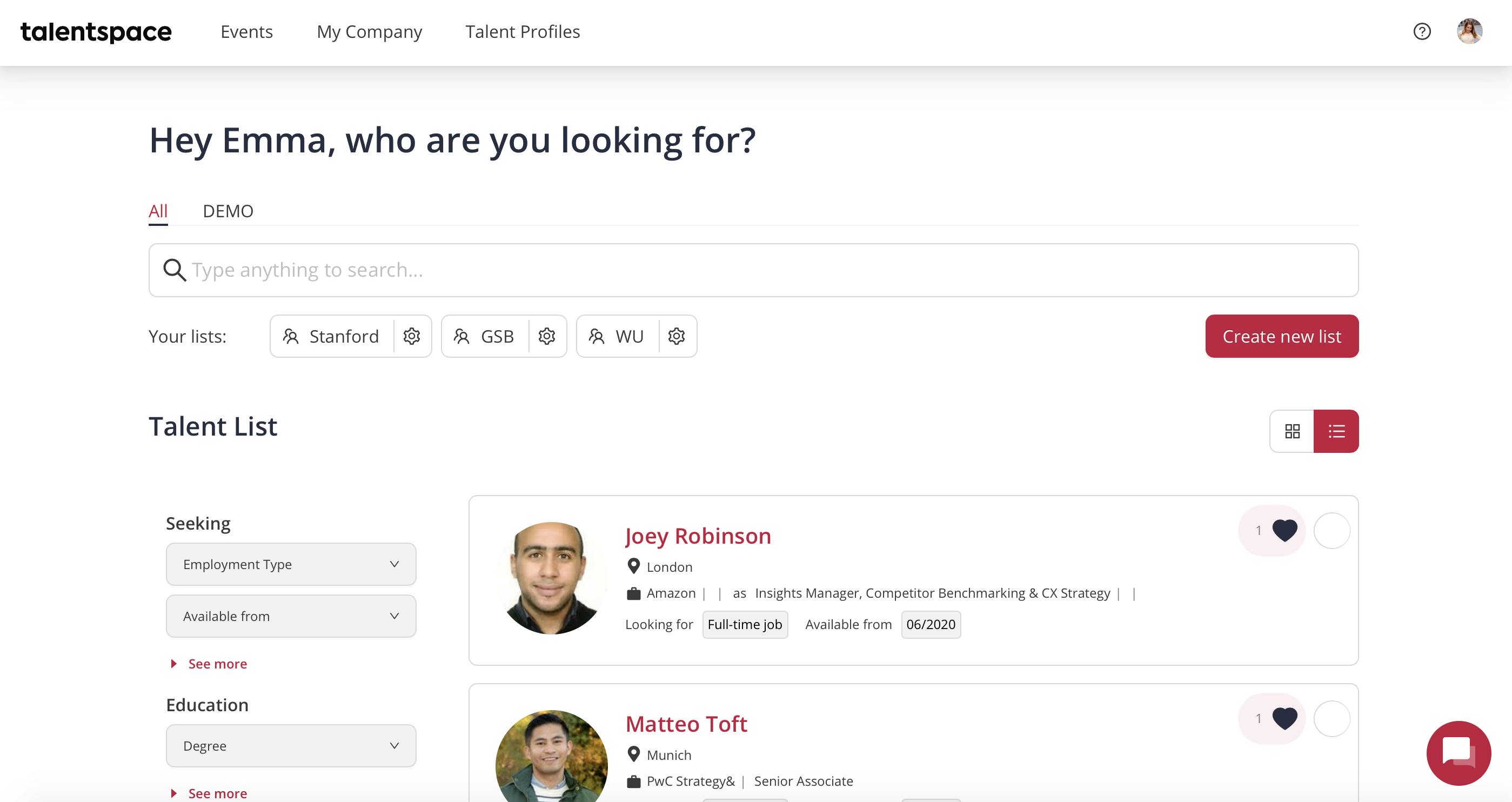 Preparing for an online recruiting event
Consider reading some of our guides on best practices and event preparation.