Tell us about your background and how you ended up in your current position at McKinsey & Company?
I would consider my background rather typical for someone having studied economics; after having completed my Bachelor's in Rotterdam, I commenced my Master's in Paris and the US. During these stints, I focused on finance and adjacent fields, whether in or outside the classroom, taking on roles in investment clubs, or choosing dedicated coursework. I have always strived to match academically-acquired knowledge from university and business interests with practical experiences in the form of internships (in both the advisory and non-advisory sectors). After returning from the US, I chose to start full-time at McKinsey.
You have a background in consulting, banking, and private equity, could you tell us about the differences you saw in these three areas?
Let's first focus on the intersection of engagements between the three players: often, these will entail commercial due diligences run by consulting firms, transaction processes and management run by investment banks, and ultimate investment decisions made by private equity funds. If you think about a value chain leading up to an investment decision, you'll find different positionings and angles for each of these players. 
For instance, multiple advisors typically own the decision-relevant and specific workstream. They also create findings that inform and support the private capital investment teams to decide in favor (or against) an investment in the asset. In some processes, investment teams might even involve more players, such as auditors or legal experts, who assess a potential transaction from yet another angle. Of course, this is a simplified view of things - but it should give you a rough idea of the professional interlinks and different perspectives of the players in advisory and non-advisory roles.
Secondly, and from an organizational perspective, team sizes and variety of profiles differ. If you aspire to work in a field where your peers are more diverse, where team sizes are usually a bit bigger and change more frequently, then I'd recommend starting in an advisory role. That said, try to identify your aspirations first and always keep both sides of the coin in mind.
What were the major career decisions that lead you here, and how did you make those decisions? 
There were two major inflection points in the last few years. I knew early on that I wanted to work in a dynamic environment, learn more about business first-hand, which is why I founded a tech startup during my Bachelor's. That experience gave me a very comprehensive understanding of what different stakeholders can and should demand in order for a business to thrive.
I also noticed that economics studies at universities like Rotterdam and Paris were excellent academically but limited as far as practical exposure is concerned. After having founded the startup, my focus shifted to gaining as many practical experiences as possible, which first led to my gap year in advisory roles. I interned in consulting and investment banking to solidify my understanding of these industries. Eventually becoming interested in the non-advisory roles, and finally moving into private equity.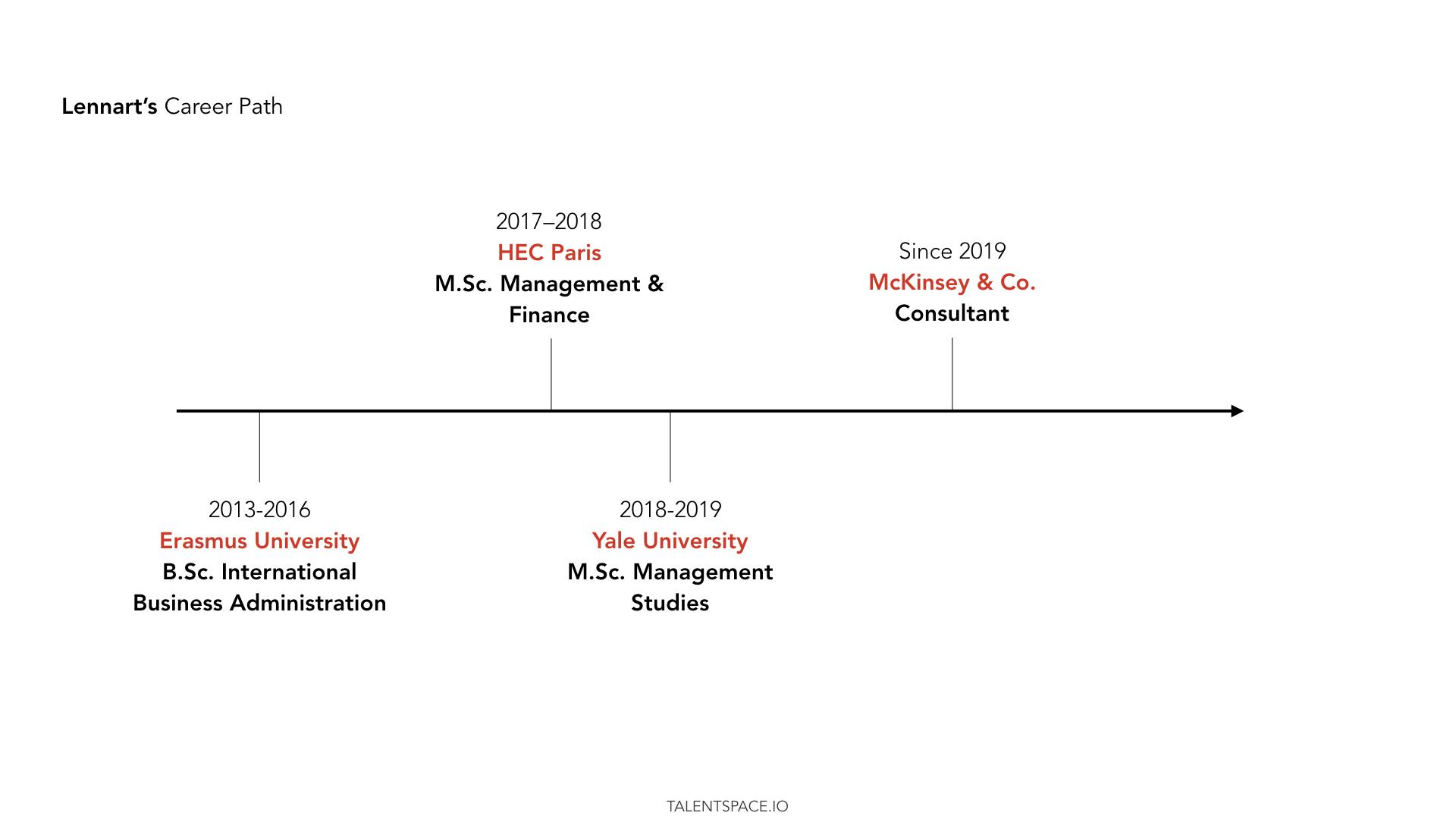 You also graduated from very well-renowned universities, HEC in Paris and Yale in the US. Could you tell us more about your experience and why you chose those schools/programs?
First, my advice when deciding on a study program is to talk to current students across programs and connect to alumni instead of relying too heavily on impersonal sources or polished marketing materials. After having done so during my gap year, my shortlist included HEC and two other leading universities in Europe. The package of a highly diverse student body, finance-focused faculty, and flexibility for comparatively more electives trumped the other options. Retrospectively, HEC enabled me to focus and expand on the interests and knowledge in finance that I gained in the last few years. 
In my second year, I decided to opt for a management master program at Yale. Studying in the US was very attractive to me because, for one, I'd studied in Europe and Asia and could further enrich that set of experiences. Secondly, Yale would allow me to dive deeper into advanced management studies. And thirdly, I sought exposure to the US business school system, which is more centered around building great networks from the outset, specifically within the MBA community. On a side note, the proximity to New York accelerated my decision process. Today, I am happy to say that the sought-after goals of more academic flexibility and fostering of a strong network of people retrospectively materialized.
What does your typical day or week look like?
That is indeed a good question as the typical week and day for consultants are inherently hard to define, even for consultants themselves, based on industry, function, geography, etc. But don't get me wrong here. While questionable for some, this flexibility represents one of the profession's beauties. Generally, because you are striving to solve clients' problems with an efficient working mode that usually requires extensive face-to-face interaction, you would spend Mondays to Thursdays at one of the client's sites. As you go along, you solve a client's problems and reach predefined milestones with your working team. You will encounter new findings at very high frequency, so you will have to adapt your thinking and solution approaches as often, and change the plans you might have made previously.
Fridays are usually spent at your home office. You will have concluding calls or meetings and catch-ups with your colleagues. To wrap up, you recap the week with your team with progress reviews and lay an important foundation for the next week.
What makes McKinsey & Company a good employer for you?
There are three relevant dimensions for me. Let's call the first "work-related." McKinsey covers an enormous breadth of industries and an astounding variety of projects to work on. It's in the depth of these engagements that you are truly able to bring the best knowledge to clients. In turn, you build your understanding much faster and can determine what you want to become more invested in. So, it's really about growth-related flexibility and doing what you actually want to do, following your intrinsic motivation. 
Secondly, it's the people I engage with daily in every engagement, which makes for an inspiring environment. And not for the reason of being similar or having similar backgrounds, but precisely because we are very different.
Thirdly, there's the "development-related" dimension for me and this is best understood as an overarching one, as it provides the basis for the first two points. At McKinsey, I feel like I can steer my path outside my comfort zone. A multitude of available training and other development options further complement this. 
What advice would you give someone trying to break into your industry or land a job at McKinsey & Company?
Get as many first-hand insights as possible to assess whether you could imagine working in the consulting sector. One useful channel is your network. Be inquisitive about people who are currently working in the industry and proactively reach out to validate your view. Should you have become interested in a particular company, further test your perspective by adding in the personal dimension. Building trusted relationships help and keep in mind that these people could very well be the colleagues you end up working with.
Apply and attend recruiting events that the companies offer. Check your university's career services for campus recruiting events as they might offer case studies, workshops, or company presentations. This is also a great opportunity to meet interesting peers who might have totally different backgrounds and current professionals. With this exposure, combining insights into daily consulting work and culture, you should make a big step towards validating your perspective.
Lastly, learn more about the interview process and its particularities. Attempt case studies that resemble real engagements by structuring a problem and defining solutions.
Do you have recommendations on how to best prepare for the interviews? 
For the technical part of the interview, I think it's probably best to build a peer group that is applying for the same industry. Sitting down with your peers, sharing best practices, and solving case studies in a structured manner can help you make progress in fostering your skillset. Ask to be challenged and become familiar with the approach and techniques for solving these cases. Leverage and find your own way through a variety of dedicated literature, start practicing, and reiterate where necessary.
For the personal part, you should be prepared to answer questions about your interests and motivation for becoming a consultant authentically. In some processes, you will be asked to recall situations during which you think you demonstrated certain traits. The interviewer wants to find out if you are a good cultural fit. Therefore, be honest and be yourself.
What's your five-year plan?
On a high level, it is about getting maximum exposure to a dynamic environment and diving deeper into the topics that I am passionate about. Hence, working on engagements at the intersection of strategy, finance, and tech. Additionally, I want to continue working in an international setting and expand my exposure to the US. That said, I am excited about where I am right now, and I am looking forward to the next few years and challenges.