At first it was just an email or two, the odd social media notification. Venues you'd been excited to visit before COVID-19 reached out, wondering if you might be interested in something different. Screenshots of smiling faces on Zoom book launches circulated around Twitter. Out of the gloom of the wave of coronavirus cancellations came something new: the rise of the online event.
Online events might not be able to make up for missing your favorite pop star, but in recruitment, advice, and networking, they mean that you don't have to put your life on hold just because larger assemblies are banned. In fact, often they offer new opportunities that you don't get in an offline event, from accessibility (no more travelling to expensive capital cities) to choice (online events typically feature a larger range of speakers and topics to enjoy). Networking, finding job opportunities, and learning new insights in your chosen field has a new venue: your living room.
But like any offline space, attending an online career event has its own challenges. Here are our top tips on how to prepare for an online event and make sure you get the best out of every virtual opportunity.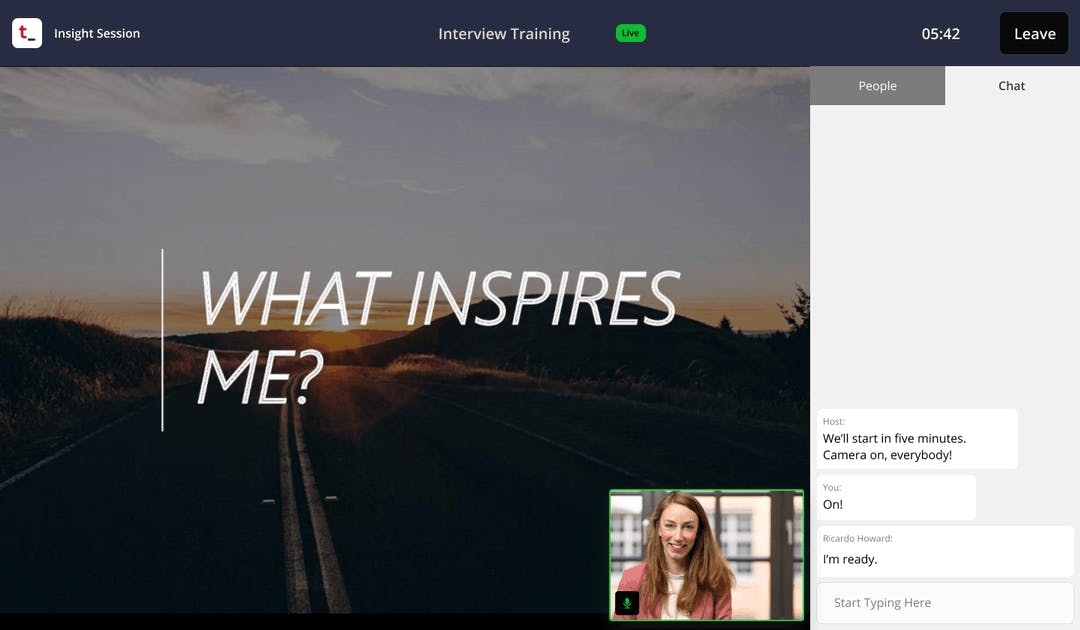 Create a calendar
It's easy to assume that an online event is easier to make time for than an offline one - after all, you don't have to factor in travel and it's usually faster to get ready. But it's important to take an online event seriously and block out some time for it.
Using a calendar is the best way to get an overview of how you're spending your time at the event. Consider your attention span and your own learning habits as you plan and prioritize the day. Do you need a break between each talk to have a cup of tea and a moment away from your screen? Do you prefer to cram a few talks in early in the day, and then spend the afternoon connecting one-to-one with employers and other attendees? Even if it's just a matter of skipping from tab to tab, it's usually best not to give yourself a day of back-to-back talks: by the end of it, you'll be struggling to focus and it will be all too easy to close the laptop and drop out entirely.
Once you have your day planned, add individual sessions - whether they be talks, keynote speeches or meetings - to your calendar and enable notifications, so that you know when you need to leave one virtual room for the next one.
It's harder for our eyes to focus on a screen than on a stage, so make sure to program a few breaks into your time for you to stretch, walk around, and return revitalized to the day. Block out time before and after the event, too, both to prepare and decompress.
Minimize distractions
It's time to turn all notifications off. You don't want to be distracted by chiming messages, emails and likes as you try to absorb and enjoy the talks and conversations. If possible, you should also turn your phone to Do Not Disturb or even leave it in another room, to minimize the urge to pick it up and just quickly see what's happening on Twitter.
Prepare your space beforehand so you're working in a clean, calm room that's free of clutter. You don't want to be distracted by the temptation to tidy up halfway through a keynote speech. As much as possible, treat this like a real work day, which involves getting dressed and leaving your bed - if you stay in bed for the event, it's all too easy to find yourself tempted by a nap. All of this becomes even more important if you will be appearing on video yourself for sessions or interviews. Make sure your background is clean and presentable and dress professionally.
If you're worried that you won't be able to stay focused, considering attending with a friend who will keep you accountable. This will give you the opportunity to debrief after sessions and compare your notes, and knowing that your friend is paying attention will help you pay attention too.
Use technology wisely
You should familiarize yourself with the platform your event is on as much as possible before the event. Click around, explore all the tools and options, make sure you understand the messaging system and how to join sessions. Check to make sure that emails from the organizer aren't going into your spam folder where you might miss important information.
Go through FAQs and ask questions of the organizer beforehand to find out important information like: will slides be available after talks? How do I follow up with someone if I'm interested in what they're saying?
Using technology wisely might also mean breaking out tools outside of your laptop. Typing notes during talks might mean skipping awkwardly through different windows and getting distracted or even accidentally leaving the talk. Instead, consider making your online event fullscreen and keeping a pen and notebook for note taking next to you at all times.
Don't fear that an online event means you'll miss out on that crucial networking potential... You might even find it easier if you're a bit shy about approaching someone face to face.
Network, network, network
Often, one of the most valuable things we get from career fairs are just the people we meet. Don't fear that an online event means you'll miss out on that crucial networking potential. On the contrary, an online event offers plenty of ways to connect with people as long as you stay engaged, and you might even find it easier if you're a bit shy about approaching someone face to face.
First and foremost, make sure that you follow the event's own networking opportunities. Do they have a live chat room? Use it! Are you encouraged to share your LinkedIn with other attendees? Do so, and follow your fellow participants! Is there an opportunity to ask speakers questions? Do so, and get your name out there. Look into options like an event hashtag, which you can use online both in the run up to the event, during the event, and post-event, to cement your commitment and connect with others.
After you've exhausted the organizers' possibilities, take matters into your own hands. Look up speakers and see if they have social media that you can follow them on. You might even want to shoot them a message after their talk if you particularly enjoyed it and would like to connect. Consider leaving comments in organizer posts talking about the event - even something like "Looking forward to it!" can help other people find you and make you memorable later. You could also share material on your own social media channels, tagging the event and speakers when relevant, including insights you found particularly interesting or even fun moments.
In the talks themselves, ask questions about networking and how speakers have done well with them beforehand, and take notes on any good tips as well as shoutouts to particular slack channels, discord groups, or anything else potentially useful to your field of interest.
Prepare for technical difficulties
You don't want to be midway through a virtual one-to-one chat with your dream company when your laptop suddenly dies. Make sure you have your power cord close by. Check your internet speed both before the day and on the morning before the event itself: if it's not up to scratch, consider finding a quiet place with better WiFi where you can relocate on the day. Make sure your laptop has all the required updates to run the programs you'll need on the day. Check that your webcam and microphone are both working correctly. Use headphones to minimize background noise when you're speaking.
Let any roommates or family members around know what you're doing, so you can avoid embarrassing or irritating interruptions during the time. Keep a bottle of water close by in case you need it… but sealed, to avoid a laptop spill disaster.
Online events are the new normal. While many of us have grown up online, we still need to create good habits and learn how to behave in the professional virtual world. This is new for everyone - participants, companies, organizers - but with clear heads and common sense, we can utilize all the exciting potential of online events.
All ready to hit the ground running at your first online event? Try one of our Talent Talks, where the brightest minds meet the best companies. Get career advice, skill deep dives, and more.