Can you tell me about your background and how you came into this position you're in right now?
I come from a business background. I did a Bachelor's in international business with a marketing focus at Maastricht University, and then a Master's in finance at Copenhagen Business School. After my Master's, I started at an innovation and brand consultancy and worked there for almost three years. I was doing a lot of workshops with corporates, coming up with new concepts, potential services and products, using design thinking to better understand target groups. I learned a lot and enjoyed the strategic thinking element, but eventually, I felt as though I was doing a lot of research but was never able to see it being implemented. Also, being part of a big corporate made me feel stuck, so I decided to leave in search of a new challenge.
I had three criteria that I wanted to fulfill in my next challenge. First, I wanted to be in a company where it was fun to work. We spend so much of our time at work and it's only fun if you're with the right people. Secondly, I wanted to work for a company where the value proposition was clear and that was providing a solution that made sense to me. Finally, I wanted to do something completely new and hands-on. I wanted to be able to see what I've achieved by the end of a week and see how the business has grown. Pleo was the company that ticked all of these boxes for me, and I started working there in May of 2019.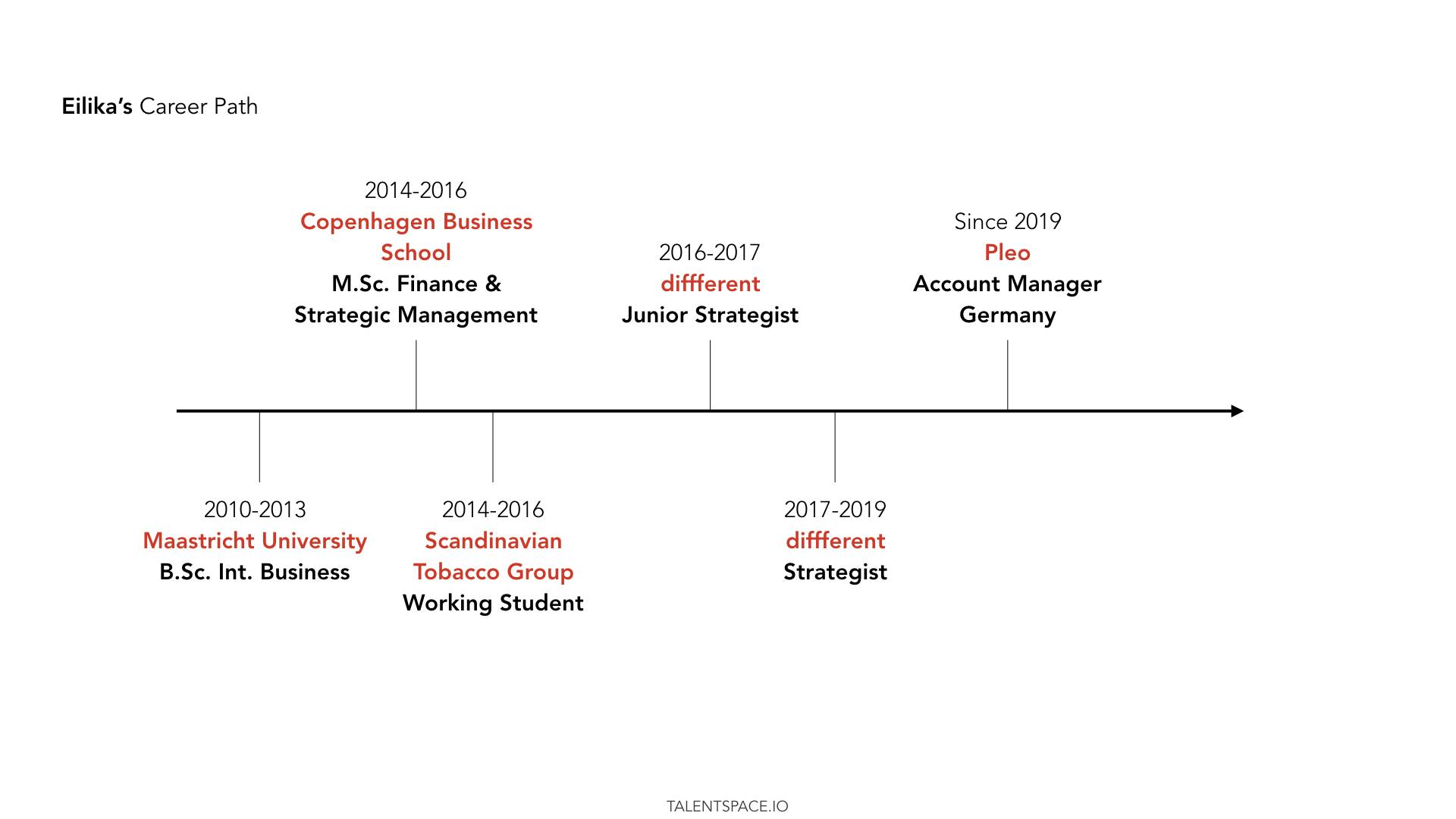 Could you walk us through how your usual week looks like? 
We have a great marketing team that generates a lot of leads, so I have a pipeline of companies that are potential customers. I usually speak with someone from the C-level, so a CEO or CFO. I'll meet with them to explore what they do and to understand what their company culture is. We don't see Pleo as a purely strategic product but rather as a tool to support the company culture. We're not typical salespeople – we want to understand the client and have a methodology in place that reflects their needs.
I also have frequent meetings with the product team to look into new features and meetings with the marketing team about how to tap into new markets. I'm also involved with hiring. We're hiring for six markets at the moment and our growth plans are very ambitious so I help to support in this process and look for new teammates.
What do you think are the most important qualities you need to succeed as an Account Manager?
The three big factors we are looking for are curiosity, empathy and leadership potential. At Pleo, we see ourselves as a leadership program. We want to grow people internally, to see them progress into management roles and be able to coach other people. You also need to have empathy and be able to understand people, their context and to make connections. 
What is the most fascinating thing about your role?
The most amazing thing is the people I work with because we really click as a team. We really support each other and it's just so much fun. I think that's the biggest thing. 
What do you think are the most important, biggest challenges you face in your job? 
Germany is a very unique, specific country in terms of how processes are handled. German people can be a little suspicious. So, to convince people, you always have to bring good energy and have a strong drive.
What's a common misconception about your industry?
A lot of people think fintech is super boring, but I don't think that at all, especially at Pleo. If you think about expense reporting or bookkeeping, you imagine people sitting in front of an excel sheet with some papers in front in front of them, but it's so much more and you can make it fun. We always try to integrate some playful things into our product and to make it a joy to use.
What advice would you give to someone who wants to work in the same industry or role?
Ask yourself what your goals are and what motivates you. In my former job, I could never really see any tangible results at the end of the day, week or month. What actually satisfies me and motivates me is to see how we have grown our customer base and how our revenue has increased. You need to understand what motivates you.
What is the best way to get in touch with Pleo?
If you want to know more about specific roles, just look on LinkedIn for people who are currently in the role and drop us a message. I think that's the best. We are super approachable and are always happy for people to ask questions and get in touch.