Tell us about your background and how you ended up in your current position at medneo?
While I was studying business informatics and international business, I started a small company providing streaming services to explore the startup world a little bit more. I was the first intern at Uber in Germany, and it was a very interesting time to be at the company as one of its services was prohibited back then. After that, I made a small stop at Berlin Brands Group. 
As my parents and my brother all work in the healthcare industry, you could say that ending up in a HealthTech startup was in my blood. I was looking for a change and stumbled across an article about the '10 hidden champions in Berlin'. This was my first introduction to medneo, and as I read about the business model, I knew that I wanted to be a part of this. So I applied for an internship at the beginning of 2017. I liked it so much that I converted to a full-time position in October of the same year.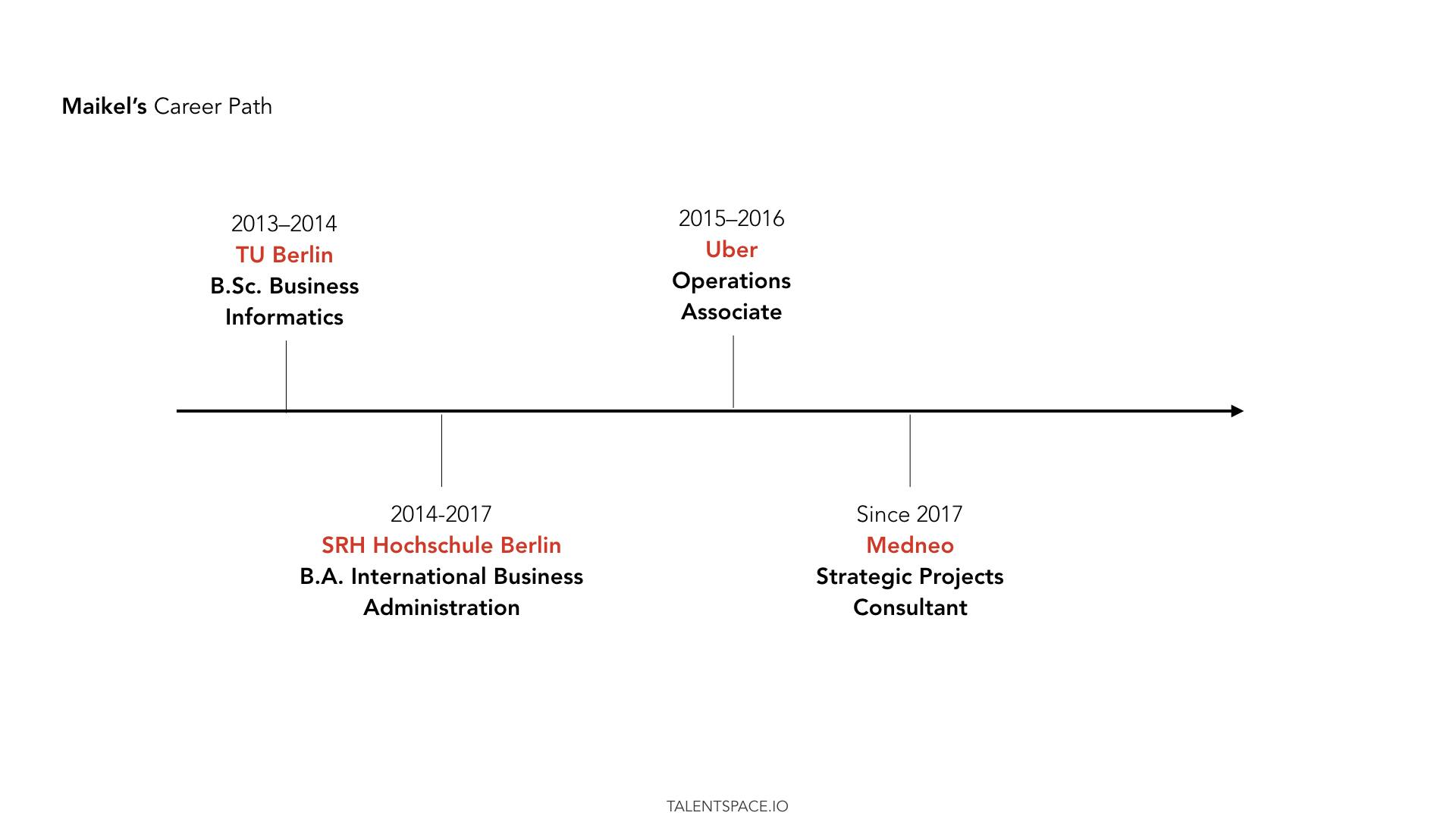 What does your typical day or week look like?
As a consultant or project manager at medneo, no day is like the other. We work on multiple projects at the same time; I could be implementing a new company-wide CRM system on Monday, and then looking for new market opportunities in Israel on Wednesday. To say that a lot's going on is an understatement. But my tasks include opening up new diagnostic centers, designing and preparing upcoming positions at the firm, doing the interim management of these positions, and finding new ways of doing things. And lastly, optimizing processes throughout the company. 
What makes medneo a good employer for you? 
What I love about medneo is that if you're on a project, you own it from A to Z. If you have an idea, you'll have the opportunity to try it out. So, you have a lot of responsibility right from day one - this was a reason why I wanted to stay on in a full-time position. I appreciated that they trusted me enough and put me in a role where I got a lot of responsibility, although I didn't have that much work experience. Also, I like my colleagues and the work environment. People are very nice, and I get all the support I need, which is what makes medneo a good employer.
What qualities does someone need to succeed in your role? 
So the first (and most important) thing would be to be flexible, things can change in a matter of hours, and you have to be prepared for that. On top of that, multitasking is a huge plus, being quick on your feet and also an out-of-the-box thinker are crucial qualities. If you check these boxes, then you will be a perfect fit.
What's the most fascinating thing about your job? 
So as I mentioned, I liked that I got a lot of responsibility right from the start and can own my projects. And we're also a company with very flat hierarchies. We have more than 300 employees, but the door of our CEO is always open for everyone. If there's something someone wants to change or someone thinks that things aren't going right, people are more than open to about hear it and to change it. The bond between colleagues is very, very big, so we often go out for drinks after the workday is over or on the weekends.
What challenges do you face in your position?
I'm very enthusiastic about new tasks and projects, and because of that, I'm often in a position where I have to juggle a lot of stuff. I learned that it's imperative to find your focus so you can get things done. That's something I'm working on every day, but it's still a big challenge for me right now. 
What's a common misconception people have about your position or industry?
One thing that bothers me is that people don't think of medneo when they have to name cool companies to work for in Berlin. As a company, we're bringing the sharing economy model to the long-outdated healthcare system in Germany and also other countries. We have 18 diagnostic centers all over Germany, a very innovative business model, and over 300 employees. So I think that's the misconception that strikes me the hardest, that people don't know about the company, what we're doing for the HealthTech industry and what we offer our employees.  
What advice would you give someone trying to break into the HealthTech industry or land a job at medneo? 
Just hit up someone in the position you want to be in, meet them over a coffee, get some insights into the company, the challenges the department is facing right now, and then apply. Going through our recruiting process is usually required; this helps both sides to evaluate in a very short matter of time if there's a match or not.