Tell us about your background and how you ended up in your current position at Roland Berger?
From a young age, I was pretty interested in history and politics. After my social service in the Dominican Republic, I decided to pursue a degree in business administration in Mannheim. 
What were the major career decisions that lead you here, and how did you make those decisions? 
I think most of the career decisions I took were mostly based on gut feeling and what felt right for me. That holds true for my decision to study in Mannheim as I felt that the city was unique and overall a great place.
Regarding Roland Berger, after I did my internship there, I knew that it was the perfect place to start my career as I could grow personally and professionally, as well as engage my interest in history and politics. Personally, it's important that my work is related to something that I'm passionate about. Therefore, the competence center of civil economics at Roland Berger was the best choice, as they focus on clients from the public sector. Furthermore, the projects that I work on are mostly of public interest and have an overall impact on that sphere. Besides, I knew I didn't want to solve accounting problems or do something similar for some car manufacturer. So that's why I decided to join Roland Berger.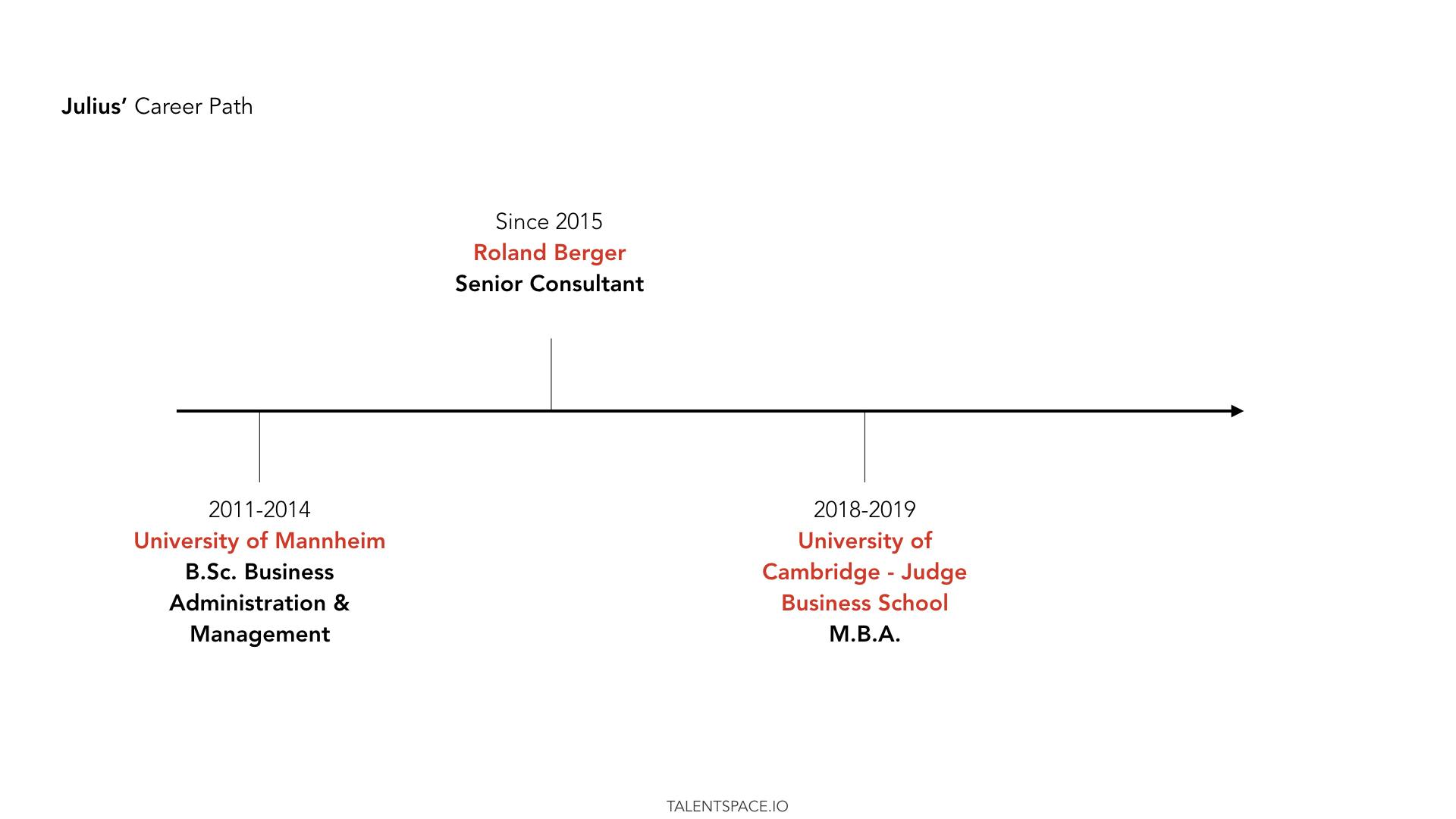 What does your typical day or week look like?
I usually work four to five days at the client's office and am constantly interacting with the client and dealing with their requests. It's usually a mixture of data analysis and interviews, but occasionally, there's also some acquisition work too.
What makes Roland Berger a good employer for you?
At Roland Berger, I appreciate the very close relationships you have with your colleagues and mentors. That's definitely different in other management consultancies. And it may sound like a cliche, but I think that the story behind Roland Berger is really special and unique compared to other consultancies. You can sense it in the company culture as well - it's very open, honest, and constructive in terms of communication. The feedback is usually really good, and it allows you to improve as well.
What qualities does someone need to succeed in this role?
Most importantly, you should have proper people skills as you deal with clients every day. You should be able to grasp a situation quickly and understand your client's position, which will allow you to dive deep into the problems and try to find a solution. 
What's the most fascinating thing about your job?
It's the importance of issues that we're looking at. Working in the civil economics competence center, you're tackling some of the biggest challenges our country is facing, and that makes it very unique and special. I often read about our projects in the newspapers or see it on TV. It's a very rewarding job and assures you that your work has an impact.
What's a common misconception people have about consultants or the industry?
I think the biggest misconception people have about consultancy is that we barely create any value. But the experience and expertise we bring to the table are highly valuable, especially in the public sector. We've worked with various organizations in both the public and private sectors and can use these experiences to come up with new solutions for clients in similar situations. 
What advice would you give someone trying to break into your industry or land a job at Roland Berger? 
The first thing you should do is an internship; it'll help you assess two things: firstly, whether consultancy is the right path and secondly, if the company is a good fit, cultural-wise. Additionally, reach out and talk to people within your network or people who hold the position you would like to be in. These conversations will help you answer many of your questions regarding the role and company. 
How was your MBA experience, and what's the biggest value it's had on your career?
I did an MBA at the University of Cambridge after working for Roland Berger for three and a half years. During this time, I was able to reflect on the things I've learned and built on them. The MBA helped me to develop my skill set further, and I was also able to grow personally as well. 
The biggest value that I took from that MBA experience is the change in my routine. Even though the projects may differ at work, you're still in a routine so to have been able to break free from it, was the biggest value. The MBA gave me the chance to create a new structure and routine for myself. 
Why did you decide to go back to consultancy after the MBA?
First of all, I was fortunate enough to have Roland Berger pay for my MBA. But it's not just that; I still felt that I had a lot to learn in consultancy and was looking forward to using the knowledge gained from my MBA to tackle the variety and depth of issues.