Trying to find your dream job can be nerve-wracking at the best of times. But in 2020, in the middle of a global pandemic whose final consequences are yet to be seen, it can be downright frightening. Offices around the world are operating remotely; many people have already lost their major income sources; hiring and onboarding processes are murky and uncertain.
It's easy to feel lost or stalled, with no idea where to go from here. But while this is a worrying and uncertain time, the job hunt process doesn't have to grind to a halt. With the help of industry experts and some common sense, we've assembled a guide to finding work in precarious times.
Embrace the situation
Burying your head in the sand and pretending that everything is just the same as usual isn't going to help. Make a list of companies and brands you want to work for and go through them systematically, checking out their websites and socials to see what their approach to the pandemic has been.
Consider questions like: are they still actively hiring? Have they gone quiet on new roles? Has their business changed in some significant way since the pandemic, and is that something you can help with? You may wish to get in touch with their HR department before submitting a formal application with some of these questions. If you approach them in a polite and enthusiastic way, it could be a point in your favor, showing your initiative and interest. Alternatively, reach out to alumni from your school working at companies you're interested in to get an inside scoop.
Don't be afraid to raise these questions in your application as well. It's always important to be able to prove your relevance, and now you have a unique opportunity to link your own talents with the wider economic situation.
Avoid catastrophizing
The pandemic is a crisis point in our lives, and we've been warned by governments and the medical community to prepare for things to get worse before better.
But like all disasters, this too shall pass.
"The same curve -- worse, then better -- may be applied to the job market and economy in Europe as well," Professor Dr. Chengwei Liu, Associate Professor of Strategy and Behavioral Science at ESMT Berlin, says. "People and the market tend to overreact, so firms will not be eager to hire and households will not be eager to spend, even after the coronavirus is more or less controlled. This suggests a very gloomy 2020/21 for both the job market and the economy."
"But," Professor Liu continues, "like all disasters, this too shall pass."
Professor Dr. Mei Wang, who holds the Chair of Behavioral Finance at the WHU – Otto Beisheim School of Management, is also optimistic about the future. "Based on historical experience, I expect the job market and economy in Europe will on average shrink in the foreseeable future, but will ultimately bounce back. I also expect many sectors which are less dependent on physical appearance will be less affected, or even benefit and offer more job opportunities in the short run."
"My advice would be: stay calm and continue to focus on obtaining a qualification that matters," Professor Dr. Anja Karlshaus, Professor of Business Operations and Human Resource Management at Cologne Business School, says. "Most companies will still be looking for talent in a similar manner as before – looking for strong analytical or social skills or specific functional skills for example. Traits that characterized a successful candidate so far will still be important in the future. "
Expect to get digital - and quickly
The pandemic may even see improvement in some areas, particularly as companies move to embrace remote work.
The pandemic forces us to do things in a different way, and provides an experiential basis for our future evaluations on different options.
"I do think the situation opens the door and will speed up remote work and education," Professor Wang agrees. "After the pandemic, I expect people may think more rationally about whether to hold a meeting in person or not. For example, they might weigh benefits and costs. If it is too far away and too costly, remote hiring and onboarding processes can offer flexibility and convenience. The pandemic forces us to do things in a different way, and provides an experiential basis for our future evaluations on different options."
"Technology was not a problem," Professor Liu agrees. "It was the inertia that stopped many firms from fully embracing the technology that enables remote work and hiring processes. Firms now are still exploring what the best practices of engaging this technology are so there are opportunities to get ahead in such learning. Importantly, smaller and medium-sized firms are more likely to be the forerunners in identifying the best practices compared to large firms that may be restricted by various existing rules and constraints. This actually offers opportunities for the former to beat the latter and disrupt the industry."
In other words: If you want to get in on the ground with a cool, young startup and a small team, now's your chance.
For companies that don't close down their hiring processes, we should expect to see a switch to remote hiring and onboarding procedures. This is, in some ways, long overdue, and the technology to enable it has long been in existence. But Professor Karlshaus predicts that the "biggest change and challenge" will be replacing that first personal face-to-face-interview within the company and not being able to read body language or chemistry to the same extent.
And technology might not be the answer for everything.
"A personal interview and personal elements in the onboarding process will remain," Professor Karlshaus predicts. "More complex interpersonal encounters and the experience and feeling of the working atmosphere cannot be captured purely digitally. The personal face-to-face contact with colleagues will still be very important to build trust, to convey values, and to capture informal knowledge."
Consider your industries
"Overall, the situation is very dynamic," Professor Karlshaus says. "It's very difficult to make a prediction at this stage. Countries in Europe will be differently affected, depending on the strength of the current economies."
As a result, it's important to consider not just the role you want to work in, but the industry you're turning towards. If you're in tech, there will still be roles - but maybe not in the places you were expecting.
"There are a number of hard-hit sectors, such as hotels, airlines, restaurants, malls and department stores where job losses might continue in the near future," Professor Karlshaus says. "However, there is also evidence that there is a strong and fast-growing demand in other sectors - for example, logistics or healthcare workers. Other winners might include online companies involved in the software or internet industry like Microsoft or Google, e-commerce players like Amazon, or medical device manufacturers, among others."
Professor Wang agrees. "Some sectors are already booming precisely because of the pandemic, e.g., long-distance education/conference/entertainment, on-line retail sectors, and so on," she says. "The pandemic might lead to structural change in such sectors, but some increased demands might only be temporary, such as on-line grocery shopping. For example, the demand for fresh vegetables and fruits, and the demand for restaurants and airplanes will almost certainly come back to the original level after the pandemic. Therefore, we should analyze each industry and make predictions based on the change of demand and the change of customer tastes."
Think brand, not role
Once you've thought about the industry you want to enter, it's time to think about the company. Now more than ever, it's important to consider who exactly you want to work for. Don't fling CVs at random out into the world. Instead, investigate brands and companies that interest or challenge you.
Professor Liu says, "Coronavirus and the lockdown provide an effective catalyst that forces [companies] to change their business model. The economy may grow at a faster pace for those firms that manage to survive the 'worst' stage."
The takeaway? Don't panic, and look for employers that are also not panicking. Keep an eye out for brands that are pivoting to new formats, verticals, and products in the wake of the pandemic. The flexibility to change in the face of disaster is always a good sign from a company, and now you can get a sense of how companies respond to challenges before even setting foot in the door.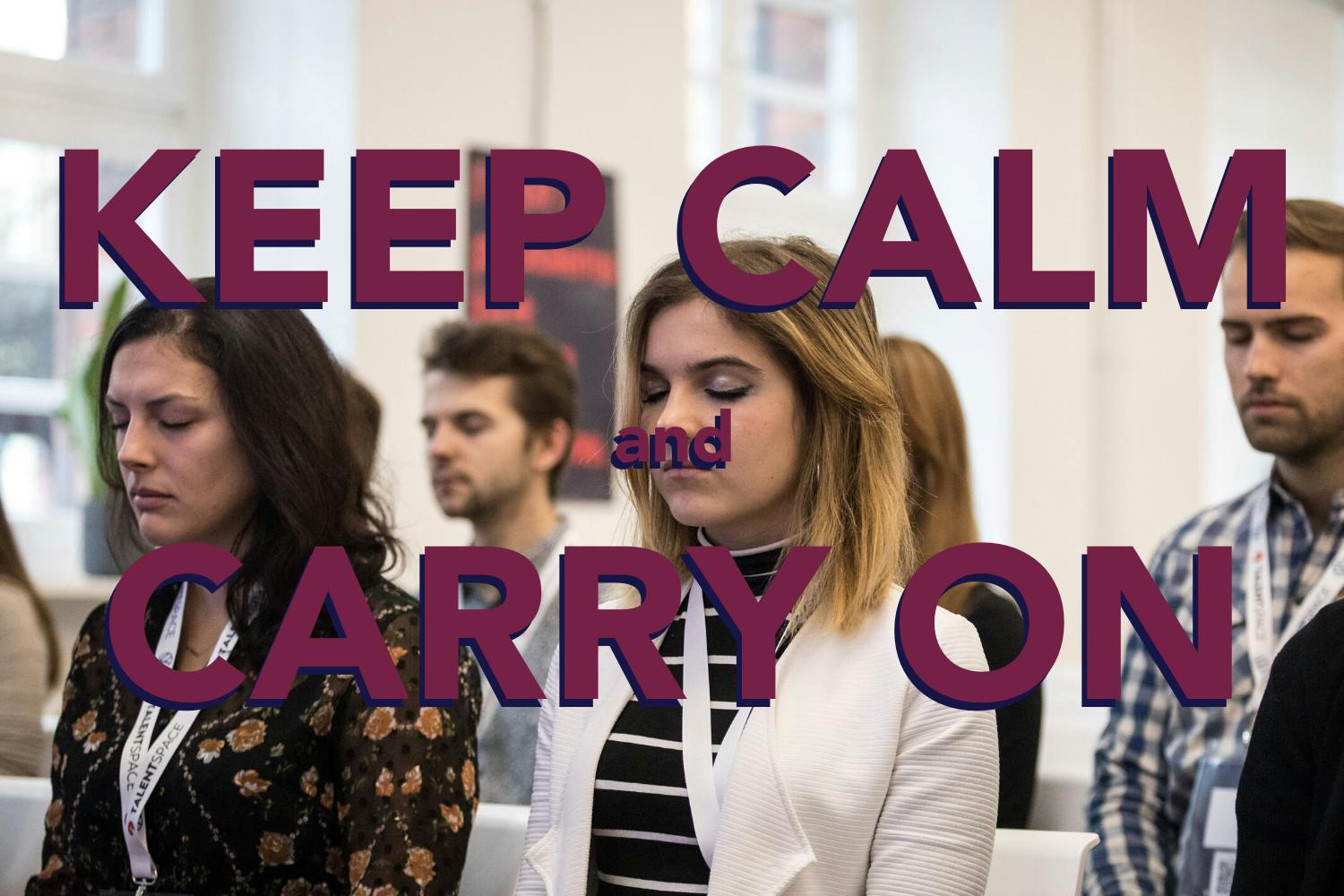 Take your time seriously
It's completely natural to feel anxious in a global crisis like this one. One good way to reduce that anxiety is to create a routine. Even if you're currently unemployed, build a timetable for your day. Try to include something creative, something active, something communicative, and something productive every day. You might, for example, allot a few hours to searching and applying for interesting roles, an hour to a creative practice like reading, writing, music or building something interesting, an hour for a run, and an hour to catch up with friends and family.
Job hunting is time-consuming when done right, but it's easy to get frustrated and jittery when it's the only thing you do all day. Finding the right role usually takes some time, both on your side and your potential employer's -- it's likely to take even more time in the current situation. It's worthwhile to consider what else you can spend your time on that will help you in the long run.
"Graduates should use the time to get even more acquainted with the digital working environment like MS Teams and project management tools like Trello," Professor Karlshaus says. And she warns graduates not to forget to prepare for online interviews, citing Amazon's virtual event How To Prepare For A Great Virtual Interview.
"If graduates can afford it, education and volunteering work may be useful to beef up your CV for when opportunities knock later," Professor Liu agrees.
Brush up via online classes on skills and areas that will be useful to you in the future. Now's the time to take that Hubspot course, or sign up for the Open University. Find online volunteer opportunities that will show your future employers you don't need to leave your apartment to make yourself useful. Or do something nice in your immediate surroundings, like offering to go shopping for elderly or immune-compromised neighbors. Even if it doesn't help you find a job, it'll give you a boost as you wait to hear back from those applications.
Think outside the box
This is the time to explore the weird and wonderful projects that might find you work where you least expect it. Build an app. Create a new social media campaign plan. It's likely that we all suddenly have some extra time on our hands: use yours to show employers the unique value you can bring to their company.
An unusual approach may be to help local retailers to go online and to support the local community.
"An unusual approach may be to help local retailers to go online and to support the local community," Professor Liu suggests. "This is both meaningful and helps to gain valuable experience."
"It always pays off to improve your education level and acquire more skills," Professor Wang says. "Of course, some skills might be too specific and not needed after some structural change. Therefore, when deciding what skills to acquire, it should be a good fit with long-term personal interests, so that you can stay passionate about it even if you don't see the immediate use. The classical example is that Steve Jobs took a calligraphy course, which turned out to be useful for his elegant design of Apple many years later."
We are undeniably facing a transition period, and one that sits at the beginning of a likely recession. Job hunters should be thinking about their position seriously and creatively, but it doesn't mean we need to despair. Be strategic, find the companies reacting well to the crisis, and your dream job will still be there waiting for you.